Two Cents
The nervousness of high school paralyzed me as I sunk into the front seat of my brother's car on the way to the first day of school. Sometimes the most uncomfortable moments in life are the most exciting; this was not one of those moments. Entering Berkley from a private middle school, I had few friends and relied on my brother to help me navigate the ins and outs of school. The first few weeks were some of the toughest I've faced, adapting to a new way of life and scrambling to meet new people. Looking back to four years ago, I am beyond thankful that I was able to persist through the bad first few months because Berkley has provided me with some of the best moments, friends, and experiences I could have asked for.
If I could give my younger self advice, I would say how essential it is to trust the process, to be patient, and to be okay being uncomfortable. As a 14-year-old entering a new school, it was nearly impossible to maintain optimism. I didn't see the light at the end of the tunnel. With few friends and a shy personality, I had no clue how I was going to meet people and find a group. It took a full year to finally find a place with a group of friends. However, throughout the year there were several moments when the pressure of school almost got to me, and I nearly gave up hope. I don't know where I'd be today if I stopped forcing myself to sit down at lunch with new kids, go to a football game, or spark up conversations with kids I've never met. I would tell my younger self to battle through the anxious and uncomfortable moments in order to really have a great high school experience. Few great things happen easily, so if you want to live the best you can, you first have to endure the adversity. Four years later and wrapping up my senior year, I realize how lucky I am to have had the teachers, friends, and teammates that really made the last four years special. I have had the invaluable experience of being a part of the golf team for all four years of high school. To our coach Mr. Antioch, thank you for your support, leadership, and dedication to helping every person become better on and off the course. Golf tests each person differently whether it be a physical or mental barrier, and having you there to help us overcome these hurdles has helped me develop as a person and a golfer. Being involved in extracurriculars has been a critical part of the past few years for me. Whether it's a club that interests you, a sport you want to try out for, or an organization you want to volunteer for, go out and do it. My advice is to try new things, it's the best age and the perfect time to do it.
Another piece of advice I'd give myself is to appreciate and take advantage of the great courses and teachers BHS offers. So often in school, we get caught up with our grades and transcripts, and it prevents us from taking courses we are actually interested in. Take courses that will spark creativity rather than earn you an A. Thank you to all of the teachers who put their lives on hold to educate students to the best of their ability. In particular, I owe a special thanks to Mr. Meacham, Mr. Weingarden, and Mr. Giarmo for their impact on my learning. Mr. Meacham, after a full year of grinding in AP Chemistry, I learned more about work ethic, habits, and success than I have in any course. Thank you Mr. Weingarden for your constant drive to help your students achieve higher and perform better. And Mr. Giarmo, after several years of Journalism and English, you have become a role model and friend to your students. Your methods of teaching that hone in on deep, creative thinking have accelerated my capacity to analyze the world around me and understand more intricate topics.
Potentially the most important advice I'd instill in my younger self is to not let the stress of school consume your life. It makes perfect sense to set your goals high during high school, whether it is for a certain GPA or getting into a good college. However, it is essential to know your limits and find the line where your personal health is more important than your grades. The pressure of high school is inherently overwhelming and suffocating. Don't put your life on hold till after graduation to do well in school. It is not worth losing some of the best years of your life due to stress.
My last piece of advice is to show gratitude and appreciation towards those around you who make your life great. For me, the last four years would have been monotonous without my friends. Through years of fantasy football drafts, bike rides, trips, and everything in between, the bonds we developed will last past college. I could not ask for a better group of friends, and I will forever be grateful for the inclusion everyone showed me.
Thinking back to my first football game as a freshman, I vividly remember walking up the neverending flights of bleachers to get to the top row as the seniors below began to do the "pushback." As we crammed into the fence, I saw a glimpse of what the next four years could entail. The beaming glare of hundreds of flashlights swinging together following the leader of the bear pack on the field, the excitement of the first Bears touchdown of the season, I knew I was in the right place. Although finding my comfort at school really was a grueling process, I learned that Berkley has something to offer for anyone. It is out there, all you have to do is keep your eyes open and go after it.
Leave a Comment
About the Writer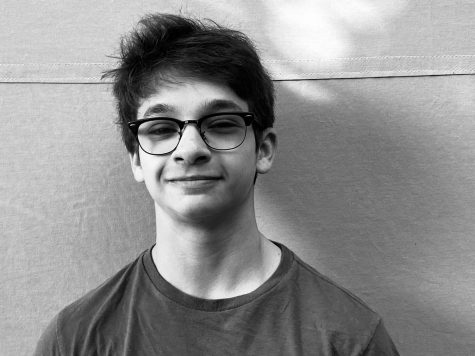 Lev Sklar, Managing Editor
Hi, My name is Lev Sklar, and I'm a Senior at Berkley. I've spent 3 years on the Spectator staff, and am currently managing editor. I originally joined...