7 Lessons to Learn From 2020
Let's face it… 2020 has been a rough year.
I prefer to look at the world through the "glass half full" lens. However, many times this year it has been hard to see the positives in things. With a couple weeks left in 2020, I have been thinking about all the events, the good, the bad, and the somewhere in between. And after looking back, there is a lot we can learn from 2020 if we just look at it in a positive light.
Here are 7 lessons we can learn from 2020:
Lesson 1: Be flexible
2020 has thrown numerous curveballs at us. Back in March we were uprooted from our daily lives and asked to do things we had never done before. School suddenly had to be virtual, jobs had to be done from home, and social gatherings were not allowed. Despite that staying home is unnatural for most of us, we had to be flexible. We did not know what the next day, week, or even month, would look like. Yet, we persevered. Teachers adapted to be online, restaurants adjusted to delivery and curbside pickup, and people changed to "gathering" on Zoom. We learned, and are still learning, to be flexible because we might not always know what life has to throw at us, but we do know that with the flexibility we can get through it.
Lesson 2: What is essential?
With so much of our normal lives on hold, we have had a lot of time to think about what matters in our lives or what is essential to living a happy and fulfilled life? Focus on the things that make you happy, whether they are big or small. Maybe it's calling up a friend, going for a walk, or journaling. Take the time to think "do I need to go to a social event? Am I putting myself and others in danger?" Or "Do I need to spend money on 'this'? Do I need 'this' to be happy?" Sometimes these are hard questions to answer. Our decisions are often fueled by the desire and the need to feel happy. However, when it comes down to it, there are very few things in our lives that are truly essential. From now on, try to focus on the things that truly matter to you. The things that make you happy, and the things that you can't live without.
Lesson 3: The Importance of Friends and Family
While many times this year we could not physically be with our loved ones, we found other ways to be with them. Through family Zoom meetings, drive-by birthday parades, or social distancing in the park, we found ways to still be together. With everything that has happened this year many of us have grown closer to our friends and family. It is in times of struggle that we need each other most, so take the time to call an old friend, check up on your neighbors, or talk to a family member. We all need each other right now. When we go back to the hustle and bustle of everyday life, remember to still reach out to your friends and family. You never know what someone is going through and we all could use a smile.
Lesson 4: Slow Down
We are very busy people. We go from one thing to the next, to the next, and so on in an endless cycle. Never taking the time to just stop and relax. At the beginning of quarantine, it was hard at times to find something to do now that I had so much more time on my hands, and I'm sure many of you felt the same. After a while, I began to realize how nice it was. I spent a lot more time journaling, drawing, painting, working on puzzles, reading, and watching tv shows that I had always wanted to watch. It made me realize that we spend way too much time busying ourselves with tasks and forget to give ourselves a break. It is important to remember to slow down, give yourself a break, and do something that makes you happy. Your physical and mental health is important, and no task is more important than the health of yourself.
Lesson 5: The Importance of Community
A community can be a lot of different things. For some, it is as simple as the place you live. For others, it is as complex as a group of people you have something in common with, like sharing values and beliefs. Above all, a community is a place you are connected to. A place where you give and receive support and kindness. A place where you look after one another. 2020 has been hard, but communities have been strong. Communities have grown closer together. Communities made sure people were fed. They made sure students were celebrated for their accomplishments. They showed their support for the health care workers. They protested together. They stood in line together. They had each other's backs. We often forget we are part of a community and we often forget about all the wonderful things it means to be in a community. So, wherever you end up in life, remember that you are part of a community and communities lift each other.
Lesson 6: Fight for what you believe in
2020 put us to the test. On top of it all, we were faced with political division and racial injustice. We saw record-breaking numbers of people protesting, speaking out, and voting. If there is one thing that we can learn, it is to fight for what you believe in. Whether it is through protesting, public speaking, raising awareness, participating in civic responsibilities, or simply just having a conversation, it will make a difference. But, we can not forget to stop fighting. We must continue to stand up for what we believe in because that is the only way to enact real change in the world.
Lesson 7: Say Thank You
The final and most important lesson we can learn from 2020 is to say thank you. This may not seem like a lesson, since we already spend so much time saying thank you to others, but what about all the things we forget to say thank you for? Thank you to the teachers, who overnight had to learn a completely new way of teaching. Thank you to all the medical workers, who risk their lives every day to keep the rest of us safe. Thank you to the store workers, who keep their businesses open so we can get the things we need. Thank you to delivery workers, who deliver our packages so we don't have to go out. Thank you to friends and family, who we can reach out to when we need a laugh or a smile. Thank you to all the people, whether they're government officials, school administrators, doctors, nurses, and many more, who work tirelessly to keep us safe. Remember to say thank you, because there are many things we take for granted, and a simple thank you can make someone's day.
As life slowly returns to normal, we most likely will begin to forget some of 2020. Maybe there are things we don't want to remember. However, instead of thinking of 2020 as the year of hardships, challenges, and struggles, think of it as the year of growth, learning, and new beginnings.
View Comments (10)
About the Contributor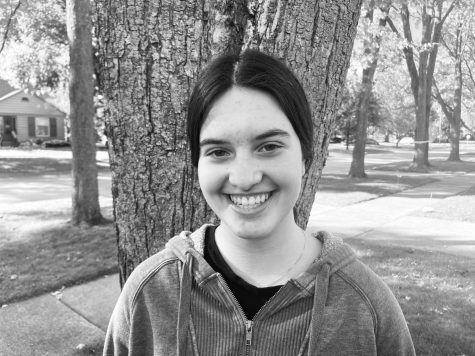 Eve Pietraszewski, Managing Editor
Hi everyone! My name is Eve, and I am one of the Managing editors. I am a senior and this is my third year on staff. My favorite part about being on staff...