How to Make and Use a Vision Board Effectively
A new year means a fresh start and new goals. We often create a list of resolutions or goals that we want to achieve in the new year, but it is easy to lose sight of these. Here is an alternative way to keep track of your goals this year: vision boards.
A vision board is a collage of one's dreams, affirmations, and goals designed to bring inspiration and motivation into one's daily life.
I am an avid journaler and a firm believer in setting goals in the new year. I have seen countless examples of vision boards and have always wanted to try making one for myself. I thought, what a better time to start one. After this crazy year we all had, I want to take all of you along on this journey of making a visual plan to achieve my goals this year!
Here is a step-by-step guide to making your vision board:
Step 1: Create a list of goals and things that are meaningful to you
Write a list of short term and long term goals you want to achieve this year. Remember to simplify your goals by splitting large goals into smaller, more easily-achievable goals. Also, create a list of things that are meaningful to you and important in your life that you want to focus on in the new year. Keep in mind affirmation words, such as positivity and strength, or quotes that you find particularly motivating.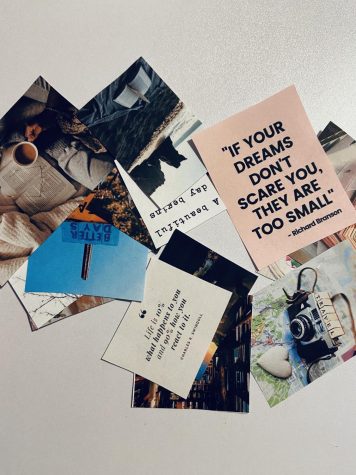 Step 2: Gather images and photos
Look through old magazines, books, or newspapers to find images that inspire you. Don't worry if you do not have any magazines because the internet is a great resource for finding images. I found most of my pictures on Pinterest and Google Images. Feel free to use pictures that you have taken yourself as well. Remember, the key is to find images that motivate and inspire you.
Step 3: Make a collage
Now that you have cut out all of your images it's time to get started! Grab a piece of paper, a poster board, or notebook (I did mine in my bullet journal), and begin by laying out the images. Mess around with the layout until you are happy with how it looks. Remember, it doesn't have to be perfect, so have fun and take your time!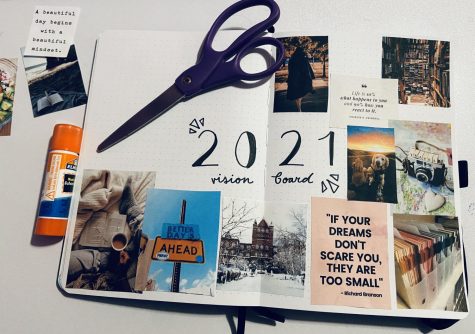 If arts and crafts is not your thing, you can always make a digital version of your vision board. Vision boards make great laptop or phone backgrounds and are easy to print out! In an article from The Oprah Magazine, media and life coach Zakiya Larry states, "I highly recommend making that physical collage, because there's a very clear connection between doing something with your hands, seeing it, and then it eventually (hopefully) bringing it into reality."
Step 4 (Optional): Add artistic elements
Once you have your collage of images in place, your vision board is complete! However, if you want to take your vision board to the next level, you can add artistic elements such as doodles, washi tape, craft paper, and stickers. This step is completely optional, but it makes your vision board a little bit more fun and visually appealing. Remember, the key to a successful vision board is visualization and creativity!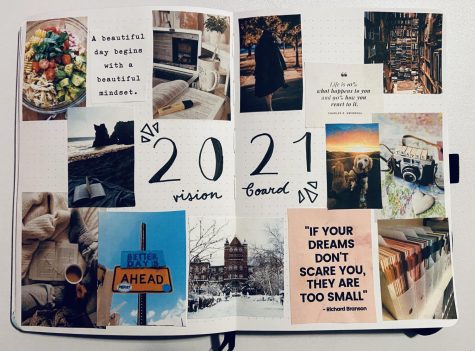 Step 5: Use your vision board
Now that you have a completed vision board, it is time to use it! It is important to place your vision board in a place you look at often. Maybe it is on your wall, by your nightstand, on your desk, in your planner, or a picture on your phone. Take time out of your day to practice visualizing, internalizing, and believing in your goals on your vision board. The key to visualizing and achieving your goals is repetition. You can make adjustments to your board as needed and even create more boards throughout the year!
Vision boards are different from traditional goal setting in the sense that you are taking the time to physically visualize your goals, thus making the goals more achievable. Psychology Today states that, "Creative visualization is a good example of how to use your imagination to help you create whatever you want to happen in your life."
To practice visualization effectively, Psychology Today states you need to have, "1.) the desire to create what you have decided to visualize, 2.) the belief in what you have chosen to attain through your visualization and the certainty that you will attain it, and 3.) the acceptance of having whatever you have visualized as your goal."
It is important to remember that visualizing and achieving goals takes time. Do not get discouraged if you are not accomplishing your goals right away, and remember that a vision board is different from traditional goal setting. Be patient with yourself, because a vision board is meant to be fun!
View Comments (2)
About the Contributor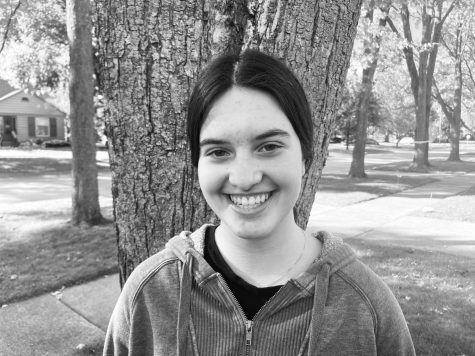 Eve Pietraszewski, Managing Editor
Hi everyone! My name is Eve, and I am one of the Managing editors. I am a senior and this is my third year on staff. My favorite part about being on staff...