Dennis McDavid: Turning a New Page in 2021
Berkley's beloved Dennis McDavid first became involved in the Berkley Schools System as an English teacher in 2005. While he held this position, McDavid was awarded Oakland County's "Teacher of the Year" award. After this achievement, he assumed the role of the principal of Berkley High School. Then, he became the Director of Schools and Human Resources for the Berkley School District. While occupying this position, he was in charge of day to day operations within the school, as well as handling Human Resource functions within the district. Then in 2012 Dennis McDavid took on the role of Berkley School District's superintendent. His role as superintendent was to achieve success for all of Berkley's students by recruiting only the most well-suited teachers to educate them. For many years he worked diligently in his role, and vastly improved the well-being of our Berkley Schools. Only recently McDavid shocked the Berkley community when he announced that he will be taking retirement. It is with heavy hearts that we see him off, as he was a great addition to our Berkley community. I spoke with Mr. McDavid and was able to learn some wonderful things he has to say about our Berkley Community and his plans for the future.
To start on a lighthearted note, I asked Mr. McDavid what his fondest memory is from all of his years of working within the Berkley School District. In response, he said, "I really can't pick just one, but one thing that I always loved was seeing students achieve and excel." He added that he loves, "watching the school plays, the orchestra, band, and choir concerts." He explained that he finds these events to be "extremely meaningful for both the kids participating, and for the people watching." He also noted that the "learning experiences that kids get from helping others, as well as witnessing the playout of the things the district implements are two things that he cherishes most about his position.
"
I really can't pick just one, but one thing that I always loved was seeing students achieve and excel."
— Dennis McDavid
When asked what he will miss the most about the Berkley School District and/or being its superintendent, he stated, "the people… definitely the people. Those within the central office, teachers, and the students." Again he said he was unable to boil it down to just one thing, but one thing he will miss the most is, "going into classrooms, seeing how students are doing, and creating connections with all different students." He also said that he will surely miss being a part of "such a supportive community that cares so much about everyone in it."
I then got to the thing that most of you are probably most wondering about, I asked Superintendent McDavid, what brought on his decision to retire? His response was, "I've been superintendent for nine years, and nine years is a very long time to lead an organization." He put this into perspective by telling me, "the average amount of time that most superintendents in Michigan hold the position is two and a half years." He said he feels that he's "done a lot of good work," adding on, "I just feel like it's time that I try something new, and also to allow the school to experience some change. I think that a new person with a new perspective is an important change for the community."
When I asked him what his plans for the future are, or if he has any, he chuckled and said, "Oh I've got plans. There are a thousand books I want to read, and many I want to write. I graduated college with a degree in creative writing, I've been writing this one novel for about thirty years now which I'd really like to finish. I also have another novel sketched out, and I'd like to write that one as well. I will enjoy time playing golf, (I'll) travel, see plays on Broadway, and go to Europe once this pandemic is all over." It is safe to say that Mr. McDavid is planning on making the most of all of the free time he will soon have on his hands.
Next, I asked him what hopes he has for the Berkley School District for the next few years. To this he responded, "Berkley is a very special place, with very special students, staff, and teachers. It's a great community. I hope that there will be continued physical improvements made to the schools, such as improvements to the buildings, and also academic improvements. I think the district is only getting better, I see that we're on this trajectory for improvement, and I believe our schools will continue to be a special place for anyone who walks in our doors."
"
I would tell everyone, those three things, make progress on a broad range of things, work hard, and make mistakes because I know when you make a mistake it's really to get down on yourself."
— Dennis McDavid
Lastly, I ended by asking him, "What is one message you want to leave Berkley students with?" He said, "I can't boil it down to just one thing, but it would be the same three things that I told the board when the first gave me the position (as superintendent), which was: 'firstly, we will make progress on a broad range of things. I don't know exactly what those things will be, but I do know that things at school are gonna get better because we've done them. Secondly, I told them, we're gonna work really hard, no one can outwork us. And lastly, I said, we are going to make mistakes.' I said this both because I wanted permission to make mistakes and also because I think that's what growing is all about. So, I would tell everyone, those three things, make progress on a broad range of things, work hard, and make mistakes because I know when you make a mistake it's really to get down on yourself. What I say is, if you make a mistake, sure, kick yourself for a bit, but after that, move forward, and continue to make the world a better place."
I don't think Mr. McDavid could've left us with anything better. The promises which he made to the board some years ago truly reflect the work he's done for our community. Under his leadership, the Berkley School District has improved greatly in numerous ways, our staff and teachers have continued to work harder than anyone else, and of course, mistakes have been made, but as Mr. McDavid had said, we've learned from those mistakes and continue to improve our community. With philosophies like that, I would surely like to read any book Mr. McDavid is looking to write in his impending retirement. Thank you Mr. McDavid for the great things you have done for our community, and I forgive you for depriving me of all of those snow-days throughout the years.
Leave a Comment
About the Contributor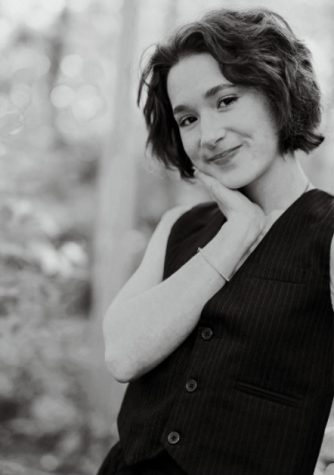 Raynah Jacobs, Editor-in-Chief


Hello everybody:) my name is Raynah Jacobs. I have had the pleasure of being on the Berkley Writing for Publication staff for Four years now....