The New Reality for Berkley Theatre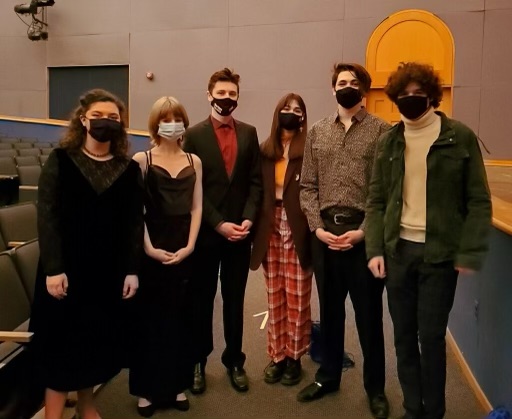 Although it was originally performed almost three months ago, the cast of She Kills Monsters: Virtual Realms was finally able to watch their performance in the Berkley High School auditorium on Feb. 5. This "red carpet" viewing was planned to take place on the weekend of the performance in November, but because of COVID restrictions, it was postponed until now. The night was filled with laughter, fancy clothes, and lots of love for performing. It was a very new experience for closing a show.
The strangest part for the actors was seeing themselves act on the big screen. Senior Carly Spagnuolo says that she, "didn't like watching [herself] perform" but then continued, "but I think, overall, watching it as a group together was the best."
Berkley High's theater department made sure to make saying goodbye to this show was a great time. Especially because the actual ending to this show was made even more complicated than the rest of the rehearsal process. After the tightened COVID restrictions released by Governor Whitmer at the end of November, any in-person activities for groups over ten people were not permitted. This is what called for the rescheduling in the first place. Throughout the process of rehearsal and production of this play, the cast, crew and director John Hopkins, have gone through many changes and struggles.
Because of COVID, the whole process of rehearsing and putting together this production was very different from any other show Berkley Theater has put on. "We have to adapt very quickly," said Spagnuolo about what this experience has taught her.
Similarly, junior Brandon Urikh says that, "You have to be prepared for everything. You need to be able to act as quick as you can with the time you're given," in regards to this experience.
At the end of the night the spring musical was announced. Mr. Hopkins built the suspense with a very long and comical PowerPoint presentation before revealing the spring musical to be Mamma Mia!. This will bring lots of new experiences and opportunities, as it will be performed in the high school parking lot as opposed to the auditorium.
"There's a lot still in the air at the moment because not only do we need to build a set, we need to build a stage to put it on," said director John Hopkins. There are a lot of things that need to be done to be able to convert to this new format for performing. "Where we normally build our set, there are already light structures; there are already sound systems. They're all there. It isn't when we do it in the parking lot," continued Hopkins.
There was a lot of thought that went into this choice for the musical. Hopkins explained that "[Mamma Mia!] was not the show [he] originally chose," before the first Covid lockdown. However, because of the loss that everyone has felt for the past year, he felt that he "needed something that was so upbeat." In the hopes that this would be able to cause a lot of happiness within the community.
Mr. Hopkins has been holding this announcement for longer than usual because he, "wanted to make sure that no matter what, [he] felt good with a way to make it happen, no matter what the regulations were."
"
It is going to be such an incredible celebration, that I think the lasting effect is going to be the appreciation for [theater],"
— Mr. Hopkins
As the year goes on, and the vaccine is slowly being distributed, the prospect of in-person theater is becoming more and more real. Moving forward, it is likely that there will be many long term and short term effects on Berkley High School's drama department as well as theaters all around the world. There, of course, will be a lot of financial problems to deal with from this, but on the bright side, there will most likely be many positive outcomes from coming back to in-person theater. "It is going to be such an incredible celebration, that I think the lasting effect is going to be the appreciation for [theater]," remarked Hopkins. Moving into the future of theater will be strange and will require lots of caution, but the future is bright.
Leave a Comment
About the Contributor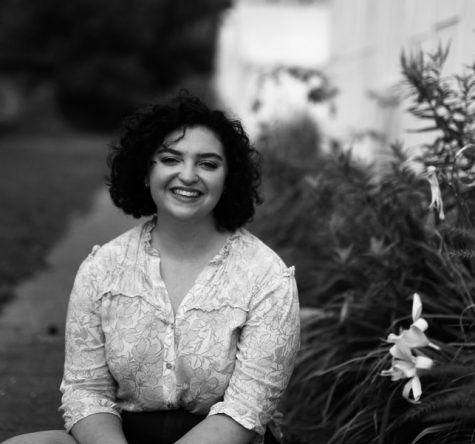 Morgan Collens, Student Life Editor
Hello! My name is Morgan, and I am Student Life editor this year! I am a senior and this is my second year on staff. I love writing for The Spectator because...