Nia Dennis Inspires Many With Powerful Floor Routine
UCLA gymnast Nia Dennis blew people away with her viral floor routine at a Pac-12 competition a few weeks ago. The 21-year-old gymnast left millions of people with a pure sense of joy after they saw her mind-blowing routine set to music by black artists. The routine included songs by Kendrick Lamar, Beyonce, Tupac, and Missy Elliott. She received a score of 9.95 from the judges, but Elliott herself would give it a 10. Elliott tweeted out "snappin" with a fire emoji after watching the routine. Not only was this routine show-stopping, but it was also inspiring because of the fact that Dennis used only black artists.
Taylor Ellis, a sophomore at Berkley who has been a gymnast for ten years, thought the routine was very unique and performed well by Dennis. "It was not only entertaining, but it also sent a message. Nia was able to challenge the norms of gymnastics and show off the culture of black music, which isn't typically done for the sport," explained Ellis. She thought it was very inspiring how Dennis brought black culture into this sport. "Floor music is a great way to reflect a gymnast and create a statement on our country's current social issues." She believes Dennis is not only a role model for gymnasts but a role model to black girls everywhere who want to follow their dreams. If Ellis were a judge, she would give this game-changing routine a solid 10 out of 10. As a gymnast, she didn't see any errors.
"
Floor music is a great way to reflect a gymnast and create a statement on our countries current social issues."
— Taylor Ellis
Freshman Lili Herron, a retired seven-year gymnast, thought the routine was unique and fun to watch. "I think this routine was important because she was able to bring black culture to the gymnastics world where you don't see too much of it, and she was able to compete with something that made her who she is today," stated Herron. Herron also loved how Dennis incorporated lots of dance moves into her routine which made it super intriguing for the audience. She also mentioned how Dennis inspires her to bring awareness and fight for what she believes in. "I would give this routine a 10 out of 10. It was truly beautiful and inspiring."
Mrs. Danaher has been teaching at Berkley High School for 22 years now and watched the routine, never being a gymnast, but still mesmerized. "I loved the routine. I think I saw it first on the news and immediately fell in love with it and her. She is so passionate, talented, and such an amazing gymnast. I also loved how she mixed step dancing into her routine. I wonder if I would have known what step dancing was if I did not teach at the BHS Step team," said Danaher. Danaher explains how she didn't even realize the routine was to songs by all black artists until the interview. "I think it may be her tribute to Black Lives Matter. Maybe her way of expressing herself in a way other than words." She would also give this routine a 10/10.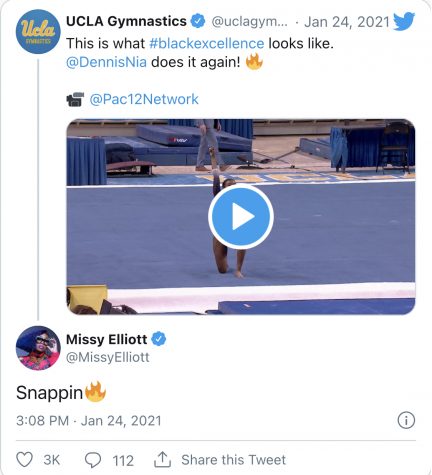 Gymnasts and other members of Berkley High are inspired by Dennis. Her routine not only was powerful in the sense that it was performed amazingly, but it also was powerful because it highlighted Black culture, and celebrated it, at a time where we really need that. You can find this routine at Nia Dennis – 2021 Floor Exercise (1-23-21).
Leave a Comment
About the Contributor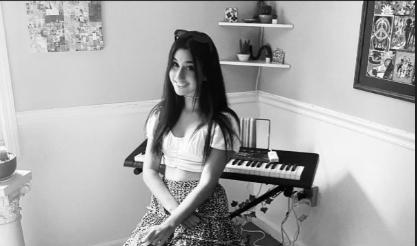 Penelope Cohen, Staff Writer
I am a sophomore and the feature editor this year. I enjoy writing entertainment articles the best. I love journalism because of the writing freedom we...