BHS Student Ari Bonds Creates Clothing Brand "shopazra"
During the pandemic, many students have found themselves doing things they enjoy, such as creating amazing businesses. BHS Junior Ari Bonds has started a business named "Shopazra," which includes handmade clothing items and accessories that she designs herself. Bonds designs crewnecks, hoodies, skirts, shoulder bags/totes, and other items including earrings, necklaces, and hair clips, all for reasonable prices. The items she sells are inspired by her personal style and styles she thinks would cater to teens and young adults.
Now let's hear from the founder of Shopazra and learn more about her business.
Q: What made you want to start your business? When did you first come up with the idea to start your business? How were you inspired to do so? What was your lightbulb moment?
A: I wanted to start a business when I began sewing in the summer and making a lot of really cool accessories. I began to receive a lot of compliments on things that I created, and I wanted to share my creations with other people when I saw that things that I made would be worth selling, since I already enjoyed it so much.
Q: What was easy and what was difficult about starting your business?
A: I'd say the easiest part was having a clear idea of what I wanted to achieve with the business, but it was challenging to differentiate myself from other businesses. With many other people starting small businesses, individuality and uniqueness is important.
Q: How long have you been in business?
A: I started my business in mid-August of 2020.
Q: What is the most fulfilling part about running this business?
A: The most fulfilling part is seeing that I designed or had an idea for becoming an actual product that can be in the hands of people who enjoy my creations.
Q: What is the most difficult part about running this business?
A: The most difficult part is not getting overwhelmed and learning time management. Another challenge is also being original and differentiating my brand from others. Sometimes originality can be challenging with so many emerging trends and fads.
Q: Where do you see this business going in the future?
A: I see my business expanding and reaching more buyers and customers as I continue to do a lot of marketing and begin to make more advanced and unique designs that will draw attention to my products.
Q: What lessons about business/life have you learned from owning your own business?
A: Over the several months that I've run my business, I've come to realize how much the little things matter. With running a small business, every detail is important and every move must be calculated and planned correctly. You also have to maintain a lot of patience and an optimistic attitude even when you don't succeed immediately.
Q: Do you think the pandemic has helped or hindered your business and why?
A: I believe that the pandemic is actually a big help because with online classes, I've been able to devote much more time to business related activities.
Q: What advice would you give students hoping to start a business of their own?
A: The advice that I would give is to not compare your business to the success of other businesses.Things may start off slow, but you must continue to work hard and keep a clear mindset in regards to what you want to achieve.
Q: Do you have a website/social media account? Could you provide it for us?
A: instagram- @shop.azra
tiktok- @shopazra
website- www.shopazra.com
Bonds demonstrates clear devotion to her passion for entrepreneurship. The success she has achieved with this business is a reflection of her talents in business and fashion. The learning experiences she has gained through starting her own business are sure to stick with her in the future.
Leave a Comment
About the Contributor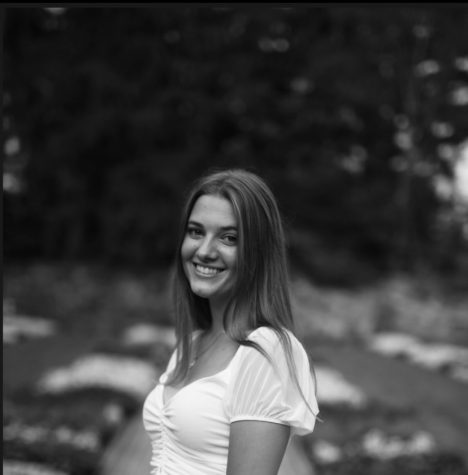 Ella Turpin, Opinion Editor
Hi everyone! My name is Ella Turpin. I have been in journalism for two years now, and I am this year's opinion editor. I joined journalism because I heard...