COVID-19 Complicates College Application Process and Causes Uncertainty for Class of 2021
Even in an ordinary year, applying to college is a stressful, overwhelming time for seniors in high school. Filling out countless applications and dealing with scholarships while simultaneously balancing schoolwork can be quite the challenge. When you put the struggles of the pandemic on top of all of that, the load becomes almost unbearable. This year, seniors had to face this extremely difficult time, and most had to do so without the support of in-person schooling. With COVID restrictions on travel and the cancelation of the ACT and SAT, many students were unable to visit schools or perform as well as they had hoped to on standardized tests. Additionally, with uncertainties still looming as to whether or not seniors will be able to attend college in person in the fall, students had to include that possibility in their decision as well. Since many families lost jobs in the past year, finances have also played a large role in the college application process. Many students had to consider the cost of going out of state for college, being far away from family, and whether or not that school offers scholarships.
For BHS senior Emma Cherrin, the application process posed many challenges that influenced her upcoming plans. In terms of standardized tests, Emma says, "I was supposed to take the ACT in April and then it kept getting postponed and canceled for months. I had studied so much and then I was unable to take the test again. I ended up having to submit a score from 2019, one of the first times I took the test." Emma added that she was "frustrated that she was unable to perform as well as she knew she could on the ACT." 
For senior Owen Pitman, the process brought different challenges. "I was fortunate enough to get my standardized tests out of the way early. However, there are a lot more unknown factors associated with the process this year. College admissions have always been secretive, but now it is the secretive nature of what it was and the secretive nature of what it is now combined. It is extremely hard to know what colleges are looking for in an applicant."
"
I want a normal college experience, but there is just a new normal. I am trying to keep my expectations low."
— Emma Cherrin
Another aspect of the process that COVID took away is the ability to use counselors and teachers as a support system. In an ordinary year, students can stop into the counseling office or talk to a teacher during passing time. Although this may not seem like a big deal, these brief interactions contribute greatly to a student's success throughout the college application process. While students can still speak to teachers and counselors virtually through zoom, these meetings don't have the same influence as in-person ones. Emma noted that COVID "made it more challenging to communicate with Berkley staff since we can't visit the counseling office and have to email our teachers instead." Owen added that "asking teachers for letters of recommendation via email is awkward because you are essentially asking someone to vouch for you online. I was unable to fully express to them how much they meant to me and why I chose them to write a letter for me."
In addition to COVID-caused challenges on the application process itself, there are countless uncertainties when it comes to the type of college experience the class of 2021 will have next year. Students had to take into consideration the precautions their intended school is taking in terms of COVID and the way they plan to tackle the return to school next year. Owen spoke about how part of the reason he chose the college that he did is that they promised that school will be face-to-face next year and students will receive vaccinations. Emma also noted that she "wants to go somewhere closer to home in case something happens with the borders due to changing COVID restrictions."
After a senior year that was far from normal, all 2021 graduating seniors can hope for is a freshman year of college with even a bit of normalcy. In terms of her feelings related to college next year, Emma says, "I'm nervous about everything COVID-related in college. Of course, I want a normal college experience, but there is just a new normal. I am trying to keep my expectations low. When you think of college you think of big parties, crowded lecture halls, football games. A lot of those things may look different. I hope we can go to football games which are big at the college I want to attend. It is kind of sad that things may look different, but I think we are lucky that we even get to have a freshman year in person, and that we hopefully get a social component that the grade above us did not get."
Leave a Comment
About the Contributor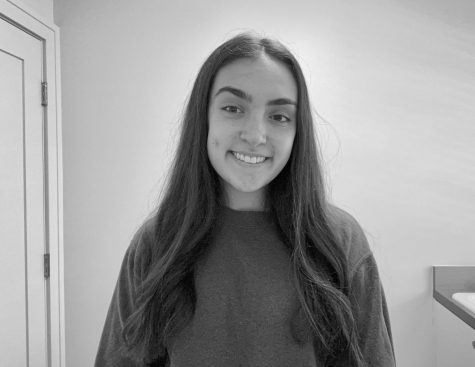 Zoe Zaltz, Editor-in-Chief
Hello everyone! My name is Zoe Zaltz, I am a senior, and I am honored to be one of the Editors-in-Chief on The Spectator staff this year. Three years ago,...