So You Want My Job: Hair Salon Employee
This article is part of an ongoing series here at The Spectator called, "So You Want My Job." In these articles, we take a look at high schoolers with part-time jobs, to give others an understanding of their roles and responsibilities to see if they would be interested in pursuing a similar job.
Ever dreamed of working with a loved one and doing something you enjoy at a young age? I'm sure you've heard people say follow in your mom's footsteps, and that's exactly the role that Marley DeRoven is fulfilling at her new job.
Tell us about yourself (where are you from, where/what is your job and how long have you been working there)
Hi, my name is Marley DeRoven. I am 15 years old and a freshman at Berkley High School. I am from Berkley, Michigan and I work at a hair salon located in Huntington Woods called Studio Eleven. I have been working there for five months now.
How'd you get this job and what is your position?
I am very fortunate because my mom owns the salon, so I kind of had an "in," but if it weren't for my good people skills and work ethic, I would have never gotten the job. I am the receptionist at the salon.
How has COVID-19 impacted your work life? What are some changes that you've had to endure because of COVID-19 shutdowns and limitations?
COVID-19 definitely changed lots of things in the salon. Since I started working during the pandemic, I never needed to adjust to these changes because I was just taught to work under these circumstances from the get-go. The salon was much busier before Covid times. Now we have fewer customers coming in on a daily basis. We now have to take everyone's temperature as they arrive at the salon which is one job I'm in charge of doing. We also are constantly sanitizing everything to make sure it's germ-free and Covid safe.
Tell us about your position working here, what does your typical day look like from start to finish?
I arrive at Studio Eleven and the typical day includes checking out customers, taking their temperature to make sure they are Covid safe and healthy, sweeping up the salon, mopping the floors, hanging up coats for all of the customers, sanitizing stations, doing lots of laundry, answering many phone calls, and most importantly booking appointments.
"
Working at a hair salon can be challenging, but if you do what you are told you can get the job done well"
— Marley DeRoven
What is your work/life balance like in your career?
Balancing school, work, and personal life can get very challenging. I always try to make sure I use my time wisely. On off days, I catch up in my personal life (homework, see friends, do hobbies, etc.) so that when it's time to go back to work, I can give it my full attention.
What is the worst/best thing about your job?
The absolute worst thing about my job would definitely have to be sweeping up hair and folding laundry. There are just chores that I do not want to do. The best part of my job is 100% the fact that I get to earn my own money. I can spend it wherever I want and use it whenever I want. It makes me feel like an actual adult.
Is there any advice/tips you would like to give to high school students interested in working in a hair salon?
The advice I would give to any high school student looking to work at a hair salon would be that you need to have good social skills. You communicate with many customers (answering phone calls, taking their coats, booking appointments, etc.). You also need to follow directions well. Working at a hair salon can be challenging, but if you do what you are told you can get the job done well. Lastly, you need to be able to work well in a busy environment. The salon has many customers, so you need to stay calm and not get overwhelmed.
Leave a Comment
About the Contributor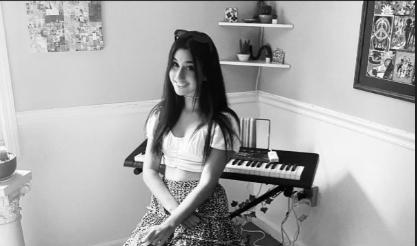 Penelope Cohen, Staff Writer
I am a sophomore and the feature editor this year. I enjoy writing entertainment articles the best. I love journalism because of the writing freedom we...