Berkley High School Offers Full Time In-person Learning
On Monday, Mar. 15, the Berkley School board agreed to a proposal to send Berkley High School students back to school for 5 days a week if they choose. This change came as a result of the board's desire to adhere to the governments call to the state of Michigan, which says the only way for Berkley School district to receive access to nearly 1.8 million in funding from the Covid relief bill is if the district offers at least 20 hours of instructional time per week for each student by Mar. 22.
For Covid relief, Michigan received money from the federal government. This money was passed down to the state government for them to distribute to schools under their supervision. Michigan legislature passed House Bill 4048 which determined where the money to schools will be allocated. House Bill 4048 determined: "From the state school aid fund money allocated under subsection (1), there is allocated $136,000,000.00 to eligible districts." The government will give schools at least $450 per student if the school offers 20 hours in person a week out of this $136,000,000. The Bill states:
"By not later than March 22, 2021… the district offers in-person instruction at least 20 hours each school week if the district's school week includes 5 school days or, if the district's school week does not include 5 school days, offers in-person instruction in a number of hours necessary each school week to provide the instruction it would have provided in 20 hours for a 5-school-day school week to all pupils enrolled in the district, regardless of whether or not all pupils enrolled in the district participate in the in-person instruction offered."
What this simply means is that as long as school creates an option for 20 hours a week of in-person instruction, they will receive the money from the government, regardless of if students choose to stay home.
"
"I've been very impressed with our student's compliance with our safety measures. Students have done a great job wearing their masks and cleaning up their work spaces throughout the day. I couldn't be happier with the way things have gone so far and hope they can keep it up."
— Principal Meloche
In order to meet this 20-hour requirement, BHS needed to change its schedule. The proposed new schedule provides this 20 hours and offers students three options for how they may return to school. The first option is that students keep to their hybrid schedule of two days in person per week. The second option is that students may remain fully virtual. The new option is the schedule with school in person five days a week. Each day will alternate between A and B days: this means students will still have three classes per day.
The Berkley School District has been following the federal government's suggestions by restarting in-person school. As of now, Berkley is using Center for Disease Control and Prevention (CDC) guidelines as a way to keep in-person school safe and continuous. The CDC guidelines prescribe that frequently touched surfaces be disinfected, and shared objects between students be limited. Masks are required, seating must be socially distanced, and in places where maintaining distance proves to be difficult: physical barriers such as partitions should be installed. Berkley maintains these guidelines by these regulations: all classes are socially distanced, you must disinfect your desk at either the beginning or the end of the hour, masks are always required, and the cafeteria sits four to a table with partitions in between every student.
In-person school is currently proving to be safe and beneficial to students, and the Berkley administration is continuing these efforts as we return to in-person school full time. Starting Mar. 22 students were able to return to school five days a week. When asked how Berkley administration was comfortable proposing this new schedule, Meloche answered, "I would say that the decrease in the number of cases in Oakland County is the biggest reason why there is a push to return to in-person full time. Additionally, there has been further guidance from the CDC, the state and federal governments. A lot of schools in the area have been back full time all year and there is little evidence of transmission in schools (due to safety protocols)."
Not too long ago, these safety measures were still somewhat of a radical shift in the mindset of many community members. Many people within BSD were skeptical if students could adhere to the necessary safety precautions. When asked how Berkley would enforce these measures and avoid students disobeying the rules, Mr. Meloche stated, "I've been very impressed with our student's compliance with our safety measures. Students have done a great job wearing their masks and cleaning up their workspaces throughout the day. I couldn't be happier with the way things have gone so far and hope they can keep it up."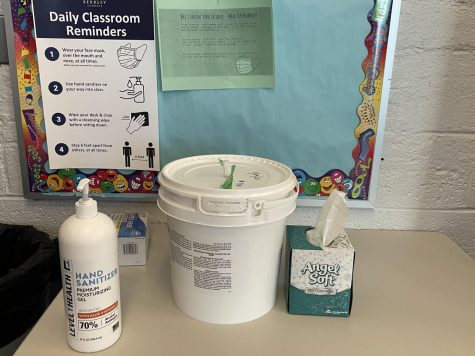 In regards to Berkley staying safe during these times, a freshman at Berkley High School Ari Geller remarked, "In school, I would say I feel safe. I feel that teachers and other staff members are doing all they can to help stop the spread and ensure that students are safe and feel safe at all times, all while in the midst of learning. I think if they continue to follow the regulations and continue to stay concerned about students' physical and mental health we could be back full time in school quicker than anyone thought we would be."
Prior to Mar. 22, Berkley had two cohorts: the blue cohort and the maroon cohort, which go into school at separate times. Students with last names A-K are in school Monday and Tuesday, and students with L-Z are in school Thursday and Friday. Wednesdays were asynchronous days, meaning students are not in the building, and they have 30-minute assignments for each class to be completed at home.
Although many teachers and students look forward to the return to full time school and the normalcy that comes with it, many are upset with the loss of the Wednesday asynchronous day. Geller mentions, "I would like to return full time to school because I feel more adept to learning and more motivated when I am in person in school. With that being said, I think the school board should reconsider getting rid of asynchronous Wednesdays. I think that the teachers and students benefit from this one day per week as it tends to student's mental health and gives teachers a much needed day off."
In regards to these concerns, Meloche responded, "I do worry about the loss of some asynchronous days. I've seen the benefits to students and their mental health as it's been a productive day. We will pick up more instructional time, however, as we add more days in. It is my hope that it helps students get back into more of a normal routine of being back in school five days."
Despite some concerns within the community about returning to school, the hybrid and full-time schedules are huge steps in returning the sense of normalcy to students. Families who are not yet ready to send students back still have the option of virtual school, but for families who are comfortable, this is an opportunity for students to experience their high school in the way they always imagined.
Leave a Comment
About the Contributor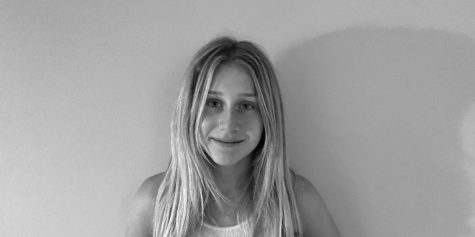 Aria Dwoskin, Editor-in-Chief
Hi! I am Aria Dwoskin, and this year I am the Editor-in-Chief of the Berkley Spectator! I am a senior, and this is my fourth year on The Spectator.  I...