Retracing My High School Map
With shaky hands, I clutched onto the map I made to get me through my first day at Berkley High School without getting lost. The night before consisted of hours going through my schedule and using a bright yellow highlighter to trace the path I had to walk to get from class to class. Even though I intently listened to my guide at orientation as we toured the halls of BHS, I did not have a clue of the location of any room at the school. This map was my lifeline on my first day of high school.
My carefully laminated map led me from Biology to U.S. History to Honors English and to Journalism without getting lost. For me, that was a huge accomplishment. I came from a small middle school with 40 students in my grade and only two hallways, so Berkley was a huge adjustment; all new faces that had been through elementary and middle school together, crowds of students, confusing hallways.
After full reliance on my map for the first week of school, I began to understand my way around the building and was able to let my map spend more time in the bottom of my backpack. Since that first week, I haven't picked up that map once. However, reflecting back on my four years of high school, that scribbled-on piece of paper serves as a reminder of the growth and change I have experienced since I first walked in the doors of the school. That map also represents my high school journey – the ups and downs, curves, and bumps in the road, all eventually taking me to the place where I am now.
Everyone has their own unique map that begins and ends at different places depending on your goals and motivations. Going into high school, I was extremely nervous to be in a place surrounded by hundreds of strangers. I felt self-conscious and out of place. I had no idea what to expect when it came to the work-load of classes and the difficulty of assessments. My goal was to become more confident in myself, make as many quality friends as possible, and grow into the best student I could be. The person who I am now, while completely different from who I was, is exactly who I am destined to be. My map did its job; I reached all my goals, did well in school, and stayed true to my values.
Like all maps, your high school years are bound to have their fair share of roadblocks, traffic, and bumps in the road. Impossibly hard classes, friend drama, failed tests – we all experience blips in our journey. Being a teenager also comes with a lot of noise and distractions. Whether you feel pressure from friends, teachers, or parents, it is crucial to keep your eyes on the goals you set for yourself. Try not to let the "traffic" that comes with being a high schooler distract you from being yourself. High school can be rough. Everyone has their moments. Those left standing in the end are the ones who persevere through the challenges and keep sight of the light at the end of the tunnel.
One of the best parts of a map is the key. It holds resources to guide you through the inevitable obstacles you will encounter on your journey. Something special about the key is that it is up to you to determine who or what is part of it. Your key can change and adjust to your needs. My key is made up of my family, friends, BHS teachers, and anyone else who has contributed in any way to helping me get to where I am today. I am extremely lucky to have amazing people in my life that built up my support system, especially my parents and my sister, Isabel. Thank you for supporting me and loving me unconditionally. I appreciate all of you more than you know. These people have played a crucial role in helping me get through obstacles and reach my goals. One of my biggest recommendations for incoming freshmen and underclassmen is to surround yourself with people who will build you up and enhance your existing qualities, rather than try to make you someone who you are not. These people will help you more than you can comprehend and will make the challenges you face more bearable.
Throughout this year in particular, it was easy to feel alone. With over half of the year being fully online, small and large interactions with people dwindled down to few. I felt isolated and like I was drifting away from the people who were supposed to keep me steady. Even through those tough times, my family and friends were there for me and supporting me. My teachers were extremely understanding of the difficult circumstances all students had to endure during the pandemic. The empathy and pure compassion that my peers and leaders demonstrated in this past year epitomizes what the Berkley community stands for. I am immensely grateful for this tight-knit, supportive community, and I hope to be part of a community that is even a fraction as welcoming and kind as this one.
Since March 2020, COVID has been an unexpected, unwelcome obstruction on everyone's maps. Especially for the class of 2021, COVID has forced us to replan our journeys and rethink how we go about our everyday lives. Even with the added stress and challenges of a global pandemic, we stuck together as a class to finish out our high school journeys together just like how we started them. We are strong and resilient.
As I reminisce back on my first day of high school, and the timid 14-year-old girl gripping onto her map for dear life, I can't help but chuckle. I felt like I had no agency over the four years ahead. I was riding the tide. Now that I've nearly completed high school, I realize that the only person who can control those four years is myself. As cheesy as it may sound, it is your duty to draw your own map and to write your own destiny. People, places, moments can take part in shaping who you are, but you are the only person who can put the pencil to paper. It is never too soon to start writing your journey because before you know it, it will come to an end.
Leave a Comment
About the Contributor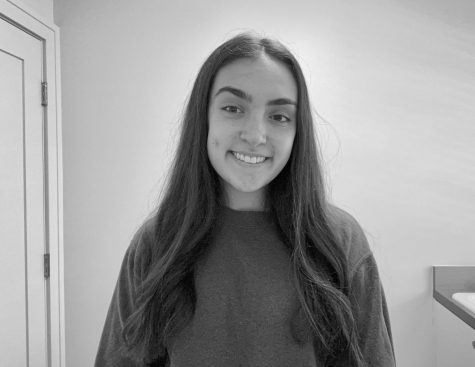 Zoe Zaltz, Editor-in-Chief
Hello everyone! My name is Zoe Zaltz, I am a senior, and I am honored to be one of the Editors-in-Chief on The Spectator staff this year. Three years ago,...