Really, Just Chill…
Senior Column
High school was a completely different experience that I anticipated. Having an older sister to talk to who had been through the ups and downs of high school, I thought I had an advantage over most Freshmen. It only took me a couple of months to realize that this was far from true. I was never the smartest kid in or out of school, but coming into high school, being "smart" looked like the only acceptable option for me. I worked tirelessly my freshman year to uphold similar grades as my sister and my friends, because I felt like if I didn't, I would be looked down upon. By the end of my freshman year, I did better than I expected, and was happy with the path high school was taking me on. I played two sports, got good grades, and had a great group of friends. I was so rigid and scared to be more of myself, and was stuck limiting myself to being someone I thought was considered "normal". Normality played a huge part of my four years of high school, and as years went by, I found myself becoming more comfortable with being myself.
My sophomore year was without a doubt the worst year academically for me, and caused a major decline in my confidence. My grades were significantly worse than my freshman year, and I started to become more unhappy with myself. At the beginning of winter, I made the varsity basketball team, which made things a lot better for me, but I would later get moved back down to JV, and it just seemed like nothing was going my way. However, I still remained friends with the same people, and gained some new friends, and all of them, along with my family, were supporting me 24/7 no matter what. As hard as it was to believe at the time, and as cliche as it sounds, things got so much better as time went by. By the end of the year, I felt like I was finally starting to break out of my shell, and be proud of the person I really am.
Heading into my junior year, I got my drivers license. I never knew how much a piece of plastic could affect my life so positively. As crazy as it sounds, receiving my license was a major turning point in my life. Being able to drive around by myself, or with others opened up so much freedom and opportunity into my life that I never knew existed before. I was feeling so confident and free with myself, and felt like a whole new kid. In August of 2019, I bleached my hair. A lot of my friends were asking me, "why?", and all I would say is "why not?". Going into highschool I was just planning on sporting a regular formal hairdo all four years, but something in the summer of 2019 changed, and to this day I'm still not completely sure what it is, but I'm glad it did.
My junior year was probably the most normal year of school I've ever experienced, and as weird as the sounds, with all the stress with tests, ACT and SAT, it was the most calm and relaxed I've ever been during a school year. My mindset had completely changed from "What if I'm not good enough?", to "I know that I'm gonna be alright no matter what happens". I had great support from my friends and family, played two varsity sports, and was just eager to see what was about to happen next. Once again, my hairstyle changed, I went from a bleached head to a buzzcut, and I still can't tell you why. My best guess would be that I've just always wanted to be different than everyone else, but was too afraid to even try up until that point. I didn't care if people thought I looked dumb or strange, I just did it for me. At this point, I couldn't care less if I wasn't looked at as "normal", I just wanted to experiment with different things and see how they would turn out.
My senior year was amazing, I got accepted into 5 of the 6 colleges I applied to, started on the varsity basketball team, and not to mention, was rocking a mullet the whole year up until recently. In the late fall, I decided on a new home for the next four years of my life, The University of Louisville. Once I committed, I couldn't help but feel extremely proud and excited for myself. Of course, getting into college comes with one major downside; senioritis. I experienced senioritis rather quickly and man, were the rumors true. Being a senior and knowing your plan for next year can really derail all of your motivation and desire in school. Although, I didn't lose all motivation. I got all my assignments done, did well (enough) on tests and quizzes, and maintained solid grades all the way through. For my final year of high school, going to school/zoom school certainly lived up to the hype.
Looking back at my high school experience, the first thing I would've told my Freshman self was to just be myself, and to not care about what everyone else thinks about what I look like and what I do. I became so wrapped up about what other people were thinking of me, and lost sight of the bigger picture, "What do I think about me?". As time went by, I am extremely grateful to have gone through everything I did, because without all of the obstacles and barriers I fought through, I would still be the same shy, ignorant, and self-conscious 14 year old as I was. I wouldn't trade these past four years of my life for one thing, everything that I have gone through, the good and bad, have developed me into a much stronger and confident person. I'm more than excited for what this next chapter in my life holds for me, and honestly cannot wait to head down the 'Ville in late August. I'm well aware that everything ahead won't get any easier, but everything great in life is never possible without any challenges in the way.
Leave a Comment
About the Writer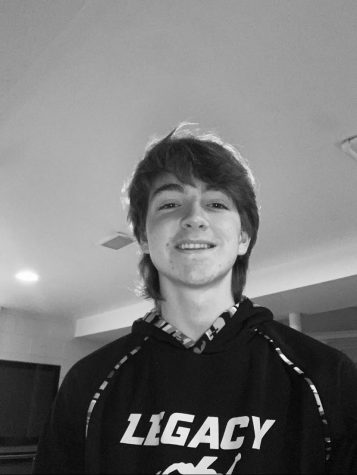 Graham Colvin, Sports Editor
Hi everyone, my name is Graham Colvin, and I'm a senior, and this is my fourth year working with The Spectator, and also my fourth year as the Sports...