Homecoming 2021 Best Dressed
The homecoming dance this year was full of different styles and many diverse outfits. Dressing to their own style, everyone at homecoming blew me away. Fashion is one of the many ways students at Berkley can express themselves, and this year's homecoming was no letdown.
Berkley High School already has a wide range of different styles that people wear on a daily basis. On an average day, as I walk through the hallway, I am reminded of a Pinterest board due to the stylistic choices my peers make. Other students inspire my personal outfits on a daily basis, so I was very excited to see what the students of Berkley High would wear to a more formal event.
A common theme I noticed at the dance was that many people were wearing black. With black being a very flexible color that can fit into any event, I was not surprised when I saw this. It was a very safe option of clothing. The people wearing black did not stand out very much, especially in the dark lighting.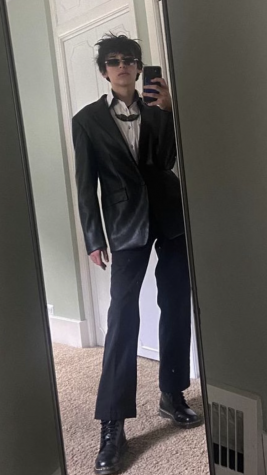 One of my personal favorite outfits was junior Jonah Chupack's. Chupack was wearing a leather jacket with leather shoes and a butterfly necklace to top it all off. I asked where he got his outfit from. "I thrifted most of it," Chupack said. "The jacket was from Lost and Found Vintage and everything else was from Value World,".
Chupack went into detail about how he felt about the overall style trends from this year's homecoming. "I was very impressed!" Jonah said. "I feel like everyone was really showing their unique sense of style and all of the outfits were really put together".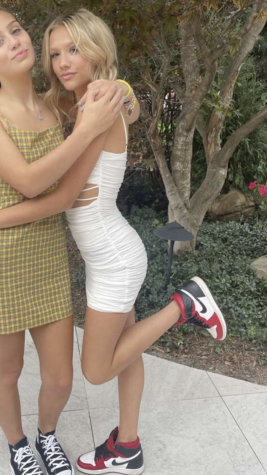 Another outfit I really loved was sophomore Sommer Morton's. Morton was wearing a white dress with red, white, and black Jordan shoes. To find out more about Morton's outfit, I asked her where she purchased everything from.
"I got the dress from Princess Polly," Morton said. "It was very reasonably priced. My shoes were from StockX. I was really satisfied with how my outfit came together,".
With the combination of red and white being very complementary to each other, Morton's outfit was pleasing to the eye.
A third outfit that had caught my eye was a white suit that senior Kaila Welcher was wearing. With Welcher winning homecoming court, I was already very excited to see what they were going to wear.
"I was wearing a white suit that had gold and silver trim," said Welcher "It was originally my mother's from when she met my stepdad".
"There were definitely a lot of very unique outfits," Welcher stated. "People were showing their creativity and personalities through their clothes. Many really stepped outside of their comfort zone this year".
All in all, Berkley High School students were definitely dressed to impress. From a plain black dress to leather jackets, the assortment of apparel was marvelous. While being satisfied with what I saw this year, I am excited for next year's homecoming to get another look at what the students of Berkley High School are going to wear.
Leave a Comment
About the Contributor
Violet Karp, Assistant Feature Editor
Hello! My name is Violet Karp,  and I am the feature assistant for The Spectator. I am a freshman, so this is my first year that I have been on staff....