So You Want My Job: Gabe Stacey
"There's never a time that I'm not thinking about the company."
These are the passionate words of one of Berkley's finest clothing designers. Senior Gabe Stacey co-founded his clothing company Society Disbanded along with senior Michael Gonzalez and dropped their first line of clothes back in January of 2021.
Stacey explained, "We were both into fashion and have a similar style. We both thought it would be cool to have our brand, and one day around last November we just decided to go for it."
Although this decision sounds casual, this was the start of an epic collaboration. Through hard work, and many devoted hours, they came up with their first line of clothing which wound up being a perfect representation of their mission statement, "Be your person and don't conform to what society tells you." Through continual determination, the two have managed to consistently put out new collections around every two months. So far, their releases have included t-shirts, hats, and sweatshirts, and pants that are soon to come.
"When you think of a disbanded world you think of chaos and problems," Stacey explained. "We like to use skeletons in our clothes because to us it represents the edgier side of society."
Though Stacey and Gonzalez gravitate towards edgier designs, their latest design is a 'basics collection' that still has a gritty feel to it, but it is less "out there" than their other designs. The basics collection appeals to those who want more simplistic wear, but still want to have a little edge to it.
Gonzalez and Stacey are constantly working. From deciding the garments and logos, designing, shipping (hand delivery sometimes), fulfilling orders, constantly coming up with ideas, and so much more, they do everything.
"We're on FaceTime with each other like 200 times a day, either talking about the company and what we want to do, exchanging design ideas, and are just constantly collaborating back and forth," Stacey says. With school and other extracurriculars, balancing it all can become a lot. Sometimes the two of them even have to stay up until 2:00 a.m. to fulfill their orders, just because they have so much going on. But their passion and love for the brand make all of this worth it.
It's one thing to make a clothing line and put it out there, but imagine seeing your peers wearing something that you created. Stacey and Gonzalez can proudly say that they have experienced this unique feeling. A goal of Stacey's is to have fifty to one hundred BHS students buy one of their items by the end of the year. So, if you want to be part of the Society Disbanded nation, be on the lookout for their next merch drop soon to come!
View Comments (2)
About the Contributor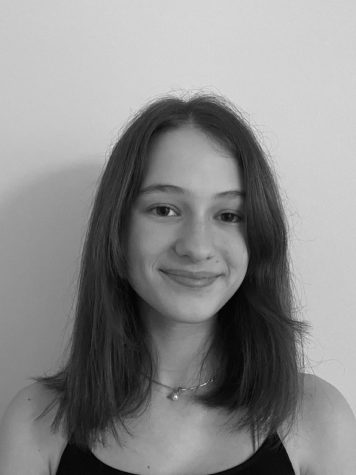 Amelia Karp, Editor-in-chief


Hey everyone! My name is Amelia Karp, I'm a senior, and I am honored to be a Co-Editor-in-Chief with the fantastic Raynah Jacobs this year. This...