Eminem's New Restaurant-Mom's Spaghetti
His palms are sweaty, knees weak, arms are heavy.
There's vomit on his sweater already, mom's spaghetti.
These ar
e the iconic lyrics of one of Eminem's most well known songs, Lose Yourself. Most of us know at least one person who could recite these opening lyrics with ease. But who would have ever imagined that 19 years after its release, Eminem would take his talents to the restaurant industry, open up a restaurant, and name it after one of his iconic lyrics, Mom's Spaghetti? Odds are, not many saw it coming- maybe not even Eminem himself. But hey, this opportunity comes once in a lifetime, right?
Mom's Spaghetti is new, hot and trending. Since its opening day on September 29, it's been the focus of Detroit. The restaurant has a prime location on Woodward Avenue, right between the Union Assembly and the Filmore. The restaurant's hours range from 4 p.m. to 12 a.m. on Wed.-Thurs. And 4 p.m. to 2 a.m. on Friday-Sat. Eminem super fans have come to Detroit from all across the country to see what the hype is all about! 
On opening day, Eminem himself served fans their food, gaining even more publicity for the restaurant. I decided to go downtown myself to see what all the hype was about. I wanted to know, is Mom's Spaghetti actually a good restaurant? Or is it just gaining this traction solely because of Eminem's popularity?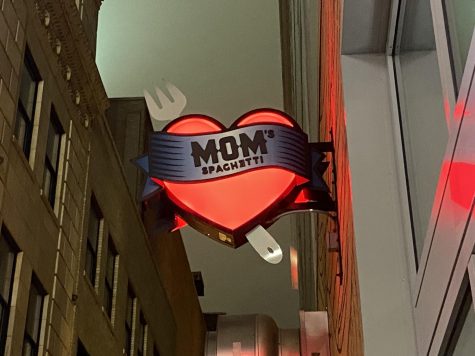 First things first, let's talk about the line. I arrived at Mom's Spaghetti around 7 p.m., which I soon realized came with a price: a tremendously long line. Although going right in the middle of the dinner rush made the wait long, my anticipation for the food made the wait exciting. Plus, it felt much more satisfying to get my food after having to wait for it. Also, the line was buzzing with excitement as well. Everyone who came to Mom's Spaghetti was just as happy to be there as I was. I would recommend going after 8, because the line dies down fairly quickly after that. 
The food is ordered and served through a carry-out window. The servers are pretty efficient, trying to give people their orders as fast as they can. The menu is extremely limited, as they only serve (you guessed it) spaghetti. However, you can add either regular or vegan meatballs, as well as a spaghetti sandwich. That's it. Though I appreciate the simplistic menu, it makes me question how successful they can be in the future–you can only eat spaghetti so many times, you know? The prices aren't horrible either, considering how Eminem has a big enough platform to get away with making his food overpriced (the spaghetti costs $9, $12 with meatballs, and the sandwich is $11.) The spaghetti is served in a Chinese food styled take out box which I thought was super creative and fun.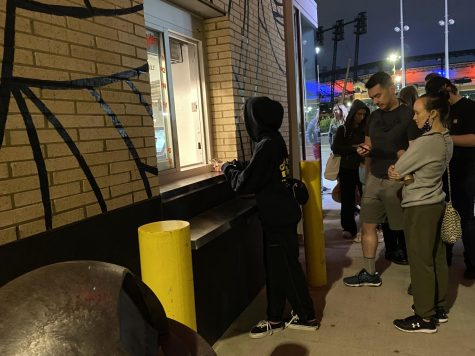 Before getting to Mom's Spaghetti, I thought that the restaurant only served through the carry-out window, and had no additional seating. Thankfully, I was pleasantly surprised when I got there, only to find out that this was certainly not the case. The restaurant actually has a sit-down venue that takes up a small portion of Union Assembly, the restaurant right next to it. The venue was simplistic and cool. It kind of looked like a modern-asian joint, which contrasted nicely with the brick walls on the outside. The upstairs part also had a gift shop, named "The Trailer" which is designed to actually look like a mobile home trailer, modeled after the trailer park that Eminem grew up in on 8 mile. You can tell a lot of thought went into the appearance as it had many creative elements, including a wall of 8 plasma screen TV's that showcase Eminem in one of his music videos, and a trailer park-looking window. It was all very impressive.
Was the food good? Yes. Was it amazing? Maybe not. Though I think the spaghetti itself is really nothing special, the overall experience is definitely worth the trip. With a lively atmosphere, a great venue, and decently priced food, I was satisfied. I would rate my overall experience to be a 9/10. If you're a fan, or just want to check out a new hotspot in Detroit, Mom's Spaghetti is definitely worth checking out and trying!
Leave a Comment
About the Contributor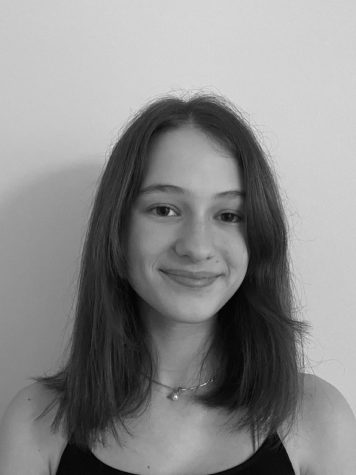 Amelia Karp, Editor-in-chief


Hey everyone! My name is Amelia Karp, I'm a senior, and I am honored to be a Co-Editor-in-Chief with the fantastic Raynah Jacobs this year. This...