Berkley Students' Skincare Routines
Penelope Cohen '24, Feature Editor
Having clean and healthy skin is based upon one thing; your skin care. Many teenagers struggle with things like acne, dryness, eczema, oily skin, and many more. These things are all super normal, and products like cleansers, spot treatments, lotions, moisturizers, pads, and oils can all help. Many brands offer these products, and the right skin care routine for you will look different than other people.
When planning out your routine, you need to consider factors like what your skin type is, what imperfections you are trying to improve, and how consistent you want to be. Common skin types are oily, dry, combination (oily and dry), and normal. To find your perfect routine, researching what skin type you have is a great first step.Do some brainstorming on what goals you want your routine to accomplish. Do you want this routine to be every morning and night? Maybe you only want it a few times a week. After considering all of that, you now have a good look on what your skin care routine may look like.
Skin care is for everyone, and everyone can have a routine. It doesn't matter your age or even gender. To give you an inside scoop, here are some Berkley students who have good/consistent skin care routines.
To begin, BHS freshman Ethan Frank is an example of a male teen who takes care of his skin. First, Frank starts by rinsing his face with just water and then using just one pump of Cetaphil gentle skin cleanser. Next, Frank's routine continues, he explains, "Then I use one pump of moisturizer called La Roche-Posay double repair face moisturizer" Frank got this product at CVS, and uses it so his skin doesn't get dry. Frank explains, "then I use Epiduo Forte, an acne cream, and that is it!" Frank knows that this product is a combination of a retinoid and benzoyl peroxide. He uses it because it decreases the quantity and severity of pimples, and is quick healing.
Next, sophomore Elliot Hoff shares his quick and easy skin care regimen. First, Hoff wets his face by splashing it with water and then pats it dry gently with a towel. Then he uses Pit Skin Astringent on possible pimples/scars . Hoff leaves this on for two minutes and then proceeds to wash it off. "I then use benzoyl peroxide on my pimples to dry them out and kill bacteria," Hoff states. He washes that off after twenty minutes. Concluding his skin care, Hoff uses moisturizer so his skin doesn't dry out from all of the harsh substances. "Last step, pose in front of the mirror and appreciate what my mama gave me."
Junior Gabriella Sallan takes care of her skin using many different products. Everyday, Sallan washes her face with CeraVe facial cleanser that is for normal to oily skin. "I generally use 1 pump and rub it on my face. I got this product from target." When Sallan sees a pimple she wants to clean up, or a small scar on her face, she uses tea tree oil on the spots. The tea tree oil will give a slight burn, but it works as good spot treatment. Sallan applies this with a cotton pad in the specific spot she wants. She got this product from The Body Shop. "After that, I use the Neutrogena Hydro Boost Sunscreen from Ulta (even in the winter) and I just use a little because my skin tends to get oily from it." Depending on how dry her skin is, Sallan sometimes uses the Morphe 2 Total Softie Gel Moisturizer as well. In the summer, she puts on White Lucent Day Emulsion Broad Spectrum Moisturizer that has SPF in it to protect her skin. "It also gives me a glow because it'a luminescent. I got this product from Sephora." Most of the products Sallan uses tend to help with dry skin because that is her skin type.
Senior Linnah Stevens provides The Spectator with her routine as well. "First I wash my face with the Pure Skin Cleanser from the brand First Aid Beauty. I just use a little bit and rinse with water to clean anything off my face." Stevens explains how she also uses a serum from the company The Ordinary. Adding on, she states, "It's a niacinamide and zinc blend and I just put it on my whole face." This brand can be found at places like Ulta and Sephora. "Lastly, I use a moisturizer from The brand CeraVe with spf," says Stevens.
I got in touch with Leslie Mazur, a professional Dermatologist at Apex Dermatology in Denver Colorado, who sees lots of teens struggling with their skin, and she reveals so much about teenage skin care. "Some of the biggest issues we see in teens include acne, eczema, warts and other viral infections," Mazur explains. There's so much to learn about teenage dermatology, but for right now let's just talk about skin care. For acne, Mazur recommends a gentle cleanser like Cerave, or Cetaphil gentle cleanser. "It's very important to wash your face twice a day, and shower every single day." Next she explains how you should use the Cetaphil or Cerave moisturizer as well. Mazur also tells us, "there's a prescription that goes over the counter called Differin that you can find at Walgreens, Walmart, or Amazon, and I recommend this at bedtime after the moisturizer."
A common question that people wonder is, what happens if you are not seeing an improvement in your acne with your current routine? Mazur states, "If you don't see much improvement after 6 to 8 weeks then I recommend adding a benzoyl peroxide wash such as PanOxyl or Oxy." Continuing on, "for eczema, it's very important to follow all the dry skin care instructions that we give to patients, including short showers that are not hot, but lukewarm," claims Mazur.
She also reiterated the importance of using moisturizer after the shower. "For persistent spots you can try over-the-counter hydrocortisone twice a day for three or four weeks, and if you don't see improvement after that time you should go see a dermatologist."
All in all, teenage skin can be the worst of all time. You can prevent this though if you handle your skin with care. These were only four of the many students at Berkley that have skin care routines. Do some thinking and creating, and get yourself a skin care routine that is perfect for you today!
Leave a Comment
About the Contributor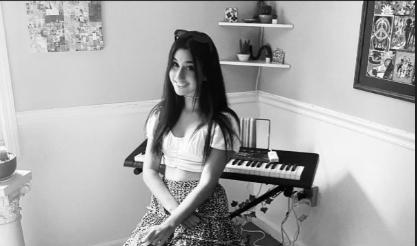 Penelope Cohen, Staff Writer
I am a sophomore and the feature editor this year. I enjoy writing entertainment articles the best. I love journalism because of the writing freedom we...