Chngeing our Thoughts on Sustainability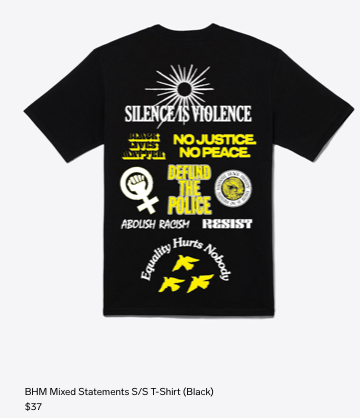 Scrolling through Instagram one day, I stumbled upon an ad for a brand called Chnge. Doing some investigation, I checked out the brands page. I discovered the brand is extremely popular on instagram with 2.5 million followers. The ad I saw was different from usual brands though, they featured messages that talked about sources the clothes were produced from, and how that related to our environment, whereas typical brands tend to shy away from those discussions. This only made me more interested in researching the brand and learning more about the ideology behind it.
Created by Jacob Castaldi, Chnge was launched in 2018. Castaldi was a content creator and co-founder of Ivory Ella, a popular clothing site whose proceeds turn into donations for animal rights organizations. Soon after Chnge's launch, it became a massive success. Switching from t-shirts to a full line of clothing that features sweatsuits, hats, socks, and outerwear. The style of the clothing offers very unique designs that encourage its wearer to partake in discussions about everything from civil rights to environmental issues.
Much of the clothing designed by the brand relays messages that encourage anti-racism, environmental campaigns, and feminism, all in unique designs. What's even better about the brand though is that unlike many others, Chnge practices what it preaches. The brand's materials are completely organic and environmentally sustainable unlike many other companies. The cotton used by the brand is 100% GOTS certified organic cotton with zero harmful chemicals or pesticides. A t-shirt made by the brand in comparison with others saves over 500 gallons of water every shirt produced, and requires 62% less energy than conventional cotton shirts as said by Castaldi.
The brand vows to compete against 'fast fashion' by ensuring neutrality in production. According to the brand, every shirt produced offsets 48.5lbs of CO2 to ensure the CO2 from Chnge's supply chain, as well as the first 50 washes and dries, is offset. Another bonus is that the clothing is 100% carbon neutral, and has saved 265,935 trees during its production by using this sustainable cotton. From production to the shipping process, sustainability is achieved. The packages sent out to customers are made out of brown organic paper that is 100% recyclable after use.
"
"The brand spreads really good positive messages about sustainable fashion and change throughout the world""
— Audrey Hambrick
Aside from sustainability, Chnge takes a portion of each purchase and gives it to charities that relate to the issue or topic of the article of clothing you've purchased. For instance, if you purchase a shirt that talks about fighting racism, some of the profits will go towards organizations like the NAACP. The brand's website also keeps an up to date list of all of the organizations that are donated to and the amount donated to each individually, turning insightful clothing into activism.
Audrey Hambrick, a senior at Berkley, has a few items from the brand. Hambrick discussed her thoughts about the brand and shopping sustainably. She heard about Chnge through Instagram, and continued to look into the brand more. In her findings, she discovered that the brand was focused on sustainability, which she thought was really interesting. "I also liked a lot of messages that were on their shirts," says Hambrick. She continued on to say, "The brand spreads really good positive messages about sustainable fashion and change throughout the world."
When asked about the sustainability of the brand, Hambrick stated, " sustainable fashion is important to me because over the years I've recognized that some brands are so inexpensive because they are not sourced well which is very damaging." Hambrick is passionate about the consequences of fast fashion and the harmful effects it has on the environment. When asked if due to the brand's sustainability, Hambrick continued purchasing from it, she said, "I do want to buy more things from the brand because I know it's sustainable. Sustainable clothing will always be important."
Senior Mary Spurgeon also gave me her thoughts on sustainable clothing. Spurgeon has not purchased from the brand before, but is passionate about sustainability. She says, "I wish more brands had sustainable clothing because of how much better it is for the environment and how much better quality the clothing is."
All in all, shopping sustainability has large, positive effects on the environment, both globally and locally. Chnge gives its consumers a foothold to stand on that allows them to make efforts to work against climate change, while enjoying clothing that spreads purposeful messages and contributes to supporting important organizations.
Since the holidays are around the corner, below are some great gift ideas from Chnge to purchase for friends and family that are positive for the environment and support global activism.
**All of the items can be found on https://chnge.com.
For the online editions urls for each product in the gift guide:
Socks- https://chnge.com/products/cookies-and-cream-tie-dye-chnge-logo-socks
T-shirt-https://chnge.com/products/bhm-mixed-statements-s-s-t-shirt-black
Hat-https://chnge.com/products/chalk-black-panel-power-of-love-baseball-cap?_pos=14&_sid=625874954&_ss=r
Leave a Comment
About the Contributor
Natalia Salman, Berkley Bears Editor
Hey everyone! My name's Natalia, I'm the editor of the Berkley Bears section of the paper. This is my first year on staff! I decided to join the paper...