Reware Vintage
After selling vintage clothes online for fifteen years, Bethany Nixon decided to expand her business and open a store front right here in downtown Berkley. Nixon's shop sells many high-demand vintage pieces such as t-shirts, sweatshirts, jackets/coats, pants, and even jewelry from the 1970s, '80s, and '90s. Nixon is very passionate about the items she sells and was nice enough to contribute to the Berkley community by telling us a little bit about her local business.
Q. When did you start your business?
I worked as a buyer for other vintage shops and sold vintage clothing on Ebay starting in 1998, but officially started selling under Reware Vintage in 2005. I began by selling online at RewareVintage.com, a website that my husband built, and at occasional pop-ups and fairs. Then we opened the Reware Vintage storefront in October 2021. I am thrilled to have a physical location in Berkley, because our family lives here too!
Q.Why did you decide to become a business owner?
I worked in retail in high school, and collected vintage T-shirts for fun, but soon started selling and swapping with friends and co-workers. I loved thrifting and dreamed of having my own vintage shop, and in my senior year, my high school offered an entrepreneurship class. I loved my teacher and the class, and wrote a business plan for a vintage clothing store in that class. I was so excited about the idea that I decided to go to college for entrepreneurship at Central Michigan University. I loved the idea of creating my own store, curating it, and being my own boss.
Q.What is the mission/ goals of your company?
My mission for Reware Vintage is to help people love their wardrobe, shop more sustainably, and keep their clothing longer or pass along for others to treasure. I also want us to contribute to both our community and planet, and I am always looking for ways to be greener as a company, and our family as well.
Q.What services or products do you offer?
Reware Vintage offers casual and collectible vintage clothing from the 70s-Y2K for all. We chose to open our storefront in Berkley because we live in Berkley…We love this community and wanted to have our business here too.
Q. What made you choose to start a company in this industry?
I'd been into fashion since I was a kid, modifying my clothes and drawing up ideas for outfits. When I started collecting vintage T-shirts I thrifted as a teenager, I loved how people would stop me and tell me stories about what I was wearing. It was so fun hearing other people's memories and such a thrill to find something and then sell it to someone who would be so happy about it. The idea that I could do that every day for a living was a total dream, and to help combat the whole problem of fast fashion with vintage clothing, and learn and teach a more sustainable lifestyle…it's now an obsession.
Q.Who is your target market? Who would enjoy shopping at your store?
Most of my customers are 18-45 years of age and shoppers of the store live within Metro Detroit, but I have customers from all over the world on my website. Many people who shop with me are looking to shop for the climate and environment, many are vintage T-shirt collectors or love a certain vintage style, and many just love the nostalgia they feel as they look through the racks and shelves of the store or the website.
Q.Where do you get your supply of clothes? What is the journey of clothing in your store?
The majority of the clothes I sell are sourced right from the original owners – people can make an appointment to bring their clothes to me, or sometimes I will go to their home. During the pandemic, I have spent many days sorting through things in people's driveways and garages. I love buying from the owners and hearing their memories of each item, and passing along stories to the people who buy them next.
Q.How did you come up with the name for your company?
Reware Vintage is an LLC 🙂 I originally wanted to name it ReWear Vintage, but when I said it to my husband he asked if I was spelling it Rewear or Reware, and I actually liked the second better – it seemed to represent what I was doing even better.
Q.How does your business give back to your community?
We do give back to the community in lots of ways – Reware Vintage has participated in a number of fundraisers in downtown Berkley since we have opened the store, and to many local groups in Metro Detroit & national causes while we were just operating the website. Over the years we have sold many items with the proceeds benefiting a number of causes or organizations we are passionate about, and for the past year we have donated 5% of our profits to 350.org, and other non-profits helping to combat the climate crisis as well.
Q.Who are your primary competitors in your market?
To be honest, I don't consider anyone else selling vintage or used clothing as a competitor. I consider us all allies in trying to normalize and promote shopping used & vintage, and in supporting a circular economy and being kinder to our environment, while creating jobs and value in our community.
All in all, Nixon's business is going in the right direction as she continues her love and passion for vintage clothing more and more everyday. She is very excited to see her store's products being worn around our Berkley community. The popularity for vintage clothing has grown significantly among students over the past few years, so. make sure to check out Reware Vintage in downtown Berkley!
Leave a Comment
About the Contributor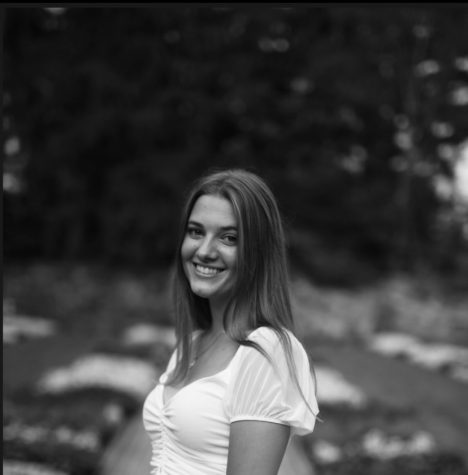 Ella Turpin, Opinion Editor
Hi everyone! My name is Ella Turpin. I have been in journalism for two years now, and I am this year's opinion editor. I joined journalism because I heard...