Ski Hill Review
Finding a good place to ski or snowboard nearby can be hard. Michigan is home to 40 ski resorts, making it difficult to choose the best one. The following are the three closest hills to Berkley, Michigan and what they have to offer.
*For those who are not familiar*
Green circle: The easiest hill. This is usually where beginners learn to ski because hills are very small, and not very steep.
Blue Square: These are good hills for beginners who are ready to take the next step. These hills are longer runs while still being relatively easy.
Black Diamond: This is for skiers who are confident in their skills to go on longer runs and gain a lot of speed. These hills are much steeper than the others.
Double Black Diamond: These are the hardest hills. They are perfect for seasoned skiers who are looking for a challenge.
Terrain: Terrain means a surface that is not flat. This can be anything like moguls, rails, or jumps. This is better suited for experienced skiers who are ready to take their abilities to the next level.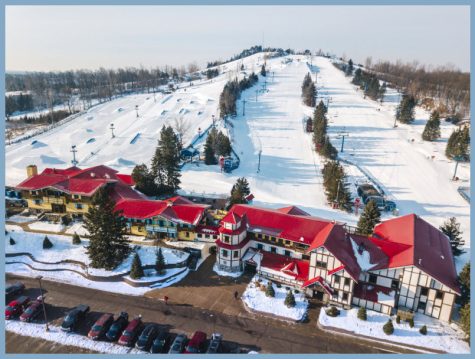 The closest hill is Mt. Holly, in Holly, Michigan, which is a 45 minute drive from BHS. They offer 4 green circles, 5 blue squares, 8 black diamonds, and 3 terrain options. The Lift tickets range from $50-$75, depending on the day of the week, and if you choose a full or half day session. Mt. Holly's range of hills caters to people of all levels of skiing and snowboarding who are interested in hitting the slopes. Mt. Holly is also where the Berkley Ski Club goes to practice.
Sophomore Rikki Newman states, "I love Mt. Holly. I have so many good memories there with all my Ski Club friends."
Next, Mt. Brighton is in Brighton, Michigan, which is about 50 minutes away from BHS. They have 4 green circles, 13 blue squares, 10 black diamonds, 2 double black diamonds, and 8 terrain options. The Lift tickets range from $54-$69. Although it's the farthest away, Mt. Brighton has the largest range of hills available, and is the least expensive hill. This makes it a suitable option for any level of skier or snowboarder looking to improve their skills. Senior Reagan Robert explains that "Mount Brighton is so much fun. It's my favorite place to go with my friends because they have a lot of harder runs."
Pine Knob is in Clarkston, Michigan, roughly a 35 drive from BHS. They have 3 green circles, 7 blue squares, 3 black diamonds, 1 double black diamond, and 3 terrain options. Lift ticket prices are between $50-$75 depending on day of the week, and full or half day sessions. Pine Knob is also where the Berkley Ski Team practices. A senior on the ski team, Bella Manaiscalo, says that "Ski team is such a great opportunity to spend lots of time outside in the winter and meet a lot of new people. I love being able to go to the hill everyday and have fun with my teammates."
Each of these hills seem to be pretty similar in distance, pricing, and skill level availability, but each have their own unique attributes, and are all worth checking out!
Leave a Comment