The SAT And Its Online Future
The notorious SAT is going digital. On Jan. 25, 2022, The College Board announced that, "Beginning in Spring 2023 (international) and Spring 2024 (U.S.), students will take the SAT on laptops and tablets in a school or test center." College Board announced that it is going digital to "respond to the evolving needs of students. Going digital will help us create a better, more flexible test that is easier to take, easier to give, more secure, and more relevant."
The test will still cover the same material and subjects: critical reading, math, and writing. However, due to this switch, there will be some changes. For one, the SAT will now take two hours instead of three. Additionally, scores will be available in a matter of days, instead of weeks. Calculators are now allowed on the entire math section instead of specific portions. Before, all students were tested on the same form, but now there will be unique test forms for individual students. Since there will be unique test forms, it will be practically impossible to share answers and for cheating to occur. Additionally, since digital means paperless, the SAT will now save paper which they were printing for more than a million students a year. The environment will reap the benefits. Moreover, paper costs a lot, and going paperless will result in cheaper expenses for the College Board.
All SAT tests will be taken on a laptop or tablet on an application that participants will download to their device prior to the test day. If students do not have a device, there will be devices available for them to borrow from the College Board. The exam application will withstand internet outages, so losing connection will not disrupt the testing. This application has built in tools for students, including a built-in graphing calculator, a reference sheet for math with common formulas, a clock showing their time left in each section, an option to annotate, and more.
The SAT going digital shows how testing is developing with the current technological era. College Board explained that, "At a time when many colleges have made submitting a test score optional, we want the SAT to be the best possible option it can be for students." They went on to explain that SAT scores can be a large asset to getting into college, and even though submitting scores may be optional, the digital SAT is a great option.
This change will not occur in the U.S. until the Spring of 2024, so the freshman in high school now will be the first in the U.S. to experience the digital format. In light of this, I thought that it would be interesting to hear from Berkley students–both those that will be affected by this change and not– about how they feel about the digital SAT.
Freshman Ella Hesano is excited that she will experience the change to digital: she feels that it will be better for her testing needs. For one, Hesano explains, "I am happy about the digital accommodations, especially because I always forget to bring stuff to class and now that won't be an issue." Here, she is referring to the built in calculator along with the reference sheet. Furthermore, Hesano prefers typing and is pleased that she won't have to handwrite on the test.
Sophomore Sharmel Gibson has varying opinions on digital testing. On one hand, Gibson favors paper tests. She prefers writing, and explained that her eyes get strained while working on the computer, partly due to the light on the computer screen. In Gibson's opinion, she thinks that, "Due to the resource pages on the application and the calculator on the entire math section, this test is better for students who do not have as many resources to study. I think it will give students a better chance at doing well."
Junior Gabby Sallan is taking the SAT this year while it is still on paper. Sallan explained that she prefers writing better as well, and that the computer screen is harder on her eyes. She says, "On the computer, I need to wear my glasses, so I prefer a test on paper." She is happy that she gets to take the test while it is still on paper.
So, many students feel differently about this new test form. However, the truth is, the benefits and disadvantages for each student will not really be seen until digital SAT is enacted in the U.S. Thus, only time will tell how the current freshman and eighth grade students are affected by this change. The move to computer test taking is a response to two things: a generation growing up primarily in a digital world and a relatively easier way of administering tests. The College Board realizes the various benefits of adapting their ways as the digital age is upon us.
Leave a Comment
About the Contributor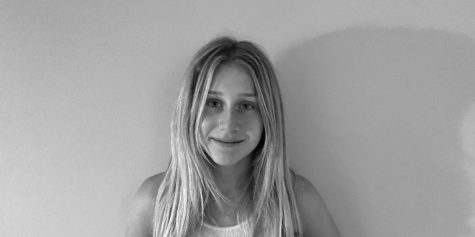 Aria Dwoskin, Copy Editor
Hi! I am Aria Dwoskin, and I am a copy editor! I am a sophomore, and this is my second year on The Spectator.  I joined Journalism because I love to write,...