The Strong Influence TV has on Fashion Trends
The premiere of the second season of Euphoria was released on HBO MAX on Jan. 16, 2022. After much anticipation accumulated among fans after a release delay due to COVID, fans anxiously waited for the new fashion trends in the show. Euphoria is known for its unprecedented and extraordinary fashion and makeup. From neon eyeliner to facial rhinestones to abstract outfits, this show has set the trends for the future of fashion. After the release of season one, the Euphoria aesthetic went viral on social media, mostly Tik Tok. Famous make-up artists were inspired by this new look and incorporated it into their makeup routines. But it wasn't just influencers who followed the trend: everyday Gen-Zers began to embody this style into their looks.
Each character in the show has an aesthetic based on their personalities, making it easy for fans to embody their beauty. In the carnival episode of season one, one of the main characters, Maddy Perez, played by Alexa Demie, wears a purple set that has become iconic to today's crazes. Brands like "I.AM.GIA" and "Alo Yoga" have mimicked this outfit and others of her character because they know of its significant popularity. Demie's character is very rebellious and confident, attributes that many desire. When wearing outfits inspired by her, young adults can embody these qualities and become this character. In this day in age, it's hard to express yourself without the risk of being judged. These outfits, however, are pre-validated because Alexa Demie wore them.
After the release of season two, Euphoria instantly brought new trends to life. In the first episode, fashion icon Maddy wears a black cutout dress with strappy heels. Not 48 hours after the premiere, according to wwd.com, searches for "black cutout dresses" increased by 890 percent, and "lace-up heels" increased by 125 percent. Another fashionable character, Cassie Howard, played by Sydney Sweeney, wears a dazzling tight blue dress. As a result, searches for "blue strappy dresses" increased by 143 percent.
Instead of plain mascara and dull-colored eyeshadow, like the makeup in most shows, Euphoria's make-up artist, Doniella Davy, has created a whole new approach. Each of her canvases has its identity, shown through its makeup. Cassie is sweet and girly, so her make-up is subtle, cute, and sparkly. In the first season, Jules Vaughn, played by Hunter Schafer, is very feminine and cheerful, so her makeup consists of neons and pastels. However, in the second season, when she explores her hoydenish side in the second season, her makeup is darker with heavy black eyeliner.
Davy explains, "Our society is still brimming with antiquated beauty, makeup and gender norms, and Gen Z's unapologetic approach to self-expression works to dismantle these norms in a more widespread way than ever before, because of the constant flow of self broadcasting that is social media. Basically, once Gen Z decides to be passionate about something, it spreads like wildfire."
Directly after season one came out in August of 2019, the flashy rhinestones and glitter makeup look went viral. In the show, the neon eyeliner almost seems natural because, at this high school, outrageous makeup is the everyday attire. People were so inspired by the distinctness and uniqueness that the look incorporated into everyday makeup styles. Now, three years later, the look's popularity has boosted even more. On Tik Tok, #Euphoria has over 15 billion views and is quickly increasing.
However, Euphoria is just one of the many shows that have been influential to society's fashion trends. Gossip Girl, released in 2007, takes place in the elite Upper East Side of Manhattan in New York City. The attire is high-end dresses, fancy purses, and classy private school uniforms. This show influences preppy, chic, and high-class fashion among teenagers. Because of their fashionable elegance and sophistication, teens obsessed with the show want to embody two main characters, Blair Waldorf and Serena Van der Woodsen, played by Leighton Meester and Blake Lively.
Another 2000s influential movie was Mean Girls. Between low-rise jeans, mini skirts, juicy tracksuits, and the iconic line, "On Wednesdays, we wear pink," this movie played a significant role in y2k fashion. Regina George, played by Rachel Mcadams, is perceived as the socially admired and glamorous "it girl." Her persona inspired many to dress like her.
In the TV drama, Sex and the City, the fashion is impeccable. The show is about four young women in New York City trying to find love, and they always look good doing so. Decked out in everything designer, the women strut down the streets of new york in their couture but mixed in with streetwear. Suddenly, because of the show, streetwear became fashionable. As a fashion icon, Carrie Bradshaw, played by Sarah Jessica Parker, started a wildly successful trend. Along with hundreds of shoes in her immense closet, the most abundant pairs were Manolo Blahniks. After Bradshaw confessed her love for these high-end shoes, everyone needed to have a pair, making Manolo Blahnik shoes well-renowned.
The famous 90s show Friends significantly influenced fashion as well. Rachel Greene, played by Jennifer Aniston, had the most iconic hair of the decade. The highlighted, layered, short-cut hairstyle became so popular it coined the name "The Rachel." Monica Geller, played by Courtney Cox, and Rachel's styles of plaid skirts, turtle necks, and straight-legged jeans made many women in the 90s want to look like them.
Even though TV implemented some of these trends decades ago, they still have integrated themselves into fashion so significantly that they are still prevalent today. These shows have had memorable characters that we will remember for their style and influence. Who knows, maybe in ten or fifteen years, Maddy Perez or Jules Vaughn will be as iconic as Carrie Bradshaw or Rachel Greene.
Leave a Comment
About the Contributor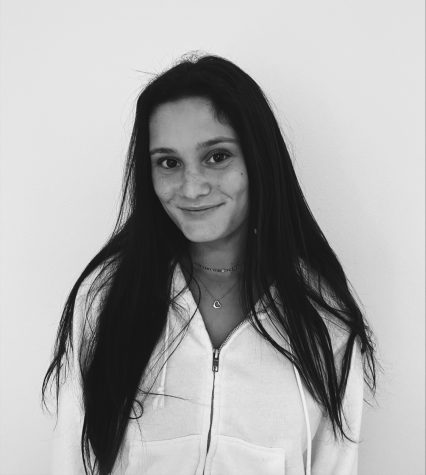 Julia Heller, Managing Editor
Hi! My name is Julia Heller! I am the Editor-in-Chief for The Spectator at Berkely High School. I am a Senior, and this is my fourth year on staff. I decided...