So You Want My Job: Bella Ligi
This article is part of an ongoing series here at The Spectator called, "So You Want My Job." In these articles, we take a look at high schoolers with part-time jobs, to give others an understanding of their roles.
Many high school students work at restaurants or in retail, but not-so-typical senior Isabella Ligi expanded beyond the norm and works at The Townsend Hotel.
Tell us about yourself (where are you from, where/what is your job and how long have you been working there?)
I live in Berkley, MI, but I grew up in Birmingham. I have been working at the Townsend Hotel for around five months now.
How did you find this job?
Ms. Belsky created a listing for hiring jobs in the area; Townsend Hotel was on the list. It was funny because on the same day, my friend told me it was impossible to find a job I would enjoy for the wage I was looking for.
What is your position?
I am a food runner on weekdays but on the weekends I host tea parties.
Tell us about your position working here. What does your typical day look like from start to finish?
Hosting high tea starts at 10 a.m. I begin setting up all of the fine details from sugar cubes to the very particular silverware placements. At around 11:30 a.m., I get the food which consists of scones, sandwiches, and miniature pastries. I then plate each of the courses according to the reservations I have that day. Our tea service starts at 12 p.m. and continues until 3 p.m. During this time, I pour tea for guests whenever their cups are empty. I also bring out the food course by course. After the service, I bus everything and polish all of the china.
Do you like your job? What is the most rewarding part of your job?
I love my job. The most rewarding part is being able to give the best little fairy tale experience for the young kids. We also have a break room which has fresh food everyday made by the chefs at the Rugby Grill.
What do you look forward to when you go to work?
I make very good tips, I eat good food, and have very insightful conversations with new people everyday.
Have you ever met anyone famous?
Yes! On my first day, I got to meet Steph Curry. Although I had to act like he wasn't famous, and that I didn't know who he was.
Do you see yourself doing anything like this in the future?
No, I am enjoying this opportunity for the time being. I do see myself coming back during the summer while I'm in college.
How is this job different from your last job?
My last job was a regular restaurant, not fancy, nothing special. Before, I was able to connect with my coworkers better since they were my age. Now, it's the actual service that I enjoy. It's a very different environment. The best way to explain it is that this feels like I'm an adult.
Is there any advice/tips you would like to give to high school students interested in working?
Don't be nervous! Everyone is there to help you out as long as you're a hard worker.
Leave a Comment
About the Contributor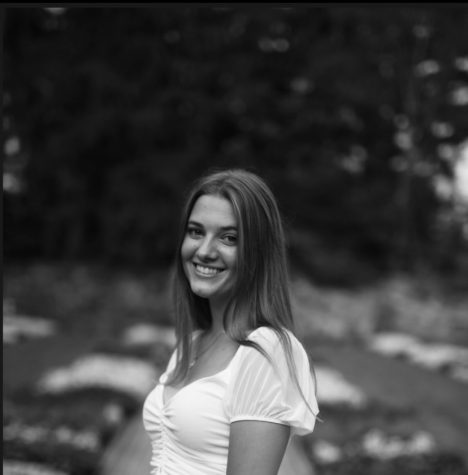 Ella Turpin, Opinion Editor
Hi everyone! My name is Ella Turpin. I have been in journalism for two years now, and I am this year's opinion editor. I joined journalism because I heard...