Tasty and Trendy Cookies Arrive at Woodward Corners
Crumbl Cookies began its viral debut during quarantine when comfort food was essential for survival. Although the two cousins, Sawyer Hemsley (CEO) and Jason McGowan (COO), founded Crumbl Cookies in 2017, they truly took off in 2020. Their first store opened in Logan, Utah, after finally finding the perfect cookie recipe. After the company started to promote their cookies on the social media app, TikTok, Crumbl immediately became trendy, influencing many to visit their store and post a "Crumbl Review." These minute-long videos featured users eating and rating the various frosted cookies from the iconic pink box. Now, they have over 300 bakeries in 36 states across the country.
Crumbl Cookies is no ordinary bakery. Instead of constantly having the same cookies, the menu consists of different frosted cookie flavors every week (not including their iconic chocolate chip cookie and pink chilled sugar cookie for sale every week). Every Sunday night, @crumblcookies on Instagram posts a high production value promotional video of their new menu for that week. To avoid repetitiveness, they make sure to have at least one flavor that has never been sold before. Some examples of their adventurous tastes include raspberry lemonade, caramel popcorn, cinnamon swirl, chilled cocoa, galaxy brownie, bubblegum, cereal milk, piña colada, and many many more. If a holiday is coming up, their lineup correlates with the theme. For example, they had flavors like gingersnap and peppermint bark during Christmas time, and chocolate strawberry cheesecake and sugar cookies with Xs and Os on top for Valentine's Day.
In the past, the closest Crumbl location to Berkley High School was in Rochester, which is an inconvenient 30-minute drive away- although it is worth it. However, Crumbl is making our cookie cravings significantly more accessible. If you have driven past Woodward Corners, you may have seen an unfinished building that reads "Crumbl Cookies" that has been under construction for months. After endlessly going past the storefront and restlessly waiting for a bite of a Crumbl cookie at a close and easy access, the day finally came on Thursday, March 10. The Royal Oak location had its grand opening. The scrumptious featured cookies for that week were blueberry muffin, oreo birthday cake (quite fitting for the store's opening day), hazelnut sea salt, and snickerdoodle.
Berkley High School freshman Presley Tita, whose favorite Crumbl flavor is cinnamon bun, was hired at the new location. She says, "I applied for this job because I wanted a fun first job, and I wanted to make some money. I like that it's very social, and we can take home cookies after every shift! My first training day was so fun because we had dozens of cookies to learn how to bake and decorate them."
Social media plays a significant role in any marketing campaign in this day and age. Before the TikTok boost, Crumbl was unknown to most of their newly devoted customers. Once users see someone taking a bite of a tasty, beautiful cookie, they feel compelled to buy and try one as well. Crumbl's main marketing accomplishment is achieving the label "trendy." And just like fashion, once something is chic, everyone has to have it.
Leave a Comment
About the Contributor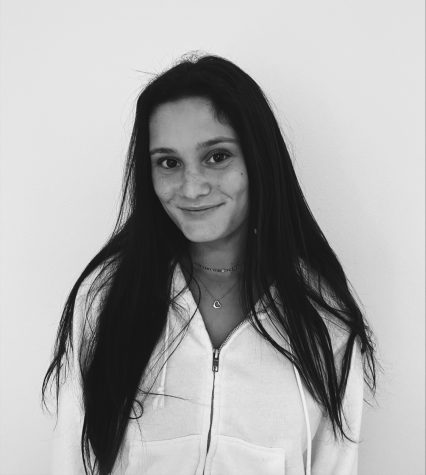 Julia Heller, Managing Editor
Hi! My name is Julia Heller! I am the Editor-in-Chief for The Spectator at Berkely High School. I am a Senior, and this is my fourth year on staff. I decided...