Red Carpet Reports
"Outstanding Achievement in the music industry" is what the Recording Academy describes as winning a grammy. A Grammy award is one of the highest honors a musical artist can receive from this organization. On Sunday, April 3, 2022, the 64th annual Grammy award show a
ired. Awards included an album of the year, song of the year, best new artist, record of the year, and many more. This year, the award show featured hundreds of beautiful outfits, skilled performers, and, thankfully, little drama.
Typically each year, one artist sweeps the floor with an arm full of Grammy awards. In 2018, Bruno Mars won six. In 2019, Childish Gambino won
four. In 2020, Finneas won six, and in 2021, Billie Eilish won seven. This year, Jon Batiste won five Grammys, including album of the year, best music video, best score soundtrack for visual media, best American roots song, and best American roots performance. This raises the question: out of all of the music in this whole year, out of every piece, a few artists won each category? Not that they didn't deserve it, but are the Grammy awards just a popularity contest where the vote is only based on money and fame and not purely talent? The Matthew effect is the pattern that those who begin with advantage accumulate more advantage over time
and those who start with disadvantage become more disadvantaged over time. If an artist starts with a very wealthy record label, they will become more successful to the point where talent isn't the main factor of their music, only their popularity. On the contrary, artists who don't start with a wealthy record deal, even though they are greatly talented, are outshined by the now prominent artists and are rarely recognized by the Grammys.
The host, comedian Tre
vor Noah, described The Grammys as "a concert with awards." The show started with Bruno Mars' band "Silk Sonic" performing their song "777" before winning the record of the year and song of the year for their hit song "Leave the Door Open." The energy and talent that filled the stage was an excellent beginning to a lively show. Olivia Rodrigo Performed her song "Driver's License," which is number 1 in 48 countries and has over 1.1 billion streams across the nation from her Album of the year-winning album "Sour." Billie Eilish performed her song, "Happier Than Ever," with her brother, Finneas. After winning many awards for the past two years, and seven nominations this year, Eilish, unfortunately, walked away with none. Jon Batiste's vibrant performance, filled with colorful costumes and spirited choreography, reaffirmed he's deserving of the 11 nominations (the most out of anyone) and five wins he secured in this award show. Justin Bieber performed his hit song "Peaches," featuring Daniel Caesar and Giveon from his album "Justice," which was nominated for album of the year. K pop band BTS performed their Billboard number one song "Butter." The performance started with a James Bond theme and went into their remarkable, complex choreography.
The night was also filled with a few significant tributes. Singer and 12-time Grammy winner John Legend led a meaningful Ukraine tribute performance while singing his song "FREE." During this performance, he was accompanied by Ukrainian musician Siuzanna Igl
idan, Ukrainian singer Mika Newton, and Ukrainian poet Lyuba Yakimchuk. John Legend said, "I wrote 'FREE' after a week of seeing the horrific images of the senseless, brutal invasion of Ukraine by a regime with no moral justification–no right to kill, dominate and subjugate the Ukrainian people, no right to silence the will of the people in a democratic nation." Before this performance, a pre-recorded video of Ukraine President Volodymyr Zelenskyy played for the audience in which the president advocated the value of speaking out against war and spreading the word to as many people as possible by posting and protesting, to help by donating, and more.
Another tribute was to one of the most influential American composers, Stephen Sondheim, who died on November 26th, 2021. Sondheim composed exceptionally famous musicals West Side Story and Into the Woods. Cynthia Erivo, Rachel Zegler, Ben Platt, and Leslie Odom Jr. sang in honor of him while pictures of other outstanding music
ians who have passed in the past year showed on the screen. The incredibly talented singers on the stage beautifully sang a medley of "Not a Day Goes By," "Send in the Clowns," and "Somewhere." A subtle but noticeable tribute was Billie Eilish's T-shirt with a picture of the Foo Fighters drummer Taylor Hawkins who passed away earlier this year.
An award show isn't an award show without daring and stunning outfits. Singer Tayla Parx wore a dinosaur-esque, bright green jumpsuit with chunky, neon yellow boots. Paris Hilton wore a beautiful sparkly silver dress with a matching bedazzled cape. Singer Sza wore a breathtaking tan tulle and a floral dress with matching earrings. Model Chrissy Teagan wore a poofy hot pink ruffled, resembling a tremendous, gorgeous flower. Jon Batiste went back to his roots when he wore a sequin black, yellow, and silver suit to represent his hometown of New Orleans.
After the catastrophe of the Oscars, it was fantastic to watch a–nonviolent–award show filled with exceptional performances, dazzling attire, and well-deserved awards.
Leave a Comment
About the Contributor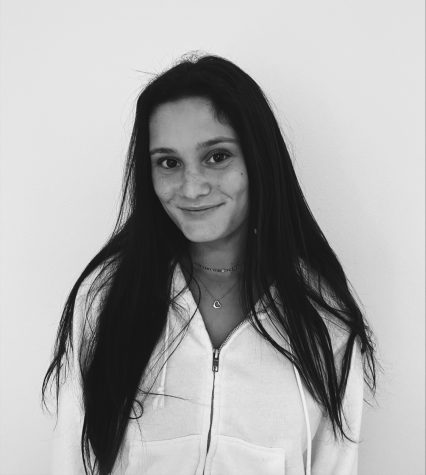 Julia Heller, Managing Editor
Hi! My name is Julia Heller! I am the Editor-in-Chief for The Spectator at Berkely High School. I am a Senior, and this is my fourth year on staff. I decided...