Information about the New Covid Booster
Millions of Americans are now eligible for the Omicron updated booster shots from Pfizer and Moderna. As of Labor Day weekend, these two companies have released the new and improved SARS-coV-2 vaccine, a COVID-19 booster shot. This will be the 6th shot that they have discharged to the public. It targets the original strain of the Coronavirus as well as the Omicron subvariants BA.4 and BA.5 so those who receive it have better protection.
The shot works by directing the patient's cells to make antibodies that are linked to the proteins in the strain of the Covid-19 virus BA.4 and BA.5. Unlike past covid vaccines, the BA.4 and BA.5 boosters were tested on mice instead of people, similar to how the flu vaccines are developed. The urgency for an additional vaccine stems from the fact that COVID cases tend to always increase during the fall and winter months. Simply having updated vaccines by Labor Day weekend, rather than in mid-November, could save between roughly 7,500 to 18,000 lives by the spring.
Furthermore, BA.4 and BA.5 are the most dominant variants in the US today, with the average rate of about 91,000 new infections each day. Pfizer's booster is a 30-microgram dose that contains 15 micrograms of mRNA against the original strain of Covid and 15 micrograms against the BA.4 and BA.5 variants; It is authorized for people as young as 12. On the other hand, Moderna's booster is a 50-microgram dose with 25 micrograms of mRNA also designed to fight Covid and 25 micrograms of mRNA designed to fight the BA.4 and BA.5 variants. This vaccine is only authorized for people 18 and older. Also, Modera says its booster is significantly better at protecting against the infection in one's lungs than the original vaccine was, which is a huge incentive for citizens with respiratory issues. Both companies guarantee the vaccines will have the most significant protection for older and immunocompromised Americans than any previous vaccines. Nevertheless, experts say all age groups need protection against this strain of COVID, not just for their personal health, but to protect entire communities.
Thankfully, this new shot is available at every CVS and Walgreens across the country for free, regardless of insurance! If you have recently received your vaccine, you are eligible for this booster two months after your last one. Moderna and Pfizer advise patients to wait around three months after they have had COVID, if the COVID levels are high in their community. In Oakland County, according to Michigan.gov, we are at a "medium" infection rate with 198.2 cases per 100,000 people. It is predicted that this number will only increase in the next few months.
While you can still contract the virus when you get the vaccine, it is much less likely you will end up severely ill or hospitalized. According to Center for Disease Control's data, citizens who have had one or two boosters have a .024% chance of being hospitalized with COVID. For people under 50, the number is only .014%. So go and get your booster, and assist in this next step for Berkley citizens to better protect themselves and the community for the COVID surge ahead.
Leave a Comment
About the Contributor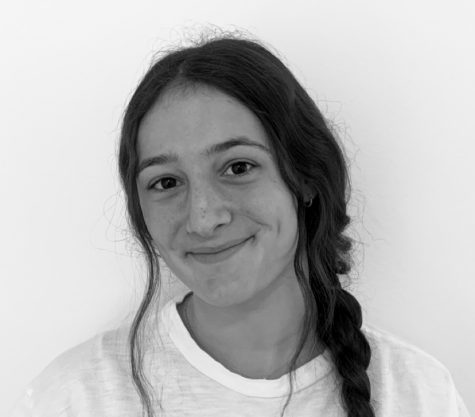 Jane Heller, Editor in Cheif
Hi! I am Jane Heller, and I am Editor in Chief this year. This is my fourth year on staff. I decided to join writing for publication because I wanted more...