Ava Beard and David Rolands Commit to College Athletics
To be a student athlete in college, it requires fierce dedication and time spent playing your sport to make the commitment to continue in college. Some of our very own star athletes have already committed. Senior David Rolands has committed to University of Pennsylvania playing football, and senior Ava Beard to Saginaw Valley State University for volleyball. But what exactly does the recruitment process entail? To help get a real grasp on the layers of the recruitment procedure, I questioned these two athletes about their individual journeys to see how one typically goes about a task like this.
Rolands told me a little bit about his football heritage. He comes from generations of college football players, beginning with his grandpa playing at Ohio State, followed by his uncle at Bowling Green. The Rolands family football genes are to be carried on in yet another generation. Having started playing the sport in 7th grade, Rolands grew a profound love and devotion for the sport over his years on the Berkley Team.
Starting his recruiting process at the end of his sophomore year, Rolands began reaching out to coaches everyday, shooting them texts and emails of his best game film: "anything to get the ball rolling," Rolands states.
Taking the time to visit different colleges, camps, and showcases throughout the summer, his valiant efforts to assert himself carried on throughout junior year once he got his new film, which gained even more traction. But the road to Penn was not linear; he initially received multiple offers from a few different Division 2 schools. Later on Rolands also got lots of attention from Division 1 schools like Columbia and Davidson. But the recruits didn't stop there. After receiving a spontaneous follow on twitter by a Michigan area recruit from Penn halfway through his junior year football season, Rolands sent a quick reply, telling the coach to check out his film.
Rolands stated, "From then on, the connection grew, and it all kind of snowballed from there." By the time summer rolled around, he was on his way to a showcase camp, and "that's when he told me the good news," shares Rolands.
After visiting the school and growing an instantaneous love for the college campus, Rolands said he not only valued the way it felt like a college campus, but also was in the middle of such a giant city with such great history.
On top of all that, Rolands gained an even bigger love for the school after meeting some of his teammates. "The people there are just incredible," Rolands assesses, "I already have a group chat with some of my teammates, and they're great." As for the coach aspect, "obviously my decision isn't just based on the coaches, but these guys are just outstanding." Without school even being in session, Rolands already feels a comforting sense of belonging with his ties at Penn.
Aside from the football aspect, Roland's favors how flexible the academics are. He has the ability to switch majors as many times as needed and take classes at Wharton, the Business school at Penn. Overall, he is ecstatic about having such a wide range of academic opportunities.
Getting the chance to look back on the recruiting process, he states, "It's incredible to see both the athletic and academic aspect, and being able to compare all the schools I've visited is such a rewarding experience."
The most stressful part of all this, Rolands recalls, "was probably the time after getting in contact with the coaches because it's basically just a nail-biting period of waiting for a response on whether or not they think you're good enough."
In terms of going professional, Rolands is walking into his college career with an open mind. He states, "I have no idea right now what my future plans are, but I think the experience I'm going to have throughout these next few years will determine what I want to do."
Obviously, the adjustment from high school to college is a massive jump, and college football is going to be a huge step up from high school football, but with great confidence, to quote Roland, "It's a challenge I'm willing to take, I'm going to tackle it head on because it's just another obstacle in front of me that will help me grow not just as a player, but as a person in general."
After talking to Roland's, his experience was very informative and helped guide the recruiting process for football. Let's hear a little bit from the volleyball side of things.
From since she could remember, senior Ava Beard always expected she'd go to college playing a sport. Whether it be playing basketball, soccer, or volleyball; sports and college always went hand in hand when it came to thinking about her future.
Knowing she had to pay for her own college, Beard thought, "I might as well play one of my sports in college, especially if it helps decrease the price of tuition." Beard's recruitment process was "unlike many others"; she was being watched by a coach from Saginaw Heights during her freshman and sophomore year playing volleyball. According to Beard, he was a "nice guy" who had high hopes for Beard's volleyball career.
"He told me he could tell I was better than the NAIA level (community college level), and that I could play Dll or Dl," Beard stated. As the recruitment process proceeded, Beard was faced with a tough decision. After getting an offer from a Dl school in Tennessee, she could not accept due to the lack of financial support for the cost of out-of-state tuition. With another potential offer at hand, a Kalamazoo coach reached out to Beard as well, but being a Dlll school, there was no opportunity for an athletic scholarship. Although they offered her a substantial amount for an academic scholarship, it was not enough to suffice. Using the recruitment app NCSA (Next College Student Athlete), the same Saginaw Heights coach reached out to a few coaches informing them of Beard's next level volleyball skill, getting her in touch with the Saginaw Valley coach around the time of November 2021 in her junior year. As the school year passed by, Beard began forming a digital connection with the Saginaw Valley coach, keeping in touch after volleyball season ended. By the time March rolled around, she was on her way to visit the school's campus. Fast forward a few weeks, sitting in her basement one random afternoon, Beard got her offer via call to join the Dll Saginaw Valley State volleyball team. Not only was she offered a scholarship for athletics, she received one for academics as well.
Beard discussed how getting the know the coach and the team were a big motivator in her decision. "After meeting the team and getting to know the coach," Beard states, "it was a very friendly environment."
Getting the chance to reminisce on the recruitment process, the most nerve racking thing for Beard was knowing whenever the Saginaw coach came to watch her club team, it was because he was watching her. "It got my heart thumping a bit faster," Beard admitted, "but looking back it just forced me to work harder, and I'm glad I never let that presence overcome me." After finally accepting the offer to Saginaw Valley, Beard says that it was "relieving to know that it was all set in stone".
While college sports make way for a high intensity environment, being the multi-sport athlete that she is, she is prepared to dedicate her physical energy to one sport.
"Being in shape for basketball, and especially soccer, is definitely much different than being in shape for volleyball," she shares. With an early departure to Saginaw, Beard shares, "next summer, pre-season starts two times a day near the end of July, and volleyball season is in the fall with a few spring tournaments, so I'll be in school already by August."
While managing school and sports may cause a bit of stress, Beard feels a sense of reassurance knowing that many of her future teammates are majoring in Psychology just as she is, so she feels confident that the stress will be quite manageable.
Hearing their full recruitment experiences, we wish them the best of luck on their journey ahead in the atmosphere of college and athletics.
Leave a Comment
About the Contributor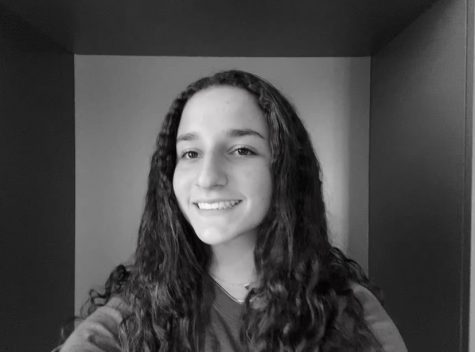 Lily Cierpial, Staff Writer
Hello all, I'm Lily Cierpial and I'm a junior this year. This is my second year on the journalism staff, and I'm so excited to be one of the two copy...