A Deep Dive into the Girls Swim Season
The Berkley High School's girls swim and dive team is not your average high school sports team. A normal day on the team is participating in morning practice at the daunting hour of 5:45 a.m. Then, after a long day of school, these girls return  to the pool for, yet again, another practice. With the season underway, Berkley students have been questioning, how do these girls do what they do?
Bryce Scully, junior and star swimmer, expresses her perspective on the team. Scully has been swimming for a total of ten years, including three years on varsity. She swims the 200 meter individual medley, the 100 meter breaststroke, the 100 meter butterfly, and relays! Last November, Scully placed fifth in the state for the 100 meter breaststroke! She explains that she has been swimming for her whole life and felt that Berkley's team has a great amount of team spirit, which is why she wanted to participate in it. She adds that the team is extremely close to one another and always has each other's backs. This team demonstrates this because, as Scully said, "we all want the best for each other. From having to wake up at 5 a.m. for practice, then going to school, and then going back to practice once again can be a bit challenging sometimes, but the team pushes each other to be and do their best." 
While these swimmers dedicate their time to being in the pool, they also connect with one another out of the water. The team has special trips every year where they enjoy a team bonding experience. For example, they go to the cider mill for donuts and apple cider, while enjoying each other's company.
Scully reveals that the swim team has made her "a better person and leader." While Scully deeply cares about swimming, she equally appreciates the friendship she has gained from the swim team, sharing that she "want[s] the girls to be better people, swimmers, and to thrive" as best they can. 
In addition to Scully, senior and captain Molly Hamilton discusses her journey on the girls varsity swim and dive team. Hamilton swims the 100 meter backstroke, 100 meter freestyle, 50 meter backstroke in medley relay, and the 400 meter freestyle relay. She first joined the team her freshman year because she had also been swimming for her whole life. Over time, she has become friends with everyone on the team and she explains that they have their own community. Hamilton points out that the team is special because they "spend so much time together", so they all have become very close. Hamilton explains that even though "waking up for morning practice is awful, the team makes it enjoyable. We have a lot of fun things such as tons of pool toys, themed meets, and the team Instagram." Hamilton explains that she appreciates practice since she gets to hangout with her friends. "Even though it's practice, we get to have fun in a pool at the same time."
As a captain, Hamilton has many obligations: She designs the merchandise, plans bonding trips, makes the meet themes, runs the Instagram, and creates buddies for gift giving at meets. She explains that she always helps all of the girls in any way she can. While the job of a captain is time consuming, Hamilton notes that it is extremely rewarding.
The Berkley High School girls swim and dive team is special. They all deeply care for one another and want the best for each other. Berkely is lucky to have such a kind-hearted team.
Leave a Comment
About the Contributor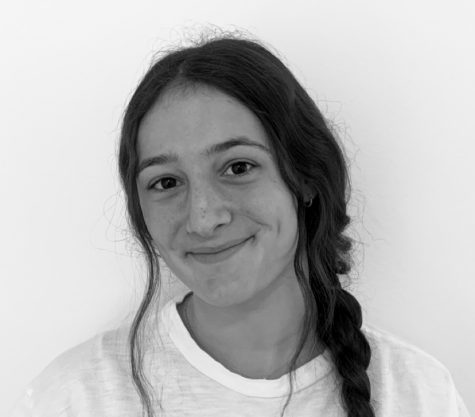 Jane Heller, News Editor
Hi! I am Jane Heller, and I am the news editor. This is my second year on staff. I decided to join writing for publication because I wanted more opportunities...