What Does It Take to be a State Ranked Team?
Currently, Berkley High School's boys' soccer team is number three in the state, battling Catholic Central and Troy for the number one spot. Being third in the state is not an easy feat. What does it truly take to climb high in the rankings? Below are some standout players this year who shared their experiences on what it is like to be a part of the strong varsity team.
Starting goalie Seth Davidson has been on varsity since his freshman year at Berkley. Davidson explains that he joined the team because he "has always loved the sport" and when he was in middle school, he would always go to the high school games. "I became obsessed with the environment of high school soccer and instantly wanted to be a part of it. I greatly enjoy the close knit team because not only is it an opportunity to play the sport I love, but I get to do it with my best friends."
Similar to Davidson, Junior Owen Stone expresses "it's a group of great guys, and throughout the season we spend a large amount of time together and create unforgettable memories." He also explains that "the team is special because most of the boys grew up together playing soccer, so we have that strong team chemistry from the start of every season."
Davidson adds that "the bond we have as a team is what makes being a part of it so special because we spend every day with each other from mid June to late October." Davidson shares that not only has the team given him lifelong friendships, but also confidence on and off the field. Davidson concludes that "at the end of the day, you win some and you lose some, and the ones you lose, you just have to pick your head up and move on to the next one."
The team's success and devotion wouldn't be as strong without their captains. One out of the three talented senior players and captains, Luke Winter, shares insider information about the team. "The team starts out every practice by giving their full attention and time to the coach, as we're there to get better every day," Winter explains. "Practice usually consists of breaking down our upcoming opponents, as well as working on ourselves and what we need to do as a team to be as successful as we can be," Winter adds.
As a captain, Winter has to take on many responsibilities for the good of his team. "I hold my teammates accountable and keep them at a specific standard, so when it's all said and done, we can look back at our success and have no regrets." Winter also maintains the role of being a positive and good example towards his teammates. He adds that he "needs to set the right examples and do the right things so they can follow in [his] footsteps." From the start of his high school soccer career, Winter knew that "the team had the ability to have something really special in store."
The reason why Winter puts so much effort into the team is because "it's unlike anything else. The special bond and relationships each and every single player has with one another is what makes this team so unique. Everyone on the team is also friends with one another and hangs out outside of soccer events, which shows how we truly enjoy spending time with one another."
Each season that Winter has been a part of the program he has "had moments [he] will be able to remember for a lifetime. The relationships [he has] also built along the way have been unreal." He adds that he is doing something he has great "passion and love for" while having people he loves and appreciates constantly by his side.
Lastly, Winter emphasizes that the team has positively changed him. "I have partaken in many different roles along my four years playing soccer here, and every single one has brought me life lessons that I'll be able to keep with me forever. We're here of course to play soccer, but throughout the journey, we look at the bigger picture to better prepare ourselves for the future."
As the season starts to come to an end, the team beat Rochester 3-0 and Bloomfield Hills 4-0 leading up to Districts. Go Bears!
Leave a Comment
About the Contributor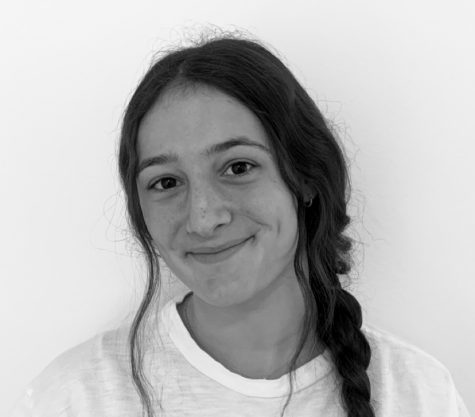 Jane Heller, News Editor
Hi! I am Jane Heller, and I am the news editor. This is my second year on staff. I decided to join writing for publication because I wanted more opportunities...