Cross Country Meet Promises a Successful Season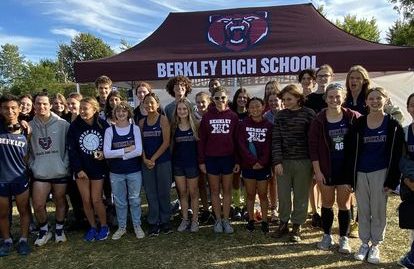 *Thump, thump, pant, pant, pitter, patter* 
The sound of 202 racers smack the almost flat terrain of Goodells County Park as they flash by, aiming to set their best times. On September 23, 2022, the Berkley Cross Country team set out for one of their most promising meets. If you're familiar with the sport, a flat course is ideal, but more often than not our Berkley runners are charging across hills, mud, and dirt. However, the Friday New Balance Mid-Season Spectacular offered the second fastest course, following only behind the notoriously flat Alganeck course. Commenting on their individual and team's performance during the 5K (3.1 miles) Invitational (non-league meet) are seniors Nick LaFramboise and Matthew Short.
LaFramboise raced as one of the top JV runners, even though he felt his performance was subpar. He concedes that "[he] was about 15 sec off from his Personal Record (PR) of 19:55, which he had set earlier in the season. Although he was quick to criticize himself, he did have a viable excuse, citing "I've just been recovering from a sickness; I wasn't going as hard earlier in the week." Despite running with a cold, he was "not satisfied" and would not excuse his underperformance. Even if he doesn't fully commend his efforts, placing 40th among the other 116 competitors clearly emphasizes his above-average efforts. 
Along with LaFramboise's dedication, Matthew Short's hard work paid off as he placed 5th in the Boy's Varsity Race out of 202 competitors. With a 16:12 time and PR of 15:45, Short reflects, "I was pretty happy because it was a hot day" and "I had to run by himself" for most of the loop, which "makes it harder to gauge and pace off people." Regarding the terrain,  Short describes that "it was through some fields" and "there was a short part in the woods." Similar to LaFramboise, Short catalogs each part of his run and makes careful observations for further improvements. It's this mix of discipline and self-criticism our runners share that contribute to their 4th place overall as a team out of 32 teams for the race.
Some standouts among the team include Oliver Moss, who set a PR by running under 17 minutes for the first time during the race. Likewise, Abigail Short ranked in the top 10 for the women's varsity race, and received both a shirt and metal. Overall, Short commends the teams season, boasting "I think we really stepped up our game this year" since "[we have] contended for trophies in almost every invitational." 
Now at the end of the season, the boys came in first and the girls second during the OAA League Championship. This Friday (October 28th) the team competes in the regional championships, hopefully then qualifying for the State Championship. 
As they relentlessly commit themselves both mentally and physically to this taxing sport, the Berkley Cross Country team is assured of a rewarding season. 
Leave a Comment
About the Contributor
Sarah Cantor, Sports Editor
Hey everyone! My name is Sarah and this is my first year on staff. I'm so excited to be the editor for the sports section and get first-hand experience...