Berkley's Production of "The Laramie Project"
Berkley's production of "The Laramie Project" was, in one word, astounding. "The Laramie Project" is about the murder of Matthew Shephard in Laramie, Wyoming; Shepard was beaten, tortured, and left to die by two men because he was gay. "The Laramie Project" contains three acts and compiles interviews of the townspeople of Laramie in response to this hate crime. This play and its meaning go beyond just a high school production, and Berkley's students did a beautiful job. The actors portrayed necessary lessons in their superb acting, and this play is a must-watch.
The first impressive aspect of the performance of the play is the fact that there are 80-some characters in "The Laramie Project" but only 17 actors. Each student plays several characters in this play. With quick hair, outfit, and accent changes, the actors completely transform into new characters in the blink of an eye. The most notable change for me was Jacob Gonzales, who played multiple characters, including Matthew Shephard's father and townsperson Doc. In Act III, after giving a heartbreaking monologue as Matthew's father, which brought me–and most–to tears, he quickly changes to his other character, Doc, who is light-hearted and quick with his dialogue. I couldn't believe how he could get so deep into one character and move the audience so deeply, and then be able to quickly change his entire demeanor! And this goes for all of the other characters too. Russell Sousanis played five characters, including both of the murderers. Although you would think it would be easy to mix up his characters, you could tell the differences between all of them. He really showed every complexity of each character, so much so that you totally knew the difference just by his mannerisms! Sousanis and all the actors played the characters so well. All in all, the character changes were done so beautifully you forgot the same people were playing different roles.
These actors aren't just becoming characters, they are becoming real people. They do this so well via their mannerisms and dialect. Senior Josh Bianca, an actor in the play, explained how this was accomplished: "You are basing your character off of someone who you can literally Google. I can watch the interviews of my characters, and I can watch them say the exact words I am going to go up and say." Because of this, plus their talent, their acting transforms the audience, and you forget that you aren't just listening to the real interviews of the real people. Head of Drama department Mr. Hopkins said, "I always tell actors that it is their job to either get an audience to fight for them or fight against them, because if they do either of those, that means they believe who they are, and I don't think there is a single person in this cast that the audience won't be able to believe." Their acting and dedication did, in fact, make everyone believe. The rawness of emotions on the stage was incredible. The acting goes above and beyond what I would have ever expected from high schoolers.
"The Laramie Project" is especially effective in conveying its message because it is acted out through 'moment' work. There may simultaneously be 10 actors on the stage, but the spotlight will focus on one moment with one character. This is amazing because while we see how the townspeople interact together, we also get to focus on one person's thoughts and feelings. We simultaneously see the whole and its parts. Berkley's lighting crew, with the use of spotlights, made this 'moment' work possible; the spotlights followed a person perfectly, and the lighting was great.
I loved the set. It was minimalistic and all that was needed. The fence was around the back for the entirety of the play. This was powerful because the fence was where Matthew was murdered, so it is a defining area of Laramie. Before, it was just a fence, but the people's attitudes indirectly made it an area for hate and inhumane violence. We should see this symbol of people's effects on the environment every second of this play. In addition, the backdrop of the set was white, but when the trial of the murderers occurred, it was red. Red symbolizes blood, danger, and anger; the play used it to summarize exactly what we saw.
I also loved the outfits and costumes of this play. For one, most people had one character who was an interviewer from The Tectonic Theatre Company, so they were all wearing black pants and a black shirt, adding necessary scarves, jackets, or hats when a character change appeared. The simplicity of their outfits really added to the fact that these were average people wearing average things. Yet they still did a great job at conveying who these characters were with these clothes. Senior actor Sydney Studer's teacher character wore a red scarf, and it conveyed everything we needed to know about her.
The "Amazing Grace" scene took my breath away. At Shephard's funeral, there were fundamentalist protestors. In the play, we see that instead of fighting with them, the townspeople band around the protesters and sing "Amazing Grace." It was so powerful. The actors' voices made this song pure and phenomenal. For me, this scene represents everything good that the play leads us to: We shouldn't let oppressive viewpoints takeover, but instead, we should drown them out with messages of acceptance and love.
Tissues were needed, tears were shed, and the play ended with an earned standing ovation. Although the play, including intermissions, was three hours long, I could've and would've stayed for longer if I had the chance to keep watching their acting. These actors' amazing performances cannot be praised enough. Not only are they just talented, but they handle this difficult trope flawlessly. Catholic Priest and LGBTQ+ ally Roger Schmit, while talking to an interviewer, said, "I will speak with you, I will trust that if you write a play of this, that you say it right. You need to do your best to say it correct." The Berkley actors say it correctly. They are sensitive and conscious of what they are saying and doing while still including it so the audience can get the full picture of what happened. So, a big thank you to Mr. Hopkins, the crew, and the cast for sharing your incredible talent with us and for using it for good and to spread important messages and awareness.
Leave a Comment
About the Contributor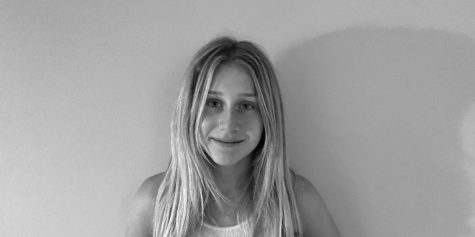 Aria Dwoskin, Editor-in-Chief
Hi! I am Aria Dwoskin, and this year I am the Editor-in-Chief of the Berkley Spectator! I am a senior, and this is my fourth year on The Spectator.  I...