Culture Fest; Variety is the Spice of Life
Ooo the Berkley culture fest! I've attended this festival for three years, and let me just tell you that each and every year, it has been a treat. This year, the diversity class went above and beyond with the food choices; there was mac and cheese, samosas, dumplings, seven-layer cake, cookies, grape leaves…you name it.
Students in diversity dedicated hours to cooking and preparing each of their individual courses for us to try, informing students about their ethnic dishes as they dispersed food. Before visitors got the experience of these yummy treats, the jazz band put on a beautifully elegant performance that adequately set the exciting, culture-induced scene; a little rain before the storm of students bustling for treats.
As I made my way around the scenes, I was excited to learn more about the motives behind culture fest, head of the class Mr. Cooper shared, "The main thing we want people to take from this year's event is to appreciate the diverse backgrounds represented in our school community. Each of the foods represented a different culture, as did each of the performances. We hoped that everyone was able to see the beauty produced by different cultures."
While the entire class pitched in to help set up for the culture fest, the culture fest committee did all the planning. Cooper explains, "The Diversity Council is grouped up into different committees that take the lead on main events like the Culture Fest. The committees are groups of between six to eight students. Each committee creates a plan for their given event/month and leads the rest of the class accordingly. For instance, the culture fest group came up with the idea of the performances, created a google form to organize the food, created/printed tickets and flyers, etc. The other members of the class then volunteer or are recruited to help execute the plans."
Junior Mia Hubbell, a member of the culture fest committee, shares the process from first-hand experience planning the event, "First, we decided who was going to make what food. Some people did their own cultures, while others picked food groups outside of their culture. Most of us made our food the night before, then we prepared it by warming it up using the ovens and stove in the food room."
To get a good scoop of how the delicious ethnic meals were prepared, I questioned junior Russell Sousanis about what he made; "I made grape leaves, spinach pie, and an olive on a toothpick with some feta cheese," he responds, "these three dishes probably took me about three hours total. I chose these because I enjoy these foods." I had a bite of all of these things, and the display was a perfect array of Greek and Middle Eastern appetizers and snacks before I really got into the eats.
Next, traveling to a neighboring table, I found senior Maya Williams, who made a delicious crunchy mac and cheese. This was a nice first course, something to sustain me and leave my taste buds feeling warm after a warm cheesy bite.
Then, my eyes caught a glimpse of what looked to be some dumplings! I made my way over to the table, supplying this savory treat was Hubbell. "These are potstickers with chicken and cabbage filling, which are similar to dumplings," she said. If you're wondering about the difference; Potstickers differ from dumplings due to their thin wrapping, also called dumpling skin. The crispy bottom layer is created because they must be steam fried, also ensuring a juicy filling. "These dumplings took me about an hour to make. I enjoy these foods, so I wanted to share the joy." Thankfully, the dumplings were here to fulfill my savory taste; very delicious, and a lovely addition to the wide variety of dishes.
These diversity students are on top of their game; Cooper says, "I am very proud of the leadership some of the members of the diversity council demonstrated. They did a phenomenal job making the event happen and adapting/responding to challenges."
Additionally, Hubbell shares some hopes the class had for the event, "the hope was to open people up to new foods they might not have tried, while also celebrating different cultures and teaching people about the different dishes."
Sharing a table with Hubbell, junior Jessica Onyamba shares a description of her sweet treat. "This item is called a Puff Puff, they are kind of like donuts; they are flour, sugar, and deep fried. This is a traditional Nigerian dish, and can be served in many different variations around the world." I had this yummy donut-tasting Puff Puff as a first dessert in my conquests at culture fest.
Senior Ali Klingman shares that he made Cumin Stumi, and it took him about two and a half hours to complete. Thai was a nice switch in texture to what I'd been eating so far.
Next, Parker Fritz, a senior attending culture fest, shares about her favorite meal there, "My personal favorite was the samosas Mr. Cooper was serving. After I finished most of the delicious vegetable core and crunchy outside, I realized the top of the samosa would serve as a beautiful little hat." Notably, Fritz referred to the top of the samosa as a cap, which suits her very well, (as shown in the photo).
Culture fest was, yet again, proof of how our students here at Berkley can use the best aspects of their culture to make something enjoyable for their peers, and bring together a community of people and engage in activities together.
Cooper shares, "I liked the opportunity for everyone to get together and enjoy each other's company. The performances were entertaining and seeing the smiles and hearing the laughter brought me joy." A beautiful way to sum up the Berkley way.
Leave a Comment
About the Contributor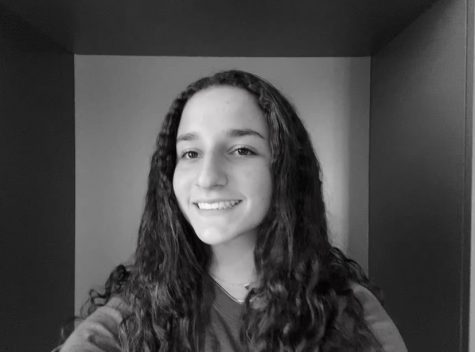 Lily Cierpial, Staff Writer
Hello all, I'm Lily Cierpial and I'm a junior this year. This is my second year on the journalism staff, and I'm so excited to be one of the two copy...