A Guide to Senior English Classes
There are five English class options for senior year; each of them is great, and each of them is vastly different. Here is your guide to all of them to see which curriculum best suits you.
12th Grade English
English 12, taught by Mrs. Lotter, is a regularly paced English class with a very unique curriculum. In the first semester, they dive into their senior project. Mrs. Lotter takes English skills and has you apply them to your interests! She described that for this project, "Students research some of the common options for life after high school graduation, write a literature review, write a personal essay, and complete the senior project based on a personal passion or area of interest." Senior Griffin Straske explains his project was about building a ski rail–a new skill he loved to learn.
In the second semester, their curriculum shifts. Students read classic literature, including a novel and a play, learn to write a research paper in APA style, and work on developing themes through quote analysis. This class includes a lot of discussion and reflection.
Straske recommends this class because it is "Fun, chill and relaxed, and not a lot of work outside of class". If you want a fun class with minimal homework, this is for you!
African American Literature
Mrs. Farr and Mr. Cooper both teach African American Literature. AA Lit takes a chronological approach to African American Literature. They start with African cultures and enslavement and move through reconstruction and the Jim Crow era by the end of the first semester. In the second semester, they move through the Harlem Renaissance and the Civil Rights Movement. They end the second semester with contemporary work and culture, including hip-hop and current events. This class consists of essays, group and individual presentations, class discussions, and more. There is not often homework.
Mrs. Farr highlights that through it all, their class "uplifts literature and writing from Black authors and intellectuals, and tries to gain perspective on the Black experience in America. We spend a lot of time learning new information about historical events that you may not have learned before in your schooling." Senior Alex Basmadjian agrees with this, stating he loves this class because he "learns about Black history that he wouldn't learn in a normal class."
Mrs. Farr recommends this class to anyone and everyone: "We all come to the class with different levels of experience. Some students have barely any knowledge of the Black perspective and Black issues, some know a little, and some know a lot! We all work together to learn from one another, and it is my hope that students walk away from the class feeling more informed and empowered."
If you are interested in diving into African American history by absorbing important texts with great, passionate teachers, this class is for you.
AP Literature and Composition
Taught by Mrs. Ford, AP Literature is a great class with an even better teacher. An interesting component of AP Lit is 'Poetry Wednesday'; every Wednesday, you read and learn to analyze poems. On top of this, you watch Shakespeare's "King Lear", read three spectacular short stories, and read "The Color Purple." The English curriculum guide states that the class will "work on reading a text closely and drawing conclusions from textual details, identifying literary and poetic techniques and their effects, developing an interpretation of a text, and presenting an interpretation and forming an argument in writing." While there are essays and readings, AP Lit has a very light homework load.
Senior Sophia Dawkins states that she loves AP Lit because of the curriculum: "We read really interesting stories and get to analyze them." Furthermore, the books read in AP Lit portray a diverse collection of writers, and the texts illustrate real issues with race, gender, and ethnicity in our world. These books are not only well-written, but important and relevant. Dawkins also explains that the class helps improve students' English skills, saying, "I would recommend it to anyone because it is a really good way to step up your analytical reading and writing."
But most honorably, every week, there is 'Trivia Friday'–all tables compete for the winning title of trivia master of the semester. (And don't worry, none of the trivia is about English or school!) Although Shakespeare and poems are often categorized as boring, Mrs. Ford makes this class fun and interesting in every way possible!
If you are interested in examining many types of texts, like novels, short stories, poems, and plays, this class is for you!
AP Language and Composition
AP Language, taught by Mrs. Cole, is a class where you thoroughly develop your analytical and writing skills. AP Lang, unlike most English classes, is not very book-focused. Although you do read one book in this class, time is focused on analyzing speeches and nonfiction passages and responding to them with essays. The English curriculum guide states that in this class, "Students cultivate their understanding of writing and rhetorical arguments through reading, analyzing, and writing texts as they explore topics like the rhetorical situation, claims, and evidence, reasoning and organization, and style." All of the essays in this course are impromptus, so they are all done in class and are not homework. And although there are some projects, the homework load is very light.
Senior Kylie Ritter explains she loved AP Lang because she "Analyzed songs and a crime case, which is really interesting because you normally don't do that in an English class. And, Mrs. Cole is a phenomenal teacher." Mrs. Cole really is phenomenal, especially with how she relates her class to the real world. Through her projects, she encourages students to use their learned skills to analyze and better understand our country. Ritter adds that "the critical writing and analytical skills that you need for high school and college are developed in AP Lang."
If you are interested in learning a different angle of critical writing and analyzing nonfiction material, you should take AP Lang.
Project Advanced
Project Advanced is a class that dives deeper into writing than any other English class at Berkley. Mr. Cierpial teaches PA, which is a college course from Syracuse University. In the first semester, you focus on analyzing texts and writing highly sophisticated essays. This is diligent work that helps you grow significantly as a writer. In the second semester, according to the English curriculum guide, you "become an astute reader of social class and power dynamics—both as they appear in literature and in our world today."
Senior Stephen Rothchild explains that PA works with many different materials, including written texts and videos/visuals. Rothchild explains this is so interesting because "we haven't read a book where Cierpial is like 'write an essay about it.' It's not a traditional English class, so it's not monotonous. It's familiar, but it's also different." And, because it is a college course, Senior Lilith Fleishhower explains, it makes you "challenge yourself and make you capable of doing things you didn't know you could do. It makes you more prepared for college."
Adding to this, Mr. Cierpial explains that it's special to take a college course at a high school, because you then have guidance and a teacher who wants you to succeed. In college courses you are more on your own, but in this class you have a teacher and a group of peers who all help each other. This is a great way to have your first college course experience.
It is important to note that this is a challenging class with a heavy workload. But, Mr. Cierpial states that everyone has always said the workload is worth the reward. If you are interested in building your toolkit for college classes and doing very deep analysis, this is the class for you!
Leave a Comment
About the Contributor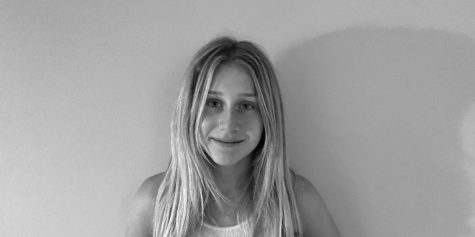 Aria Dwoskin, Editor-in-Chief
Hi! I am Aria Dwoskin, and this year I am the Editor-in-Chief of the Berkley Spectator! I am a senior, and this is my fourth year on The Spectator.  I...