Jazz Ensembles and Encore Team Up For Valentine's Day Concert
Every February, three different branches of the Berkley High School music department come together for a concert honoring everyone's favorite holiday about love, Valentine's Day. This year, the concert occurred on Feb. Ninth, 2023 in the BHS Auditorium. Unlike most BHS concerts, tickets were actually sold. This was partially done as a fundraiser for both departments and happens because of the concert's more specific and event-driven nature. Also unlike most concerts, Encore (BHS' show choir), Jazz Ensemble, and Jazz Lab, performed both separate sets and solos together. What is often neglected is the specifics behind the preparation for an event like this.
First is Encore. Being a show choir, the ensemble performs a combination of musical theater repertoire and pop hits. Their performances are injected with electric choreography, and the Valentine's Concert was no exception. The songs they performed that night were all from the setlist for their upcoming competition in Ohio. It is a collection of songs from hit movies: Dolly Parton's "9 to 5", "The Power of Love" from "Back To The Future", "The Wind Beneath My Wings" from "Beaches", "(I've Had) The Time Of My Life" from "Dirty Dancing", and "Footloose" from the film of the same name.
There were also three solo vocalist features done by members of Encore The solos were "All of Me" featuring senior Savannah Moncrief, "At Last" featuring senior Nyla Scarber, and "My Funny Valentine" featuring junior Stella Krysiak. "Preparing has been really fun," said senior Savannah Moncrief. "We've been rehearsing with Jazz Ensemble in the mornings", Moncrief noted before the concert. Leading up to the show, she was most excited for people to see the set, especially the choreography. "[The set] will make people laugh because a lot of the songs are throwback. I hope people enjoy it!", she stated.
The other portions of performers at the concert were Jazz Ensemble and Jazz Lab. Both of these groups meet before school, with Jazz Ensemble meeting three times a week and Jazz Lab meeting twice per week. Both are audition-based, but Jazz Ensemble has a strict number of each instrument, while the number of instruments in Jazz Lab is less stringent. They also play different music. Most members of both groups also participate in Marching or Concert Band, but not everyone does. Moncrief has a unique perspective, participating in both. She also plays electric guitar in Jazz Ensemble. She played along with Jazz Ensemble for two of the solos, but not for her own. "It's like I'm a part-time band kid, which I'm not used to because I've always done choir," Moncrief notes. "It allows me to explore myself as a musician in ways other than through singing".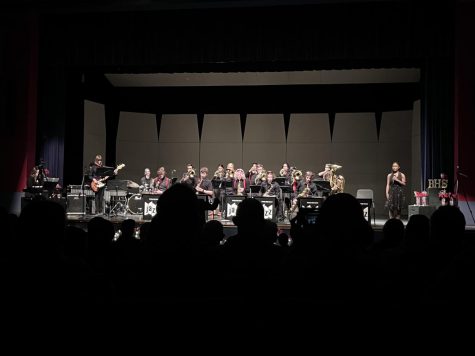 Each ensemble had a different setlist. Jazz Ensemble played "Flight of the Foo Bird", "Harlem Knockturn", and "Recorda Me". These are all songs from previous concerts. The Jazz Lab also played three pieces: "Center Piece", "Deacon Jack's Gospel Shack", and "Have You Met Miss Jones".
Senior Iris Macaulay plays saxophone in Jazz Ensemble. They noted that preparing for the Valentine's Concert has been a more unique experience than other concerts. "It's different having Encore members sing with us because we have to adjust our volumes", they said. Iris stated that Encore members were sweet and great to work with. Before the concert, Iris was most excited about the solos. "I'm excited for people to hear "My Funny Valentine" sung by someone other than a man," they noted.
Hearing all of this, I went to the concert Thursday night pretty excited. Each group performed wonderfully and had great setlists. The soloists were all amazing as well. Encore's performances covered a wide range of emotions and each song was done with a lot of passion. The choreography was also great. Overall, the concert was a great experience and I honestly regret not going to a Valentine's Day concert before this year.
Leave a Comment