Influenced in the Wild
With the pervasive influence of the app Tik Tok, a new profession has emerged: influencers. An influencer is someone who has grown their social media platform by coaxing their followers to buy various products. With products ranging from makeup to diet, influencers have changed how many of the 1.53 billion TikTok users consume products. These influencers have encouraged people to be more like themselves while still encouraging them to be authentic in their ways.
One of the most popular "it" girls at the moment is Alix Earle. Over the last couple of months, Earle has gained over three million followers after going viral for her "Get Ready With Me" videos, where she shares with her followers her skincare and makeup routines and the products she uses. In each GRWM video or clothing brand haul, she is estimated to earn between 036;40,000-70,000 for promoting these products. Not only is she making hundreds of thousands of dollars, but she is also influencing millions to buy these products. For example, the makeup brand Drunk Elephant carries a tanning product, and after Earle posted multiple videos of her using them in her everyday makeup routine, they have been sold out in every Ulta, Sephora, and online store for months.
It's a win-win for Earle and these companies making millions off of Earles's army of followers. One of Earle's many followers, BHS junior Penelope Cohen, shares her adoration and the "chokehold" Earle has on her bank account. "Alix Earle posted a Tik Tok in a dress, and I ordered it for prom because she ordered it. I've also ordered a lot of makeup products. If she uses it, I have to have it. TikTok allows influencers to show the product, how it looks, and review it, rather than Instagram where it's just a picture of an outfit or makeup." Cohen is also influenced by one of TikTok's most popular dancers, Charli D'amelio, who first went viral during the beginning of quarantine for her dancing skills. "When Charli partnered with Dunkin' Donuts to create her caramel coffee drink, I had to drink it."
Many influencers are a part of the Amazon Influencer Program. These content creators make an online Amazon storefront where they link recommended products. These can range from clothes to house decor to technology. As a result, they make a commission off of these products sold. Senior Grace Debreccht has been influenced by creators that participate in this program. "I buy a lot of things that I see when people do a haul of Amazon clothes and makeup. I bought some mascara, a vest, and other things from Amazon because I saw them in influencers I like in storefronts."She explains that this is a great way to find products that are actually useful and reviewed by others instead of just buying something blindly.
On a more personal level, many people are influenced to do more than just buy products but carry out lifestyle changes. For example, Debreccht explains, "[she] was debating going on Accutane because of the side effects, but Alix Earle has terrible acne and went on Accutane, which completely cleared up. So that motivated me a little to start it." Another example is senior Noah Rubin, who started different workout routines because of professional drug-free bodybuilder and powerlifter Jeff Nippard, who uses science to pick the most practical workouts and regimens. Rubin states that he specifically was influenced by Nippards "most efficient" chest workout using the barbell bench press.
Influencers have had an impact on many students at Berkley, whether it be material or behavioral. While watching and imitating someone that you admire is entertaining, it is always important to stay true to yourself.
Leave a Comment
About the Contributor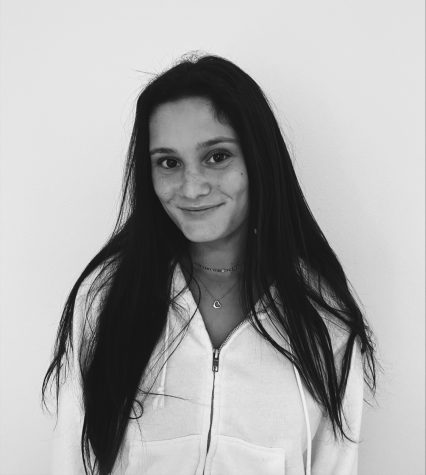 Julia Heller, Managing Editor
Hi! My name is Julia Heller! I am the Editor-in-Chief for The Spectator at Berkely High School. I am a Senior, and this is my fourth year on staff. I decided...