So you want my job- clarks employees
Clark's is one of the most well-known ice cream places in Berkley. If you haven't heard of it, you can't miss it on 11 mile and Tyler Street, the large white ice cream cone on the outside of it that practically screams ice cream. Having personally been going to Clark's since childhood, the ice cream is top tier and the customer service has always been a treat. While the friendly energy radiates off of the Clark'semployees, it's even better seeing friendly Berkley faces scooping the ice cream; Berkley students have applied and gotten jobs here. When I say it's a perfect place for high school students to work, I mean it. Many Berkley graduates also still have a position on the crew, returning to work on breaks at home or in the summer. With all this in mind, I decided to get a deeper entail on what it's like working inside of Clark's.
First, I interviewed senior Samantha Withrow about her position working there for a few months now. I asked withrow about the dynamic of the other employees, she responded, "It's really great. I love the people and I love the environment and working there. And I do enjoy working with students, I think it's really fun and a good way to interact with your classmates in a way." Next, she spoke about how Clark's employment has impacted her day to day schedule, "It normally is just like a shift after school or a shift on Sunday, which doesn't really impact my homework or rest time." Withrow continues, "My favorite part is being able to eat ice cream, usually cookie dough. My least favorite? I would say having to mop the floors." Lastly, Withrow speaks about seniority at Clarks, "I've been working since the end of last summer, and seniority does exist, but not in a bad way; It's basically just whoever's been working there the longest gets to tell people what to do more."
Next, I interviewed senior Abby Samson about her position there. "I have been working at Clark's since late August. Seniority definitely exists by people working there longer. It's Basically the people who work there longer than you have seniority but I also definitely like to look up you're like yeah we get help from the older people who were here too. "Usually I work one or two times a week, and a typical shift is five hours. I work five to close shifts, and often work on the register. In the summer, I'll be there for seven or eight hours so it definitely takes up a big part of my day, but it's very manageable. It's definitely a lot busier and a lot more stressful during the summer, which can be a lot." As a fellow senior at Berkley, Samson describes the dynamic between her and co-workers, "It's very fun working at Clark's. I definitely enjoy the dynamic and I love working with other people from Berkley. It's a really good group of kids and even with working with the people who don't go to Berkley. Everyone who works at Clark's is so nice. It's just the best. My favorite part of Clark's is the people I get to interact with, whether that's the people I take orders from or the people I work with. It's just such a fun environment. And my least favorite part is probably the rare occasions when I have a rude customer." Like Withrow, Samson also enjoys the benefits of free ice cream while on duty, "I would say my favorite flavor is a tie between mint cookie or lemon cheesecake." Thankfully, I got hired from Sam Vieder who was leaving for college and needed someone to replace him and he put on his private story that Clark's was hiring and so I slid up and so he gave me an application and I applied in an interview with our manager Julia."
The next employee is also a Berkley senior, Nolan Wesner, and he shares his point of view, "I've been at Clark's for two years. I love most of my co-workers, especially the kids from Berkley. I know it's gonna be a good shift and we'll have fun." He continues, "my least favorite part of the job is dealing with customers who have issues; One time this one guy tried to get a cooler with root beer and moose tracks off the menu, but with his name on it… it was probably the worst combo I've ever tasted and he just kept asking."
Working for a couple years, Nolan's gained seniority over his newer co-workers. He says "The only intent seniority is shown is that the newest people have to sweep and mop. I got hired a year after I applied and it was because the manager wanted a big boy to help all the girls we had at the time." Nolan also enjoys the "regular" customers because they make it more enjoyable. "I love our regular old folk like Gary who always tells us to have fun and Carla and her small butter pecan on a regular cone."
Well, hopefully this article will get you wanting to work at an ice cream shop, because it sure does sound like a great first job for a teenager looking for employment. Clark's has the benefits of being so close to Berkley High School, but there's many other shops you could apply to in the Oakland county area that likely carry a similar dynamic with co-workers.
Leave a Comment
About the Writer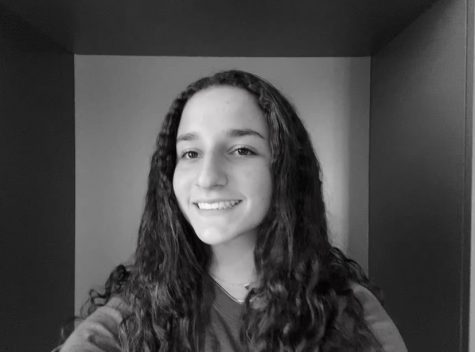 Lily Cierpial, Staff Writer
Hello all, I'm Lily Cierpial and I'm a junior this year. This is my second year on the journalism staff, and I'm so excited to be one of the two copy...