A Guide to Great Gluten-Free Lunches
Ahh, Berkley lunch: the tiny 45-minute slot to get a well-rounded meal. Our lunch places are limited as is; for people with dietary restrictions, it seems even more daunting to go out and get a good lunch that fits our needs. I myself have recently become gluten-free, and I was very nervous about finding places to eat. But, I soon realized that many places can adapt to your needs, and there are so many great gluten-free options. So here are some quick and accessible places with great gluten-free alternatives!
*This guide does not take into account cross-contamination gluten.
Cacao Tree Cafe
Address: 204 W 4th St, Royal Oak, MI
Cacao Tree is one of the best places for anyone with some sort of dietary restriction. Cacao's smoothies, wraps, salads, power bowls, and juices are often made or can be adjusted to be gluten-free. All of their food is healthy, delectable, and tailored to people with gluten restrictions!
Monarch Market Cafe
Address: 10099 W Eleven Mile Rd, Huntington Woods, MI
I've always been a big fan of Monarch, even before I realized my favorite foods there were gluten-free. Monarch is a small local cafe with amazing smoothies, coffee, juices, and food. Although not all of their food is gluten-free, they have a few great options. Their banana chocolate chip and pumpkin chocolate chip mini muffins are both gluten-free–which you would never even realize. They taste as good as the real thing; I thought they were! These are the best muffins I've ever had, and I love being able to feel like I'm eating gluten without actually eating it. They have other amazing options too, like their packaged Israeli couscous, chia pudding, overnight oats, chili, and their drinks.
Beyond Juice
Address: 23151 Woodward Ave, Ferndale, MI
Beyond Juice is very accommodating for gluten restrictions. Their smoothies and juices are gluten-free, as are their amazing acai bowls. They have their menu marked with what is "gluten friendly," which comes in handy, especially when ordering salads. "Gluten friendly" means the food itself is gluten-free, but may be made in the same area/facilities as gluten. Many of their dressings are gluten-friendly, and they have a gluten-free wrap option for their wraps! This is a great place with so many healthy gluten-free options!
Jimmy Johns
Address: 23141 Woodward Ave, Ferndale, MI, 413 S Main St, Royal Oak, MI, 33524 Woodward Ave, Birmingham, MI
Now, of course, Jimmy Johns is all about their subs and their bread. But we gluten-frees still have a place there. I loved their subs and wasn't ready to give them up, so I started ordering "Unwiches". This is when the contents of your sub (like your meat, lettuce, toppings, and dressings) are all in a lettuce wrap instead of bread. It may not sound good on paper, but it really is great.
Chipotle
Address: 305 W Eleven Mile Rd, Royal Oak, MI, 23123 Woodward Ave, Ferndale, MI
Chipotle's bowls can all be gluten-free, and their chips are gluten-free as they are corn flour (but may be cross-contaminated). This meal is inherently gluten-free, which makes it easy to order! Also, if you order online, Chipotle has a very helpful feature where you can mark all of your dietary restrictions.
Condado Tacos
Address: 310 S Main St, Royal Oak, MI
Along with Chipotle, Condado Tacos bowls are inherently gluten-free, the base being rice and beans with your choice of many toppings. If you order online, it is ready in about 10-15 minutes to pick up or deliver which is perfect for Berkley's short lunches.
URGE
Address: 3628 Twelve Mile Rd, Berkley, MI
URGE sells everything from raw juice, acai bowls, and smoothies to toast, coffee, overnight oats, and quinoa bowls. A lot of their juice, smoothies, and bowls are naturally gluten-free. But for the food that isn't, they offer gluten-free alternatives; for their three toasts, they have gluten-free bread options. This is a healthy place with a multitude of different food options.
Holiday Market
Address: 1203 S Main St, Royal Oak, MI
For one, Holiday Market has packaged sushi-to-go that is perfect for a gluten-free lunch. Holiday also has an amazing chopped salad bar, filled with many gluten-free toppings and dressings! This is a great place to pick up a meal!
Detroit Cookie Company:
Address: 23421 Woodward Ave, Ferndale, MI
Now a cookie company on this list may surprise you, but the best gluten-free cookie I have ever tasted was from Detroit Cookie Company. Although the majority of this company is gluten gluten gluten, their few alternatives are delicious options.
I hope that, by using this guide, you can have the gluten-free lunch of your dreams!
Leave a Comment
About the Contributor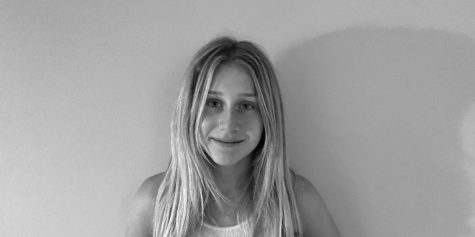 Aria Dwoskin, Editor-in-Chief
Hi! I am Aria Dwoskin, and this year I am the Editor-in-Chief of the Berkley Spectator! I am a senior, and this is my fourth year on The Spectator.  I...