A lot has changed since school ended in June. There are fifteen new teachers as well as brand new courses offered, but Berkley's English classes got the ultimate upgrade. The school has received new funding for English classrooms and the English teachers wanted to come up with the best way to use it. The teachers decided it should go towards the heart of English classes, books. They were bought for two reasons. One is to grow the individual classroom libraries and provide students with more books for Sustained Silent Reading. The other reason is for book club units, so students can communicate with one another on a smaller group basis. Here is how the Berkley community feels about this new change.
Honors 11, English 9, and Project Advance teacher Mr. Duffy is extremely excited about the new curriculum. "The process of picking the new books was very interesting. Over the summer, each grade of English teachers met in meetings by class to handpick the books that we thought students would enjoy the most. We then took the ideas to the central office, got them approved, and now they are here!" He also believes that these new books are key for an enhanced learning experience. "We have our whole class reading books such as 'The Great Gatsby' which are great because they allow the full class to connect with each other, but now we have more resources for book clubs and individual reading so students can express themselves independently or with a smaller group of people. I think it is important for students to experience reading in all of these ways."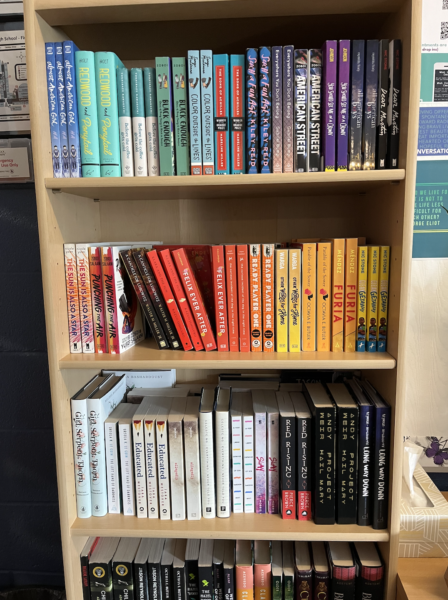 Teachers aren't the only ones excited about these new changes; students are also feeling positive differences. Senior Remy Sollish feels her habits changing, "I would say the new books are giving me more motivation to read because I usually am not much of a book person, but I saw some books that actually looked interesting to me and I might read!" Unlike Sollish, junior Kendyl Reid is an avid reader but the new books are a new change for her as well. "I am used to reading the old books in English classes. The pages are usually falling apart and occasionally are ripped out. The new books have been great for me because I am able to read pages that are fresh and new and I can focus on the story instead of the flaws on the pages." It's safe to say that students are excited!
Overall, this new change is going to make all English classes even more engaging. Reading is something that all students should be able to enjoy and the English classes are providing a great opportunity to share the love. Get ready for an even better reading experience this year!