Halloween: COVID Style
Every year on the last day of October, kids all around the world anticipate the night to come: Halloween! Usually filled with spooky decorations, overflowing bags of candy, and wild costumes, Halloween undoubtedly looked different this year. Being in the middle of a pandemic, many questions were in the air. Will kids still be able to trick-or-treat? Will parties still happen? Is it safe for parents to pass out candy? These are only a few of the many things people were wondering, and I set out to find some answers.
One Halloween tradition in the Berkley School District community is the Burton Elementary School Halloween parade. Typically, Burton students wear their costumes and walk around the block as the Berkley High School marching band plays and parents come to cheer their kids on. As a former Burton student, this parade holds a special place in my heart because it was something I looked forward to every year, and it made Halloween that much more exciting. I reached out to Maribeth Krehbiel, principal of Burton, to see what the parade would look like this year.
Principal Krehbiel stated, "We will not be in school and there will not be any social gatherings around Halloween. I can not have the band, and we can not social distance in a parade, so we are fresh out of luck. I am not even handing out candy this year at my own home. It is just not safe enough yet. We will have to look forward to Halloween in 2021 and plan for that."
Evidently, it was confirmed that Burton's annual Halloween activities were down for the count. Well, what about other quintessential Halloween traditions? The Center for Disease Control gave some recommendations for people wondering how they could safely celebrate Halloween. According to the CDC, some low-risk activities included carving pumpkins with family or close friends, decorating your house, or attending a virtual event such as a costume contest over Zoom. The safest bet was to stick with a small circle of people and opt-out of large indoor social gatherings.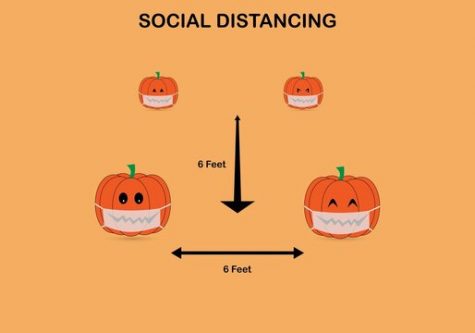 To get an inside look at what Berkley students are doing to stay safe this Halloween, I asked Ellie Kubicki, a junior at Berkley, how she planned to spend it. She stated, "My friends and I are still dressing up, and we are probably just doing a fun hangout with a small group. If it were to be expanded, it would be in someone's backyard with masks."
Small get-togethers are a great alternative to common activities such as typical door-to-door trick-or-treating, crowded Halloween parties, and indoor haunted houses. Although these are popular traditions, health professionals strongly advised against these types of gatherings to help prevent the spread of the virus.
You're probably still wondering, what else did people do that is safe but still fun? People experimented with a one-way method of trick-or-treating. This means that instead of handing out candy the traditional way, homeowners put individually wrapped bags of candy on their porches for kids to grab. Other commonplace activities included outdoor haunted houses, small backyard parties with family, or visiting local pumpkin patches.
Some of these activities may not seem as exciting as typical Halloween festivities, but during times like these, we must make the best out of what we have. Holidays are a great time for families and friends to come together, and that still remains true even if we pledge to take more caution. As Mrs. Krehbiel said, "We will just have to keep our heads held high and look forward to next year rather than dwelling on the limitations we are facing right now." With a positive outlook, anyone can recall this year's unique Halloween as one for the books.
Leave a Comment
About the Contributor
Brynn Middlemiss, Copy Editor
Hi, my name is Brynn Middlemiss, and I am a senior here at Berkley. I am a Copy Editor for The Spectator! I just joined the journalism class at BHS this...