BHS Fall Sports Recap
With November and December upon us, fall sports have come to an end. In this article, a reflection of all eight fall sports will sum up their seasons and commemorate them! Provided below is a peak into the seasons of boys soccer, boys tennis, girls volleyball, girls golf, cross country, girls swim, girls rugby, and football.
Soccer-
Boys soccer had an amazing season this year. Not only were they ranked 21 in the nation, but for a portion of their season they were ranked one in the state in D1. They were also third in the Midwest, and number one in MPR points out of 468 schools. By the end of the season, the team had eighteen wins, three losses, and two ties. These eighteen wins set a school record for the longest win streak.
Soccer coach Steve Wloszek said, "We [the soccer team] wanted to be top five ranked in the state, and got to number one. We wanted to finish top three in the OAA Red, and we finished top two."
Wloszek also explains that they made the 6th district final in a row, and won the Imlay City Tournament. The team made it to Districts, and although they did not win, they are hoping that next year will be their year!
A few notable mentions go out to those players who did remarkably well. Senior Ryan Serwa was 2nd Team All-State and broke the school shutout record in a career with 24.
Junior Andriy Bilous was 2nd Team All-State, and seniors Jack Qualman and Zack Vigliotti were 3rd Team All-State.
Wloszek made it clear that the team did incredible this year, stating, "We exceeded expectations and continued to build on the solid foundation that prior BHS soccer teams have laid." For next year, he says the goal is to "Continue to improve the program so it's better than the year before."
Tennis-
This year, the boy's tennis team made it to regionals, and the way their season was run helped get them there.
Drew Lash, a sophomore on the team, explained, "Coach Waldman had us take a more aggressive approach, at least with my partner. He did a good job on where everyone was placed, which both helped a lot."
Lash gives an honorary mention to sophomore Alex Beard, who is number one singles on the team. He explains that Beard always held a close game and played a great match, even when the odds were against his favor.
"The team had a good season this year and played well," Lash explains, "especially considering the loss of senior players last year."
Next year, the team is hoping to make it to states. So, Berkley tennis team, see you there next year!
"
As the season went on and as we bonded more we got louder on the court, which improved our skills in many different ways."
— Emily High
Volleyball-
The volleyball team entered regionals, and although they lost, everything that has led them to this point has been a success. The team has had thirty three wins and only six losses, and has received a second district championship trophy! To this day, Berkley is second place in the OAA white division.
Emily High, sophomore on the team, explains how the team has improved this season, stating, "We started off very quiet because we weren't familiar to each other, but as the season went on and as we bonded more we got louder on the court, which improved our skills in many different ways. In the beginning of the season we struggled with serve-receive and defending our side of the court in general, but now I can proudly say that our serve-receive is very strong and for defending our side of the court, blocking has improved a lot."
High gives notable mentions to junior Ava Beard, senior Ariel Gibson, and junior Sawyer Jones, who she states is a natural at volleyball. She also recognizes junior Jordan Budzinski, who is their number one libero (back-row defensive specialist) and who, according to High, has improved greatly during the season.
With five seniors leaving, the Berkley volleyball team is hoping to fill the large spots that they will leave in the team. Reflecting on their amazing season this year, I bet they can do it!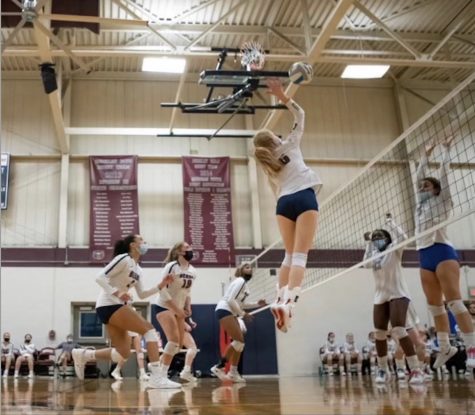 Swim-
For this swim season, the girl's team moved up a division! The team had two wins, three losses, and one tie. On the team, all of the swimmers' times went down. The swimmers set individual goal times at the beginning of the season, and a lot of people reached their goals.
This season, there were a lot more divers than there usually are. The team had frequent morning practices, which had a helpful impact on how their season went.
Bryce Scully, a sophomore teammate, did exceptionally well this season, breaking the Berkley 200 IM record, the 100 Breaststroke record, and the 100 Butterfly record. In addition, Scully, Lucy Pugh, Molly Hamilton, and Alana Horwitz broke the 200 Medley race record.
The swim team was in leagues, counties, and some swimmers are going to states! Junior Kylie Ritter explains that overall the team did well, with faster swim times and many teammates branching out and trying new strokes. Next year, she hopes to win more meets and, of course, beat Royal Oak!
Football-
The football team represented Berkley well, having seven wins and only two losses! The team had a new coach and implemented new techniques, which both contributed to the great outcome of their season, which ended in making the playoffs this year. Their new techniques were implementing a double trap play, and running a new offense.
There were many players on the team who received the all OAA player award. Henry Pennington, Isaac Dawkins, Jake Domzalski, Ben Maurice, Ryan Krause, Lev Mechnikov, David Rolands, and Hunter Robertson all received this award! Hunter Robertson was also the OAA Kicker of the Blue, meaning he was deemed the best kicker out of the entire blue division!
David Rolands, Junior on the football team, said, "As a team we definitely wanted to go undefeated and make the playoffs. Although we lost two games, they were only on the last drive of the game. Fortunately, we were able to make the playoffs! We finished 2nd in our division which I think that we were all proud of. Also, as a team, I think we all played together well and we played as one team. I think everyone who got in played their best football and I'm definitely proud to have played with such a great and hardworking team. Finally, as our team said all season, Go Bears!
Golf-
This year, coach Sue Ciaravino led the girl's golf team through a good season. The golf team finished third in their 18 hole league tournament, and came in fifth place in their overall league! Marley Deroven, a sophomore on the team, explains that Ciaravino taught the girls the 'clock' technique for swings, which improved their game.
Next season, the hope is to get more players and improve on their overall game. Ciaravino says, "Our girls golf team's record this year may not have been as great as in years past (we had graduated several of our low scoring players last year) so this year we were in a rebuilding year. Several of our girls who had played on JV for the past year or two really had to step up this season and play positions that they may have not really been ready to play this year but they did an admirable job! We came in 3rd place in our 18 hole Blue Division Tournament with our #1 player, senior Ella Sturtz, took a medal for 7th place as an individual. We had some stiff competition this year with a number of teams very close in scoring, however, we ended up in fifth place, overall, in our Blue Division League. We vow to do even better next year! "
Deroven states, "Overall I think we did pretty good this season. We all had a great time and we all really improved!"
Cross Country-
The Cross Country team had a good season this year, really improving their game from last year. The girls team got second in leagues, and the boys team got third.
Berkley had the fastest kids in the league on their teams, Matthew Short and Abigail Short. Matthew Short is a junior who runs a 5k (3.1 miles) in 16:40 and qualified for states. Abigail is a freshman and ran the 5k in 20:40. Both Matthew and Abigail Short were the first place finishers at the final league.
Quinn O'Shea, sophomore on the team, states, "I would like to say we are one of the faster teams. I was really happy with our performance this year." O'Shea also adds that there were a lot of new freshmen on the team, and even though many (girl) seniors left, the new runners showed great potential and really contributed to the great season.
For next year, the team hopes to win leagues and make it to states!
Rugby-
From the beginning to the end of the season, the rugby season improved greatly. The captain of the team explained that more than half of their team were new players, and by the end of the season all of their skills were enhanced, making them ready for next season. The team changed a lot of their plays, which helped their season, and they strengthened their basic skills. They improved their defense and scoring. Dakya Cunningham was the first to score this season! The team came fourth in the leagues, and had one win and seven losses. Eliana Turner and Naomi Chimovitz are confident that next year the team has a much better chance of winning with more experience built. They stated, "I think we did great, and in the end we got pretty good. Next season I think they will do much better, they have so much potential. We did really well this year, and I was really proud of us. We made a lot of progress!"
So, a big congratulations to all of the teams. The seasons were great, and Berkley was well represented! Can't wait to see what next year brings! Go Bears!
Leave a Comment
About the Contributor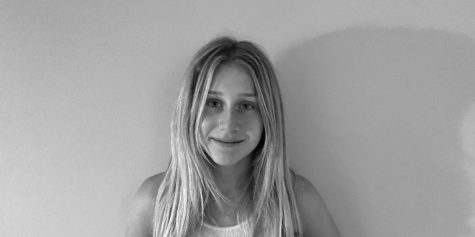 Aria Dwoskin, Copy Editor
Hi! I am Aria Dwoskin, and I am a copy editor! I am a sophomore, and this is my second year on The Spectator.  I joined Journalism because I love to write,...