Berkley Girls Varsity Tennis Team: Good Friends Make Better Players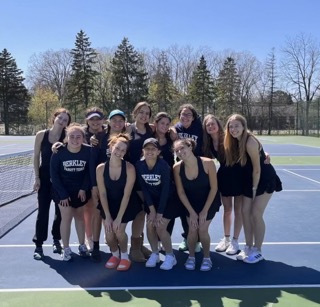 Spring has spring which officially marks the beginning of the girls' tennis season. After a year of self-motivated practice and training, the team is back and better than ever with last year's returning players and new members on the varsity team.
Alongside Jane and Julia Heller, senior Ruby Katkowsky takes on the role of varsity team captain for the 2023 season. After having been on the varsity team for all four years of high school, Katkowsky is particularly excited for this year to take on the responsibility of being captain, saying it "comes with fun things like getting to pick out uniforms, spirit wear, and hyping up my team."
Also a returning varsity player, junior Rayna Kushner has high hopes for the season ahead: "I am excited to get to know the new girls and have a successful and supportive team like last year!" When trying to understand what players do during the offseason to maintain and improve their skill set for the coming season, Kushner said, "I try to play outside as much as possible while the weather is nice. I also play weekly at Franklin Athletic club with a few other girls on the team in addition to running and working out at the gym."
Beyond just working hard to stay strong on the court, the team puts in a lot of work to build healthy friendships outside of tennis. To Katkowsky, having close relationships with people on the team is something really meaningful to her. As captain this year, Katkowsky promises to achieve these impactful bonds by "having as many hangouts outside of practice as possible."
Junior Lauren Schnieders reflects on her first year on the varsity team and says, "my favorite memory was going to my teammates' cottage on Lake Michigan where we were competing at States." Beyond memories, new friendships are also made while on the team. Schnieders says, "I really value my friendship with my doubles partner, BHS Alumn Ellie Kubicki, because we learned how to lift each other up even when things got hard."
Berkley is excited to see the girl's tennis team serve up another great season. The team sets a great example that being a strong team off the court is equally as important as being strong on the court.
Leave a Comment
About the Contributor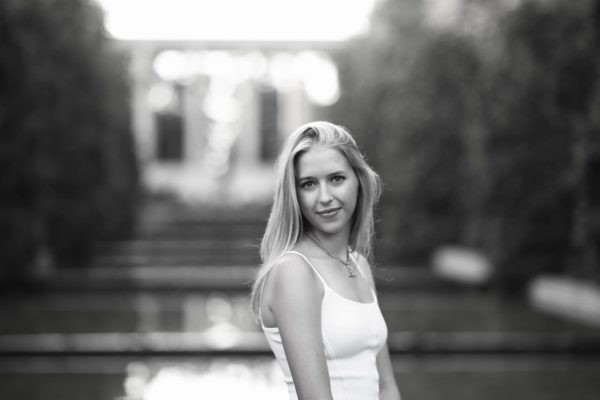 Isabella Gentry, Copy Editor
Hi everyone! My name is Isabella, and this year I have the honor of being Copy Editor alongside Aiden Aronoff. I decided to join journalism last year because...