Rubgby and Lacrosse
Ahhh finally, spring has arrived. You know what this means; if you play a spring sport, the time has come! With the rise in popularity involving other spring sports like girls' soccer and boys' baseball, rugby and lacrosse are often forgotten in the mix of springtime sports. If you don't know about either of these, not to worry, I asked captions senior Megan Melville and junior Riley Melville to explain a little bit about the sport and the outlook on the season, and junior Alex Rosenthal to tell us a little bit about what lacrosse season entails.
First, I talked to junior Alex Rosenthal about the lacrosse season, which begins just after spring break. He shares, "Practice is usually five to seven p.m, or seven to nine in the night. We usually run drills that prepare us for in-game situations which may or may not include a whole lot of running." Well, if you like to do cardio, it sounds like lacrosse could be for you.
Rosenthal continues, "To be a successful lacrosse player, all you have to do is condition and have confidence." Personally, he shares " I got into the sport because I was looking for a spring sport, and I enjoy just being able to practice with my friends." Of course, school sports are always better with familiar faces. "The most challenging part of the sport is being a goalie; to prepare myself for the game, I just listen to a lot of Rio, and physically I just stretch a lot."
Rosenthal assesses, "being on the lacrosse team has filled a gap in my life and is now something that I'm committed to. Although there is always room for improvement, I want to be a lot better by the time I'm a senior." It's great to have goals involving sports so that you can improve and increase your skill.
Lacrosse is a great and unique sport that one should definitely consider playing, or even watching if you want a new experience.
Next I asked the Melville sisters, junior Riley, and Senior Megan, about the experience of being a rugby athlete.
According to junior Riley Melville, Rugby season actually starts in September. "But there's a tournament coming up during the last week of April. We don't know what we're playing yet, but all teams are from the midwest." Melville explains that practice for this began two weeks ago, and she's very ecstatic about it because she enjoys the environment, and of course, "a chance to play rugby again." Since Melville has been playing the sport since freshman year, she encourages anyone interested in the sport to definitely do it; She says, "if you've never played before, that's completely fine; most people who join the team don't know how to play."
Being on the rugby team is a fun experience for all who play; Riley says, "the most memorable experience I've had was when I broke my collarbone during a game, unfortunately in a scrimmage against our own team.." She explains that if you're worried about the time management involving personal commitments and academics, she advises, "just make sure you have your homework done, and if you need to skip practice to do work we are allowed to." Her goal for the team, "win some games."
Megan Melville explains, "A typical practice usually starts with a lap around the field, then warmups, then starts passing the ball around. After that, we either do another drill or begin warming up for tackling. Finally, we do another drill or game and condition a bit more." Sounds like a fun, energetic, fulfilling practice.
Melville assesses, "the most challenging aspect of the game is knowing that you're gonna get knocked down, and get back up, and then get knocked down again; just know that you're gonna be left with a few new bruises each time you play." Sounds like if you like to tackle and get tackled, you'll have a great time. "This team has helped my personal growth by finding a new hobby that I really enjoy and am super into."
Melville shares key characteristics of a rugby player; "I think key rugby player qualities include being tough, brave and determined."
If you didn't know much about these two spring sports, hopefully by the end of this article you attained some information about them. All spring sports give you an opportunity to be on a team and experience community and corporation.
Leave a Comment
About the Writer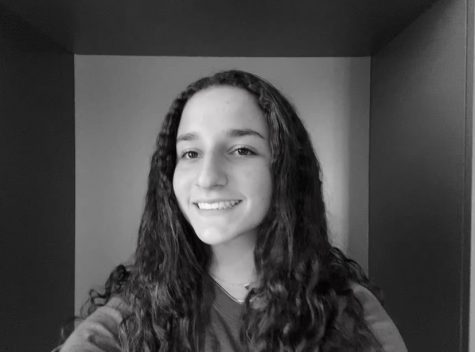 Lily Cierpial, Staff Writer
Hello all, I'm Lily Cierpial and I'm a junior this year. This is my second year on the journalism staff, and I'm so excited to be one of the two copy...