The class of 2024's workload this semester is definitely not light. On top of packing in a heavy schedule of courses and extracurriculars, college applications are looming. This summer, I decided to get a headstart on the Common App to alleviate some of the stress. Navigating the process is laden with lots of trial, error, and in my case, lots of help from a college counselor. I've learned a ton throughout my experience, so here are five useful tips that have made my application process as easy as possible.
Utilize an essay tracking Google sheet: I am applying to sixteen different schools and have to write a total of twenty-two essays. Within that, there is some overlap between essay topics. Because I keep a Google sheet with the topics, school, and word count, I can identify overlap and leverage similar ideas and content for those essays. That saved me a lot of time when brainstorming ideas, and drafting essays. Some schools may even have almost identical prompts!
Apply early action to all the schools that offer it: The thought of early action may seem daunting because it has an earlier deadline than regular decision applications, but I assure you, it is worth it because it is great way to show schools you are seriously considering going and may put you at an advantage in their decision-making. That being said, unlike "early decision", it's not a binding agreement, so you can EA to as many schools as you choose. This strategy has also forced me to work more productively because the submission deadline is earlier.
Look for schools without supplemental essays: I have high college aspirations, so all of my top schools are extremely hard to get into, and require a lot of work to apply. Because of this, it's important that I also apply to just as many schools with higher acceptance rates. Most of those schools for me don't require supplemental essays which is helpful because I can just click "apply" to these schools and focus my energy on the hard schools that require more detail.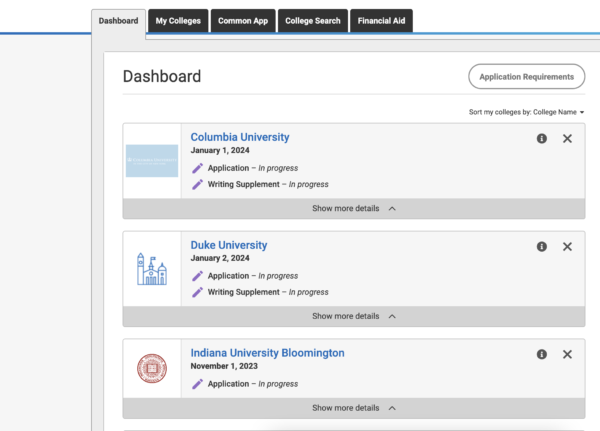 Show your true self in your personal statement: Without a doubt, the hardest part of applying has been crafting my personal statement. Schools really want to know who you are beyond your GPA and extracurriculars and the personal statement provides them a window into your personality. I decided to write about overcoming a pretty unique and difficult challenge in my life, but I'm not the type of person to ask for pity and sympathy when things go wrong so describing a hard time in my life was really difficult for me. Everything changed when I decided to tell my story, rather than just report the facts. It really allowed me to showcase my personality and include the little idiosyncrasies that make me who I am. Approaching it like a conversation I would have with someone instead of a statement, made it so easy to write and feel more genuine.
Use any extra time: It can be easy to procrastinate (I know better than anyone) but a major reason this process went so smoothly is simply because I didn't wait. I have been able to put extra effort into every part of the application and not feel rushed. If I started a few weeks before the deadline not only would I be stressed but I wouldn't be able to put the same effort into each individual portion instead of doing the bare minimum. One way to minimize the procrastination is to set aside time in a calendar, as well as setting reminders to work on college apps.
Hopefully, these tips are helpful to those in the process of applying and can make a near-impossible task a little easier!