Increase in Animal Adoptions During Quarantine
Animal rescues and shelters all across the United States, as well as many parts of the world, have seen major spikes in their adoption/fostering rate since the beginning of quarantine in March. One theory as to why these spikes occurred is because many people realized they cannot take the stress of isolation alone. There is proven research that bringing an animal into a person's life can make it much better, and will make one happier. Considering the fact that for the last several months many people have been isolated from other humans and always being stuck in the same house, the fact that we need animals becomes even clearer.
For people who aren't pet lovers, they may not know that the season that yields the most puppies and kittens starts in spring, which was conveniently when most states shut down and began their shelter in place. As reported in the article Coronavirus spurs increase in pet adoption and fostering, "Jack Hagerman, vice president at the Pasadena Humane Society, reports a "massive uptick" of interest, adding that within a week or so of his group sending out its first plea for foster volunteers on March 12, "[they've] had 1,451 people come forward wishing to foster a shelter pet," with all 124 animals that were available currently placed. "Wow. Just … wow."". While this boom has left shelters empty of animals, they are worried about what might happen when the virus ends. There is expected to be a major 'return' of animals to shelters before next March happens, when it will also be puppy/kitten season, so shelters will be full to the brim again. In order to prevent that, people need to make a completely informed, long term thinking decision about making a pet a part of their own life.
Since the beginning of quarantine, because everyone sits at home, bored out of their minds, the app TikTok has had a major spike in popularity because people are interested in watching funny videos, many of them consisting of animals. Many new and old pet owners are sharing stories in the form of videos or photos on several different apps of animals being rescued from the streets or a shelter, and people who are not fit to take care of pets. These stories quickly became even more popular as more people joined the app. The Dodo is an organization that has social media pages on several different platforms, like Facebook and Instagram. The organization uses their large following to speak out against animal abuse, and to share stories of rescued animals, ranging from small sea creatures to huge wildlife. They have Instagram and TikTok pages where they post videos showcasing an animal's transformation from before they were rescued, during, and then a while after. People can spend hours a day browsing pages like these out of sheer boredom, and they bring warmth to the heart and a tear to the eye, and this shows just how important animals are to our lives.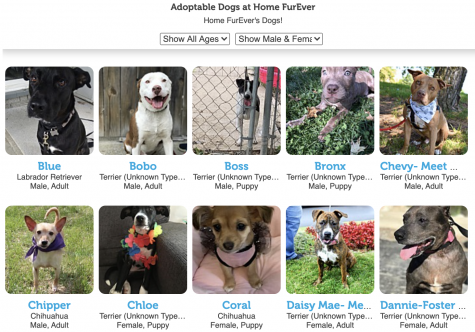 A local dog rescue in Detroit, HomeFurEver, was one of many rescues affected by the stay at home order. Levi Mooney, a volunteer at this rescue, stated that "since people are spending so much more time at home, they are able to foster or adopt dogs that require more work and attention than a regular dog." With a lot of their dogs needing around the clock care, their owners being home all day with them is the perfect match.
This past spring was the most important season for animal rescues and shelters all over. People have found a need for a furry friend to be with them in some tough, lonely times. And with an increasing popularity of apps that can share stories of rescued animals there is more visibility on how those stories happen everywhere to anyone, even you could end up with a new forever friend!
Leave a Comment