So You Want My Job: Restaurant Host/Carryout Server Addition
This article is part of an ongoing series here at The Spectator called, So You Want My Job. In these articles, we take a look at high schoolers with part-time jobs, to give others an understanding of these jobs.
If you're a person who values patience, hard work, and free food, being a host/carry-out server is a job you should look into. As we deep dive into Berkley sophomore Jonah Chupack's work-life at the local restaurant Pops for Italian, he explains the reality of being a high school student working in such a popular restaurant. Although Chupack describes the pros and cons of this kind of workspace, he also gives valuable advice on what to do and how to act in this kind of environment.
Tell us about yourself (where are you from, where/what is your job and how long have you been working there?)
"My name is Jonah Chupack, I am 15 years old, and I live in Ferndale Michigan. I am currently a host and carry-out server at Pops for Italian in Ferndale, MI. I have been working there since June 2020, so about nine months."
How'd you get this job and what is your position?
"I got the job through a friend who was connected to one of the managers. I started as a host, but as we got further into quarantine, and lockdowns started to happen more frequently, I was put on as a carry-out server to meet the new high demand."
How has COVID impacted your work life? What are some changes that you've had to endure because of COVID shutdowns and limitations?
"Because I work in a restaurant, it means that work is less guaranteed because we often get shut down for COVID laws. Other than that, you have to deal with a lot of people who don't want to follow safety guidelines, but at the end of the day it is our job to make sure everybody is safe, not only the employees but also other people in the restaurant."
Tell us about your position working here, what does your typical day look like from start to finish; (depending on your shift times?)
"My hours are a little different than most other jobs. I work both dinner and brunch shifts, depending on my schedule for the week. But normally my job consists of answering the phone, seating customers, and making sure every server gets the same amount of people to account for tips. I also serve carry-out, so that means UberEats orders and calls in orders. Overall it's a lot of just running from the kitchen to the carry-out station and trying to pack up orders as fast as possible. It can be pretty intense."
What is your work/life balance like in your career?
"Because there aren't a lot of other people who work the same job I do, I have to put in a lot of hours. Although I have missed out on a couple of things because of work, at the end of the day it teaches me a lot of life lessons, and I think it's very beneficial for me to make my own money and prepare for the future. It also gives me a chance to get out of my house, while also contributing to the pandemic lifestyle."
What is the worst/best thing about your job?
"The best thing is all the different people I get to talk to you. Not only people I work with, who are super fun and interesting but also the new customers I meet daily. The worst is kind of the same as the best. I have to deal with a lot of pretty terrible people. There have been a lot of bad instances while working, but at the end of the day there have been more good ones."
Is there any advice/tips you would like to give to high school students interested in working in a restaurant?
"Do it if you want to get a very new experience. Understand that you have to be pretty thick-skinned, and it teaches you a lot about not taking everybody seriously. But just know that if you do decide to get a job like this, you will get to see a different side of life that you will have in your memory for your whole life, while also getting to meet a lot of really cool people."
Leave a Comment
About the Contributor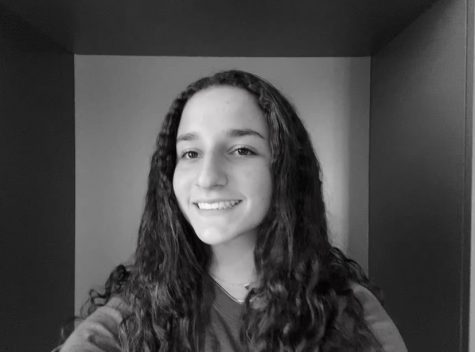 Lily Cierpial, Staff Writer
Hello all, I'm Lily Cierpial and I'm a junior this year. This is my second year on the journalism staff, and I'm so excited to be one of the two copy...