Vegan Thanksgiving Recipes You'll Love
Shoutout to all of the plant-based life-stylers, because the month of November is none other than the World-Wide Month of Veganism. This month, plant-based eaters  from across the globe come together to celebrate their vegan lifestyles. Now, we get down to the question, what exactly defines a "vegan." According to Dictionary.com, a vegan is a "vegetarian who omits all animal products from the diet". It's also a person who does not use any animal products, such as leather or wool. There is a very common misconception between vegans and plant-based eaters. If you are plant-based, you commit to a strictly vegan diet, but not when it comes to using products other than food. For the sake of National Vegan Month though, plant-based people can celebrate just as much as vegans can. Additionally, because the number of vegans is increasing, companies and restaurants are making many vegan substitutions such as certain ice cream shops offering almond milk ice cream.
Being vegan can be a choice for many different reasons and everyone has their own. It can definitely be hard sometimes, and this month, we recognize the challenges vegans must go through due to their veganism such as turning down eating a delicious pizza.
With Thanksgiving coming up, and foods like turkey, gravy, mac and cheese, and pumpkin pie being very common foods to eat while celebrating, all the vegans are in a catastrophe…or are they? I have found 5 vegan recipes to accommodate all plant-based people on Thanksgiving to ensure that everyone will have something good to eat.
Pumpkin pie is a huge crowd pleaser on Thanksgiving. It's a classic sweet treat that everyone knows. With the vegan recipe having a crust made of crushed pecans and oats and a topping made from whipped coconut cream, the middle is just a bonus. This scrumptious pumpkin pie will have your sweet tooth craving for more. You can find this recipe on delish.com.
The classic topping to whatever you're serving on Thanksgiving is the one and only gravy! The vegans' secret to their gravy is to use ingredients like soy sauce and miso paste. You can find this recipe on tablespoon.com. They describe their recipe as "rich and savory," claiming that "even non-vegans will just love it." Even if you have just 20 minutes of free time, you should definitely attempt this quick, simple and delicious recipe.
This special Thanksgiving dish reinvented to be vegan could save the day. There's such a thing as vegan stuffing, who knew?! The reviews even say it's great and delicious. Found on cooking.nytimes.com, this recipe takes about one hour plus drying.The recipe includes lots of vegetables, herbs, and seasonings and includes about 6-8 servings.
Cheese is one huge dairy product all vegans must give up. What if I told you there was a vegan approved way to consume it this thanksgiving? Vegan mac and cheese involves vegan approved substitutes like cashews. By using the recipe found on simple-veganista.com, you can include vegans in on all the cheesy fun. The website explains the mac and cheese is extremely easy to make and super yummy.
What's Thanksgiving without mashed potatoes? This recipe on rainbowplantlife.com teaches readers how to make vegan mashed potatoes that are creamy, rich, and fluffy. They use ingredients such as vegan butter and miso paste to keep it vegan and devine. This 5 star rating recipe will only take you 45 minutes to make.
Sophomore Isabella Gentry will be celebrating this month being among the vegan population here at Berkley. She celebrated her 1 year of veganism on November 4th, and continues to be vegan everyday. "I am plant-based over vegan because my intentions for this lifestyle wasn't necessarily to help the animals but more for health purposes," explains Gentry. She originally decided to be vegan to challenge herself and be a healthy/happy person, she adds on,"I soon realized this diet was something I really liked and it ended up being easier than I thought. I never really liked meat or eggs anyway." This month, Gentry wants to try and challenge her friends and family to go vegan. As well as that, she wants to try and consume products that dont involve animal cruelty. During Thanksgiving, her favorite vegan dishes are vegetable plates such as sweet potato and squash.
BHS teacher Mr.Goldberg has been a proud vegan since 2014. He celebrates his veganaverisery every year on June 30. When asked the difference between plant-based and vegan, as well as asked which one he is, Goldberg responds, "Of course I know the difference!! Any vegan worth their nutritional yeast would know the difference! I am hardcore vegan! Initially, I went vegan for health reasons, but that quickly turned to advocating for animal welfare and animal ethicacy issues." This month Goldberg plans to celebrate his veganism by spending time with his wife and two cats, Gabriella and Tabitha. In the words of Goldberg he plans to eat like an "OG vegan!" "Maybe we'll have a vegan party with friends," says Goldberg. His favorite vegan Thanksgiving dish would have to be the classic vegan mashed potatoes. "I could eat them all by themselves. Like 5 pounds of them!" Having been a vegan for 7 years now, I asked Goldberg what foods he misses that don't accommodate his diet. "There is honestly no non-vegan food that I miss. Nothing! Well, sometimes I do miss original NY style cheesecake, or Seven Layer Cake, but not too often," Goldberg claims.
Gentry and Goldberg have discussed possibly starting a vegan food blog together. This lifestyle can be challenging but super rewarding in many ways. This month could be just the right time to challenge yourself and go vegan or plant-based!
View Comments (1)
About the Contributor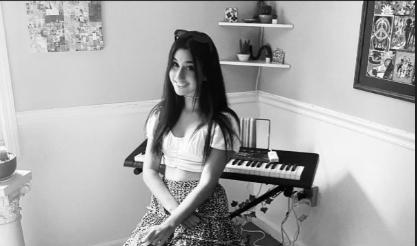 Penelope Cohen, Staff Writer
I am a sophomore and the feature editor this year. I enjoy writing entertainment articles the best. I love journalism because of the writing freedom we...