How To Be Fleece And Thank You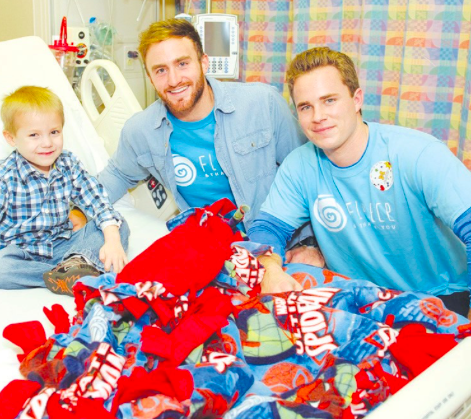 Over the course of high school, I always struggled to find volunteer work that was flexible enough to coincide with the busy schedule of a high school student. Recently from word of mouth, I learned about an interesting organization called Fleece and Thank You. The organization was established in 2015 in Farmington Hills, Michigan by Nicholas Kristock. Kristock began volunteering at local hospitals while pursuing a soccer career in Australia, and he became very close with the patients in the pediatric oncology department. Even though he left the country in 2018, the passion and insight he gained while volunteering in Australia came with him across the ocean, back to Michigan. His sister, a pediatric oncologist nurse in Ann Arbor, told him he should make blankets for the children in the hospital. After months of making blankets for the children, Kristock decided his outreach needed to be greater and, with that, Fleece and Thank you was born.
The organization hosts an online website that allows anyone to purchase a blanket-making kit for $25. All of the proceeds of purchasing the blankets go directly back into the organization to purchase more materials in order to give even more people the opportunity to engage. The website has many fun prints and patterns you can choose from for your blanket. The kit comes with all of the materials to make the blanket and a disk where you can record a personal message to the child who will be receiving your blanket. Once you have ordered the kit online you will receive an email confirmation of your order and the estimated time pick up will be available. Picking up the kits is especially easy. Once your kit is ready to be picked up from the facility in Farmington Hills, your order is already placed outside in a pick-up box, and all you do is simply find it, no hassle! Making the blankets themselves takes a little less than an hour. Once your blanket has been made, you can use the link that was sent to you in your order confirmation email to record your message. Once the message is recorded, and the blanket is set to go, you return the kit back to the facility with ease to be sent off to children in local hospitals. Most commonly, kits are sent to Children's Hospital of Michigan in Troy.
What's even better about making blankets for children in hospitals is that, oftentimes, the child who reviews your blanket sends a thank-you message in return. Volunteering is obviously an incredibly rewarding activity, but seeing the direct impact you can make by simply making a blanket is a really unique thing that Fleece and Thank You makes very accessible.
A quick search of the website will give you access to all of the frequently asked questions, the long list of hospitals the organization partners with, and many stories from children who have greatly benefited from the organization.
Senior Caroline Slutzky has used this organization multiple times as a creative way to volunteer and engage in the community. I asked Slutzky if she thought the organization was a simple way to volunteer. She said, "Yes it is definitely an easy way to volunteer. I personally order their blanket kits and then I am able to create the blanket on my own time which is very helpful. I love using this company. They are super easy to work with and I love what they are doing!". She continued, saying, "Personally, due to COVID-19 and scheduling conflicts, I sometimes struggle to find volunteer opportunities that I can attend. Using Fleece and Thank You has been very flexible for my schedule and allows me a way to continue to volunteer". When asked about the organization's impact, Slutzky remarked, "I think that Fleece and Thank You has a large impact on the hospitals. They are a widely known organization, and through video clips I have been able to see how much each of these blankets brightens a kid's day!" Slutzky encourages others to use this organization as a flexible option for volunteering, and a way to make a difference in our community.
My own experience with using the organization has always been very positive as well. Making the blankets is a fun activity that can be done with friends as well as a calming activity that can be done in the comfort of your own room. Picking out fun and bright patterns to create your blankets out of makes it a creative activity as well. The process of making the blankets is also really simple, and this is coming from a person with no artistic capabilities. Living in Berkley, pick up and drop off is only a 20 minute drive, and the route is easy to navigate. Seeing the direct impact the organization has on children in hospital communities makes something as simple as creating a blanket a well worth task.
The organization has raised over 2 million dollars since 2015 and has created over 130,000 blankets, all received by children in hospitals. Over 200,000 volunteers have engaged in using this organization, by reading this article I urge you to become one of them!
Leave a Comment
About the Contributor
Natalia Salman, Berkley Bears Editor
Hey everyone! My name's Natalia, I'm the editor of the Berkley Bears section of the paper. This is my first year on staff! I decided to join the paper...