Are You A Berkley Girl Boss?
March is none other than National Women's History Month. Being a woman can be confusing, difficult, and complicated, but at the same time beautiful, powerful, and self satisfying. From historical activists, to modern day CEOs, women everywhere can be celebrated and honored this month for being role models and paving the way for other women.. This month, we take time to recognize the women who have inspired and changed history with their brilliance, such as Rosa Parks or Ruth Bater Ginsberg, but we also take time to recognize just incredible women in general. I like to call these kinds of people "Girl Boss". There are many so-called girl bosses around BHS who are hardworking, kind and influential, and I am highlighting three iconic ones.
Berkley High School has been blessed to have inspiring, empowering, and amazing vice principals. Mrs. Coleman, being one of them, originally went to school to become an English teacher. After working as an educator for a little while, she was promoted to be the vice principal of Chandler Park Academy. After stopping temporarily, Coleman realized she missed the positivity and social interaction of being a vice principal, so when the opportunity came up at Berkley for the position, she was all in. Being a woman in her work environment is such an astounding experience for her. "I am so lucky to work beside such wonderful and respectful males who respect me and accept my power," explained Coleman. "I am a passionate force which can be daunting, but they just all allow me to be myself and always support me which I'm very fortunate for."
Back in September, Coleman co-planned and led the HBCU Unite Event which was just one of her many accomplishments as vice principal. This event hosted alumni afficiates of historical black colleges and universities to show their schools to students and parents. In addition, they also highlighted black fraternity organizations. At the event, Coleman hosted a panel discussion in front of around 80 listeners.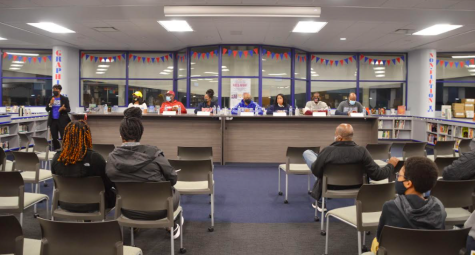 Coleman believes in putting students before herself. Although she lives around 30 minutes away, she wanted to be at the Coaches v.s. Cancer basketball game to support the students. "If you saw me, I was wearing a hat and looked like a mess, but if it mattered enough for students to ask if I was coming, it mattered enough to sacrifice my time to be there…and my vanity time." Coleman wants everyone to know that "leader" is more than just a title. "I'm not too 'powerful' for any task. If there's trash that needs to be picked up, a sink that needs to be turned off, even if students need a friend to talk to, I do all of those things."
Some of the ways Coleman helps and leads are when she observes classrooms, attends meetings, handles parent concerns, and even deals with student discipline – something she doesn't enjoy doing. "I want to demonstrate what a woman in leadership should be. I'm not saying you should be just like me, because a good leader can be displayed in many different ways, but I want to be a good example for ALL students." Not only a woman, but a black woman in leadership, Coleman hopes to inspire many. "Be your authentic self. Know who you are first, then be your own fan club. You are going to face a lot of people in leadership and in life who are not always going to be on your team. You always need to be the president of your own fan club. Admit your flaws and when you are not the best version of yourself."
Many students know and love educator Mrs. Francis, teacher of chemistry and Advanced Placement Environmental Science. However, not many students know about Mrs. Francis' past. Before beginning her teaching career at BHS, Francis worked alongside a team of mostly women in the medical field, doing research and helping to save lives. "I have been fascinated with how the human body works since I was a child. I also have a strong desire to help in the process of restoring people – physically, mentally, and spiritually," says Francis. In her role, Francis was able to help patients through the process of undergoing a life altering medical procedure. "The research we worked on yielded information on how to better the process, and increase the number of surviving patients. We also were able to publish several studies, finalize the research on a widely used anti-nausea medication, and several other medications used in the process of bone marrow transplants and peripheral blood stem cell transplants," she explained. Francis enjoyed her teammates very much. "We worked well together and were well respected by our larger team of health care professionals."
The work that Francis and her teammates did helped to advance their understanding of a life giving medical procedure. "I hope that I played a small part in extending someone's longevity and quality of life." Francis continues on to say, "I believe that men and women each have their own genius and that I was able to use some of my genius to listen to patients so that they felt heard and cared for."
When asked about how this work empowered her Francis responded, "This role helped me to understand that everyone can make a difference. I hope that I pass on that message every day to my students. I feel hope that there are women using their unique qualities to improve the lives of others. I hope that I am readying my students to do the same." To conclude in the words of Mrs. Francis, "You are valuable and you can use your feminine genius to make a difference in others' lives. You don't have to do something huge, just start with something small and see how it grows!"
Students with last names E-K, are very lucky to have Mrs. Weiss as their designated counselor. Weiss works at BHS everyday, to support students as their counselor. But in addition to that, Weiss has made Berkley an even more positive place with her club, Sources of Strength. Sources of Strength is a club that originated in Colorado, that spreads hope, love, positivity, and more to schools, to the students, by the students. Weiss wanted to start this at Berkley because she felt like BHS was academically strong, but there were not necessarily any resources to help with social/emotional stuff. "Existing resources focused on depression/trauma which is super important, but nothing was really available to help make those negative thoughts positive." Weiss continued on to say, "there was an absence of strength and joy, so when I researched Sources of Strength, I liked how that was its main goal."
Mrs. Weiss is indeed a feminist, and looks at almost everything she does through the lense of being a woman. She hopes to be a leader for female students, as well as all students, by sharing her wisdom and leading by example. "As a leader it's important to listen, support, and help. An accomplished leader is someone who never gives up." Weiss believes that asking for help in life is super important, even as a leader. "You have to speak up if something doesn't feel right and you have to advocate for yourself if you want change. Asking for help, even if you're a leader, is especially important. All the people in our lives, if we are in a leadership role, think we have it all figured out sometimes. It's ok to not though, you absolutely are still a leader regardless. It's ok to go to someone and say 'I'm doing a lot of stuff but I don't know if I'm ok, I might need some help.' You can do hard things!"
In the 2022-2023 school year, BHS is now offering a new Sources of Strength class, taught by Mrs. Sims. At the beginning of the year, Weiss took the lead initiative of putting together a Source of Strength training session. There, ALL students and teachers were able to come and learn what it really means to empower and provide positivity/ hope to the school. Definitely consider taking this class.
Make sure this month especially to recognize the powerful women in your life that have impacted you. There are many many more girl bosses in and out of Berkley. So here's the question….how can you be a girl boss?
Leave a Comment
About the Contributor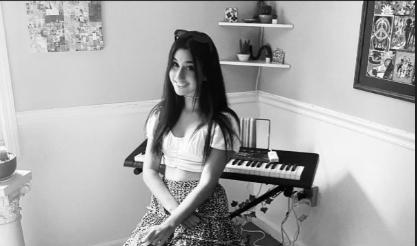 Penelope Cohen, Staff Writer
I am a sophomore and the feature editor this year. I enjoy writing entertainment articles the best. I love journalism because of the writing freedom we...