BHS's first ever Podcast, BearPod
Wait, there's a podcast called "Watching Paint Dry," but Berkley High School doesn't have a podcast? Podcasts have increasingly become popular over the years. But now, BHS is joining the podcast wave. Four sophomores, Rayna Kushner, Logan Field, Aidan Aronoff, and Hailey Serlin are making history by starting Berkley's first ever podcast, called BearPod.
It all started when Field had an idea this summer. His love for podcasting is what inspired him; he had his own podcast with his 8th grade Advanced Journalism class, and wanted to bring podcasting to Berkley. So, he rallied up Kushner, Serlin, and Aronoff, and they were game. The next step was to "talk to Mr. Meloche and contact Mrs. Ford, and it all came together," Field explained. Having experience with her own podcast, English teacher Mrs. Ford is the perfect advisor for BearPod. Starting around October of 2021, BearPod has met around once a week with Mrs. Ford, planning. Planning not only their first episode, but what the vision of BearPod wants to be. Around December, they "made an application and opened it up as a club, and have recently started making [their] first episode," Serlin explained.
The group has a big vision for BearPod. They want it to be among BHS news sources, like our very own, The Spectator and News and Broadcasting. They want it to become a class, come out with episodes regularly, and for the student body to tune in and listen. Aronoff stated, "It'd be much smoother to have this as a class as opposed to meeting once a week because we actually want to create many episodes, not just two a year." He continued, "With a class, we can film, edit, and write scripts on a more frequent basis, and with a larger group." A class environment would provide the group not only with the structure that they would need to meet the demands of a production schedule, but also increase its visibility to the student body. Field brought up an excellent point. He shared that he spoke to a student who was reluctant to join the podcast because he didn't like to speak in front of people. Contrary to many people's belief, podcasting is about so much more than just speaking. As Field put it, "If someone wants to take the class but doesn't want to speak, that's totally fine, there's so many more roles than just that." He went on, "It's also about planning out the episode, writing the scripts, scheduling, editing, and so much more."
Podcasting provides the opportunity to delve much deeper into newsworthy topics. Yes, BearPod will cover topics just like the newspaper does, however, "[The students] don't want to be the audio version of The Spectator, or the audio version of News and Broadcasting," Mrs. Ford explains. "Each show is going to do an exploration of one student generated topic." With one topic explored in each episode, the group has the opportunity to take their topic to an entirely deeper, and different level. "We want to cover topics that appeal to high schoolers," Kushner stated. So, when you tune in, you can expect to find interesting topics relevant to students!
The BearPod podcast seems to be a next step in the natural progression in how our society consumes information. It's the passion of students like Kushner, Aronoff, Serlin, and Field that will make BearPod a reality. There will be a time in the future when people won't be able to imagine what it was like without the podcast. If you have any interest in this, be among the first ever BearPod staff and reach out! Be on the lookout for their very first episode, coming out this spring!
Leave a Comment
About the Contributor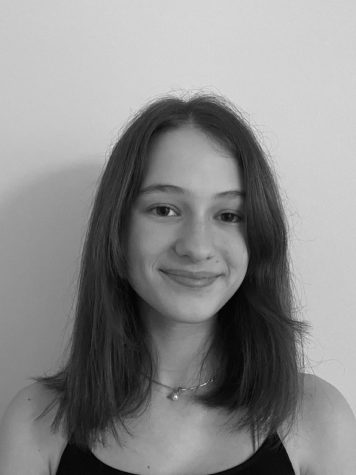 Amelia Karp, Editor-in-chief


Hey everyone! My name is Amelia Karp, I'm a senior, and I am honored to be a Co-Editor-in-Chief with the fantastic Raynah Jacobs this year. This...