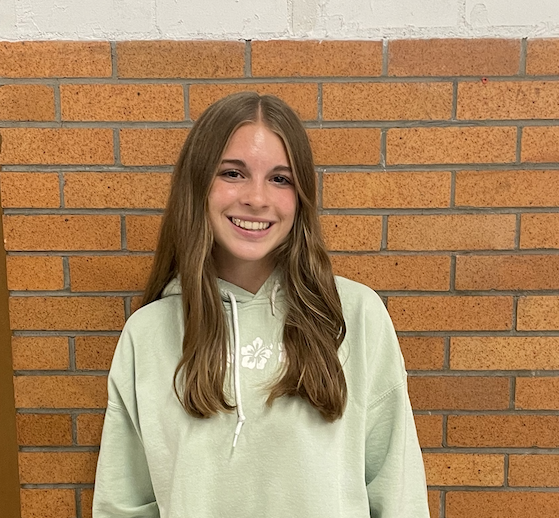 Q: What is your favorite school club, activity, or elective?
A: I am on the Berkley dance team which is my favorite. Practice is held two times a week and the people there are great which makes me like it a lot.
Q: What is one goal you hope to achieve by the time you graduate?
A: One goal of mine is to become an honors student and hopefully get a scholarship for academics.
Q: When you think about the rest of your high school career, what do you get most excited about?
A: Probably being an upperclassman and getting to experience all of the things like powderpuff and being up front at all the sporting events.
Q: What career path are you interested in pursuing in the future? Was there anyone in your past that got you interested in that career?
A: For the past three years I've wanted to be a lawyer, but now I can't imagine myself not being a lawyer. My dad walked me through what it takes to be a lawyer, and I know a few lawyers.
Q: Do you participate in any extracurricular activities outside of school? If so, what are they? How long have you been involved in that?
A: I am involved with dance in a studio outside of school, and I am also a part of the Berkley dance team. I have been dancing since I was four, so this year will make eleven years in the sport, and eight of those are competitive.
Q: What is one thing that makes you proud to be a Berkley Bear?
A: The community, teachers, and students have made my experience here so great. Learning at BHS has been so fun for me, I love how the teachers make it exciting and educational.
Q: What is one thing you took away from your freshman year or a piece of advice you would give to a freshman?
A: A piece of advice I would give is to not doubt yourself! I thought that I would struggle at the beginning, but if you stay on top of your work, it's manageable. If you're interested in something that may be at an advanced level, take the advanced class!!
Q: Do you like attending Berkley sporting events? If so, which sport is your favorite?
A: I love attending games here. They are so fun and the environment is great. My favorite used to be football, but this year I have been really enjoying the boys soccer games because they are so hype and the boys this year have been doing so well! Go Bears!